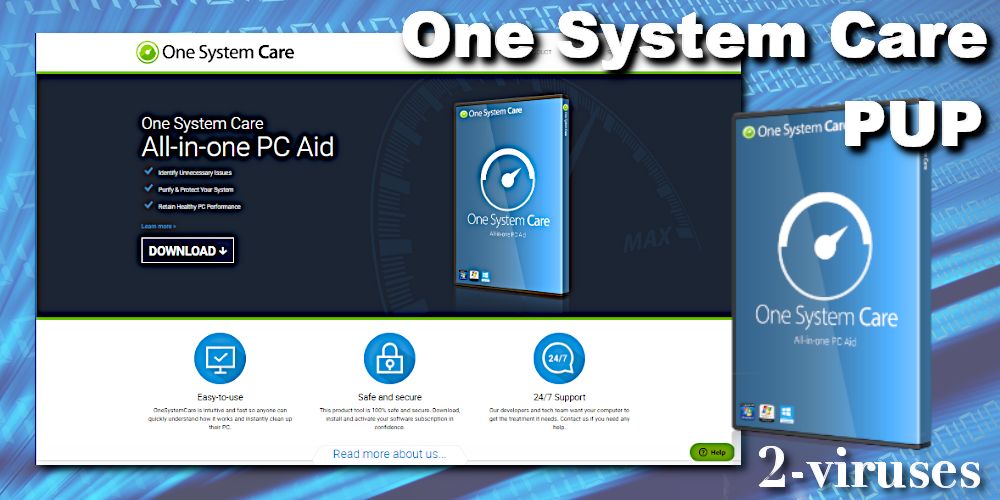 One System Care is a potentially unwanted program that has been compromising people's computers for at least a couple years now. While itself this software doesn't cause any harm to the computer, yet it tends to misuse the concept of system optimization tools and their working principles.
One System Care Pup quicklinks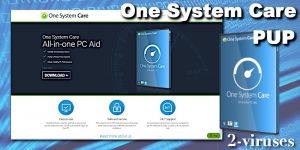 Everyone wants their computers to work as fast and efficient as possible but junk files, the variety of installed programs and clustered registry slow down the system significantly. This is when people start to look for system optimizing tools which would assist in cleaning and organizing their computers to reach the best performance. Unfortunately, there are many deceitful programs like, One System Care, which are pretending to be a universal remedy for everything.
In reality, One System Care pretends to run a scan and shows tons of system errors, which are fake, but in order to fix them, the user needs to purchase a full version. This model of the free scan (How free trials end up causing charges) but paid removal is rather popular even amongst legitimate programs, yet they are not using scareware techniques showing bogus issues to make people buy their products, unlike One System Care PUP. So if you don't want to become a gullible victim of OneSystemCare rogue application, then you should continue on reading this article.
Is One System Care program malicious
In a nutshell, One System Care program is often called a virus because of its behavior, yet is far from true notorious threats like ransomware, adware and etc. It does nothing more than trying to get money from infected users' purchases of the premium version by lying to them about their computer's state. Even on a freshly installed Windows, One System Care was able to find critical errors, which had no time to enter beforehand. This potentially unwanted program is not malicious but it is also not useful in any way. Furthermore, One System Care application can get really annoying and disturb your work by displaying reminders of critical system's errors that need immediate attention.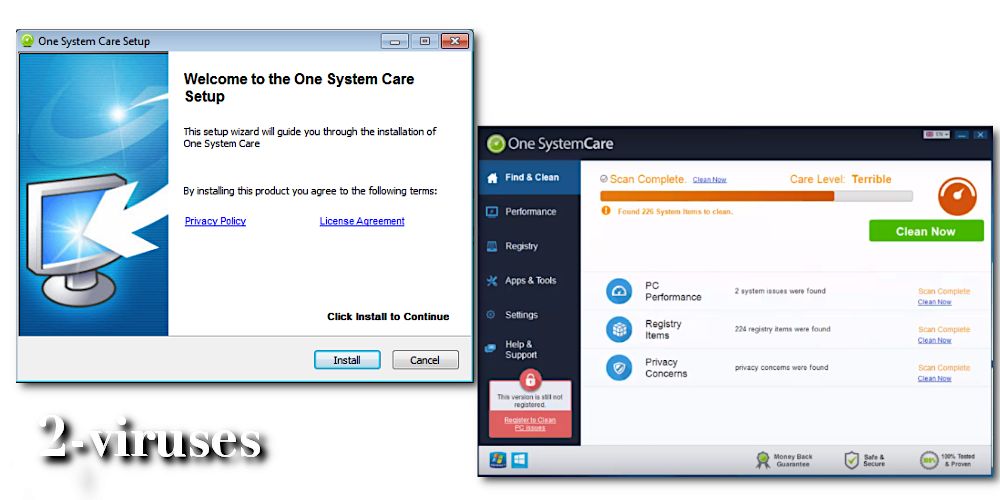 It's no surprise that many people fall for One System Care scam because, for someone who looks for a software to identify unnecessary Issues, protect the system, keep healthy PC performance and make backups, this product looks like a perfect fit. Even products price of $19.95 for 6 months seems like a wonderful deal. But let's not forget that this tool is not real and you'd basically be sending money to crooks for absolutely nothing, sponsoring them to come up with even more deceitful PUP in the future. And that is not needed because there are already plenty of similar programs, e.g. PC Repair PRO, Win Tonic, Mac Tonic and etc.
Although it isn't confirmed, many similar rogue tools have tendencies to abuse their authorization and collect personal information about the victim, sell it for third-parties and secretly advertise sponsoring products and services or post malvertising content. While it isn't for sure if in the long term One System Care potentially unwanted program will start behaving like this, it is best not to risk your Online identity, accounts, bank data, and system's well-being. Therefore, we suggest removing One System Care virus before it manages to convince you into paying them or worse stealing your credentials.
How does One System Care PUP spread
Very typically, One System Care PUP uses either infected bundles, fake updates or professionally designed website to spread its malicious files. The latter method is probably the most legitimate compared to the rest because the victim installs the program voluntarily, simply tricked by deceitful looks and description, while other methods cause One System Care application setup without a clear user's knowledge. Right now, direct downloads don't seem to be bringing much success because lots of security applications are able to block the Detectable threat before it even gets into the system.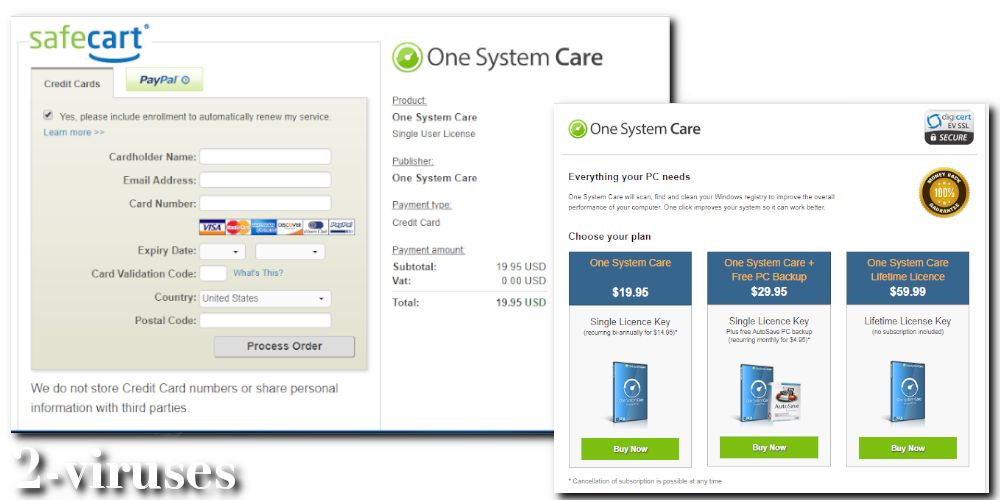 Our readers noticed that in a few occasions One System Care PUP was packed inside bogus media player and Flash updates and sometimes it would arrive together with other popular software from Freeware/shareware distributing sites. Although this could be avoided by getting applications from their official source and opting out additional unwanted programs in Custom/Advanced set up mode, not all users are familiar with the safety rules when browsing the Internet, as well as Reading Privacy Policy of software before using it. Not to mention not having a trustworthy anti-spyware program.
How to remove One System Care virus
The persistence of One System Care is one of the reasons why it is often called a virus. Although some users are able to remove this system utility tool by simply uninstalling it from Control Panel, the majority come across the issue and the pop-up message, interrupting manual removal, and saying "You do not have sufficient access to uninstall One System Care PUP. Please contact your system administrator.". If this pop-up does not show up on your screen, then you can freely eliminate the unwanted application by following our step-by-step instructions below, yet if the screen does get blocked, then you will need a more sophisticated malware removal tools.
Our researches figured, that the best One System Care virus detecting and eliminating software were either Spyhunter and Malwarebytes. Since this potentially unwanted program has been active for a while now, most of the sophisticated antivirus tools are able to detect it but be careful of Rogue anti-spyware software, when choosing. Simply use either one to run a free system scan and then follow the given directions afterward in order to get rid of malware.
Automatic Malware removal tools
How to remove One System Care PUP using Windows Control Panel
Many hijackers and adware like
One System Care PUP
install some of their components as regular Windows programs as well as additional software. This part of malware can be uninstalled from the Control Panel. To access it, do the following.
Start→Control Panel (older Windows) or press Windows Key→Search and enter Control Panel and then press Enter (Windows 8, Windows 10).
Choose Uninstall Program (if you don't see it, click in the upper right next to "View by" and select Category).
Go through the list of programs and select entries related to One System Care PUP . You can click on "Name" or "Installed On" to reorder your programs and make One System Care PUP easier to find.
Click the Uninstall button. If you're asked if you really want to remove the program, click Yes.
In many cases anti-malware programs are better at detecting related parasites, thus I recommend installing Spyhunter to identify other programs that might be a part of this infection.