How to remove System Repair ?
What is System Repair ?
System Repair is a dangerous PC optimization utility that will seek the only thing – to make its creators rich. The program is based on fake alerts that always report hard drive errors in order to make PC users scared. Though System Repair has trustworthy-looking User Interface just like Windows XP Fix, Windows Vista Fix or Windows 7 Fix, its objectives are ultimately fraudulent, so you must remove System Repair once you notice it on your machine. Instead of buying its licensed version, run Spyhunter, Malwarebytes Anti-Malware or other legitimate anti-spyware to eliminate this cyber threat from your machine.
System Repair will be set to display its false positives and run deceptive malware scans once the PC is rebooted. This is done unnoticed for the user just like infiltration of the same malware. In most cases, System Repair gets inside with a help of trojans that are downloaded together with insecure downloads. Additionally, they first do some system distortion work and create new Registry keys that are dropped on the Program Files and System32 directories. Although these modifications pass by users' attention, they cause clear activity of System Repair. After PCs registry is modified, this fake PC optimization tool will start displaying:
System Repair Diagnostics
Windows detected a hard disk error.
A problem with the hard drive sectors has been detected. It is recommended to download the following certified software to fix the detected hard drive problems. Do you want to download recommended software?
Requested registry access is not allowed. Registry defragmentation required
Read time of hard drive clusters less than 500 ms
32% of HDD space is unreadable
Bad sectors on hard drive or damaged file allocation table
GPU RAM temperature is critically high. Urgent RAM memory optimization is required to prevent system crash
Drive C initializing error
Ram Temperature is 83 C. Optimization is required for normal operation.
Hard drive doesn't respond to system commands
Data Safety Problem. System integrity is at risk.
Registry Error – Critical Error
Critical Error
Hard drive critical error. Run a system diagnostic utility to check your hard disk drive for errors. Windows can't find hard disk space. Hard drive error.
Fix Disk
System Repair Diagnostics will scan the system to identify performance problems.
Start or Cancel
This scareware won't stop flooding your desktop with its annoying popups reporting hard drive errors detected on your computer. Keep in mind that you must ignore those alerts because they are showed with the only reason – to swindle your money and credit card details as well. If ignored, System Repair will keep on redirecting you to other malicious websites. Don't follow these recommendations to register the full version of System Repair because it is malicious and detects only fake hard drive problems. Security experts highly recommend removing System Repair once it was detected on your machine. Download Spyhunter, update it and run a full system scan to stop this scamware from running.
System Repair
is Highly dangerous
System Repair is a corrupt application
System Repair may spread via Trojans
System Repair asks to pay for non-functional "full version"
System Repair may display fake messages warning about computer problems
System Repair may install additional spyware to your computer
System Repair may repair its files, spread or update by itself
System Repair violates your privacy and compromises your security
Download Spyhunter
for System Repair detection
Note: Spyhunter trial provides detection of parasite like System Repair and assists in its removal for free. You can remove detected files, processes and registry entries yourself or purchase a full version.
System Repair screenshots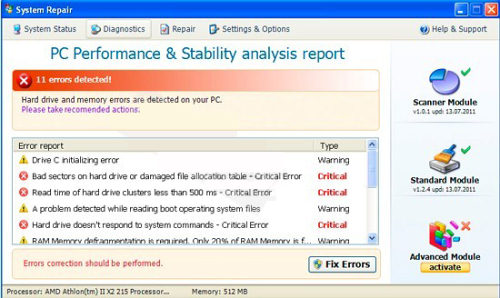 Manual System Repair removal
Important Note:
Although it is possible to manually remove System Repair , such activity can permanently damage your system if any mistakes are made in the process, as advanced spyware parasites are able to automatically repair themselves if not completely removed. Thus, manual spyware removal is recommended for experienced users only, such as IT specialists or highly qualified system administrators. For other users, we recommend using
Spyhunter
or other
malware and spyware removal applications
found on 2-viruses.com.
Stop these System Repair processes:
Remove these System Repair Registry Entries:
Remove these System Repair files:
It is impossible to list all file names and locations of modern parasites. You can identify remaining parasites, other System Repair infected files and get help in System Repair removal by using free Spyhunter scanner. It comes with free real-time protection module that helps preventing System Repair and similar threats.
System Repair is classified as Rogue Application. After infecting a user's system, it proceeds to scare its victim into buying the "product" by displaying fake messages, stating that your computer need particular components, or need to be fixed or has other serious problem that needs only System Repair can help you to solve these after you download the trial version. As soon as the victim downloads System Repair trial version, it offers to buy the full version to fix these false errors. If the user agrees, System Repair not only does not fix the errors, but it takes the user's money and may even install additional spyware into the victim's computer.
Some Rogue Applications, such as System Repair , may offer users to buy it after the victim clicks on a banner or a pop-up while surfing the internet. Usually, a Trojan is installed to a victim's computer after clicking on the advertisement, or comes bundled with various freely shiped programs like codecs. It then proceeds to download or even install System Repair , which is another way for Rogue application to spread itself.
How to tell if your PC has been infected by a Rogue Application such as System Repair ?
Numerous undesirable and annoying pop-ups:
Rogue applications try to scare you into buing full versions by displaying various popups or fake alerts (like System Repair fake alerts) in your browser or even windows computer. They try to convince you to download trial or buy full version.
Slow computer performance and non-working programs:
Rogue applications try to slow down your system to force you to believe that there are problems that need to be fixed. They change your desktop background, show various alerts about registry errors or stop your PC from playing videos and images.