"Your Windows computer is at High Risk!" technical support scam claims that Windows security has detected your device as corrupted. It warns users that all files are going to be deleted in a matter of seconds, unless users click on an "Update" button. This is one of the rogue messages that people can encounter during browsing, and it has absolutely nothing to do with Microsoft technicians (even though it claims to be from Windows security specialists). In reality, this alert is just as fake as other technical support scams we have discussed: "Windows Firewall Warning Alert", "Your computer may be at risk" and so on.
"Your Windows computer is at High Risk!" fake pop-up is spreading malicious software
By clicking on the "Update" button, you might compromise your device with malicious software."Your Windows computer is at High Risk!" pop-up could spread a harmful computer virus, disguised as a security update (Is That Software Update Actually Malware?). Please do not respond to any of the warnings that you see during browsing: most of the time, these fake alerts are generated by hackers, hoping to get remote access to your computer, to steal money from you or to infect your operating system with adware parasites, Trojans, ransomware viruses or crypto-miners.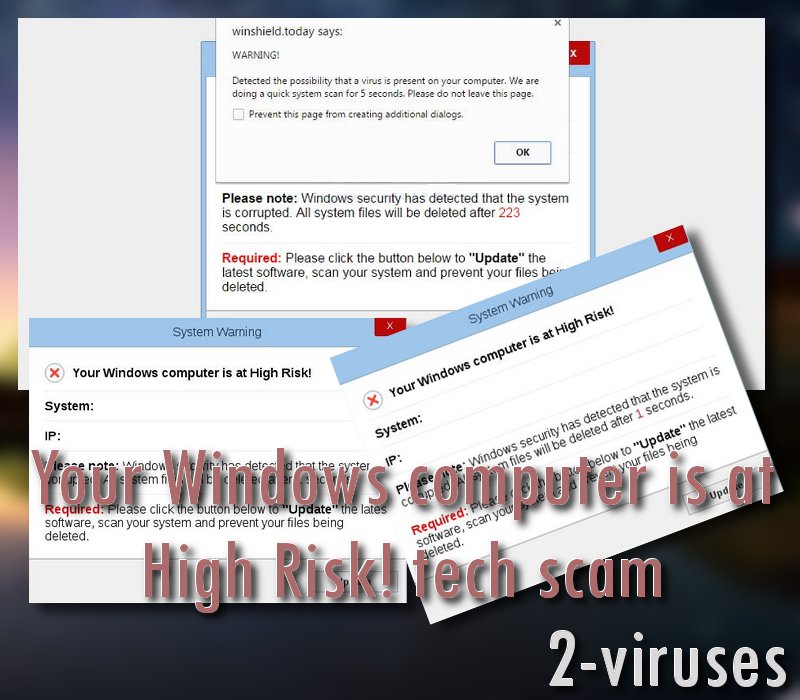 Even though "Your Windows computer is at High Risk!" scam claims that your computer is corrupted, it won't fix this issue. If there is malicious software in your computer, the virus is the one responsible for this pop-up. Therefore, even if you do respond to this alert and download an "Update", your device will not become malware-free. Malvertising is a cunning way for crooks to spread viruses, and some naïve users still fall for them. Over the years, the amount of deceptive messages has significantly increased: "Unauthorized Access Detected", "Virus Alert from Microsoft", "2018 Annual Visitor survey" and etc.
We strongly discourage you from reacting to "Your Windows computer is at High Risk!" pop-up. It is a devious attempt to convince you to voluntarily download malicious software. The message won't fix anything: it will do damage to your computer. In some cases, hackers might also be hoping to secretly place tracking devices into your computer with the hopes of following your every move online (Spyware). This information might be sold on the underground forums, and might include personally-identifiable details like your name, banking account information, email address, passwords and so on.
This "Your Windows computer is at High Risk!" tech scam is a clearly rogue and you should take it as a sign of your computer being compromised. Remember: clicking on the pop-up won't fix anything. You should use a reliable scanning tool to find out whether your computer has become infected with malware.
Why am I seeing this rogue "Your Windows computer is at High Risk!" alert?
One reason for seeing this pop-up is suspicious websites. Online streaming services, gambling domains or pornographic sites feature a lot of unsupervised advertisements. You should never click on them because if you do, your computer might actually be put at risk.
Another reason for this annoying message is that your computer is has been invaded by malicious software. It could be an adware, a Trojan, or a browser hijacker. Whichever it is, you should hurry up to take care of it. Luckily, we provide options for removal of malware. You can try to get rid of the harmful program by deleting suspicious applications from your Control Panel. However, sometimes malware is disguised, and users cannot remove it manually. Therefore, we are recommending you to install Spyhunter. After that, run a scan with either one of these programs. Anti-malware programs are essential when it comes to the increased number of cyber threats. If you do not have proper protection, you will become easy prey for cyber criminals.
How to remove "Your Windows computer is at High Risk!" Tech scam using Windows Control Panel
Many hijackers and adware like
"Your Windows computer is at High Risk!" Tech scam
install some of their components as regular Windows programs as well as additional software. This part of malware can be uninstalled from the Control Panel. To access it, do the following.
Start→Control Panel (older Windows) or press Windows Key→Search and enter Control Panel and then press Enter (Windows 8, Windows 10).
Choose Uninstall Program (if you don't see it, click in the upper right next to "View by" and select Category).
Go through the list of programs and select entries related to "Your Windows computer is at High Risk!" Tech scam . You can click on "Name" or "Installed On" to reorder your programs and make "Your Windows computer is at High Risk!" Tech scam easier to find.
Click the Uninstall button. If you're asked if you really want to remove the program, click Yes.
In many cases anti-malware programs are better at detecting related parasites, thus I recommend installing Spyhunter to identify other programs that might be a part of this infection.
Automatic Malware removal tools