"Unauthorized Access Detected" tech scam is a deceptive notification, claiming that your computer has been infected with a YahLover.worm. Allegedly because of this malware, your operating system has been accessed without authorization. The pop-up strongly suggests that the hackers might have stolen users' personal information, including logins and banking account details.
Scammers behind "Unauthorized Access Detected" fake pop-up try to get access to your computer
In order to protect themselves, users are encouraged to contact Microsoft Support technicians thru the +1-844-438-0289. Until then, "Unauthorized Access Detected" fake alert indicates that the Windows OS has been blocked to prevent further damage. We have encountered many similar technical support scams like "Error 0x80072ee7" and "Microsoft Error: Unknown System Failure".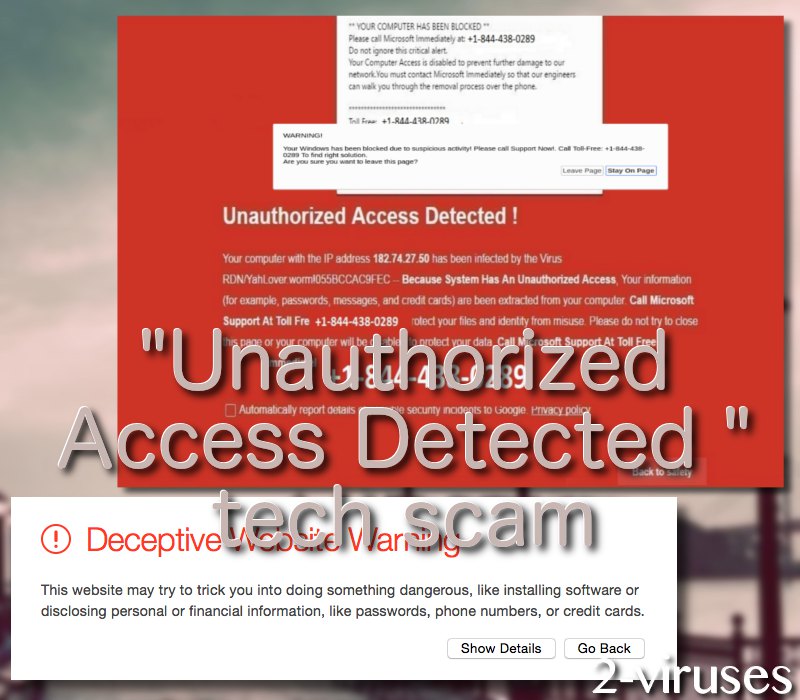 The phone number +1-844-438-0289 has been mentioned in a number of other technical support scams. Users have reported to have noticed it in pop-ups, claiming that a very dangerous virus called Zeus has attacked their operating systems. People who have contacted technicians behind this phone number have shared their experience. It was reported that operators claimed to be supporting Microsoft systems and required people to allow them to log onto the infected machines. If an unidentified source asks to access your computer, please hang up at once.
However, rogue people behind the "Unauthorized Access Detected" tech scam might be regularly changing their phone number. For instance, we learned that notifications for Mac operating systems were telling people to call 1-855-326-2248 phone number. These rogue notifications are displayed on your screen because your computer might be already infected by a Trojan or an adware parasite.
Ad-based parasites can easily generate content like "Unauthorized Access Detected" fake alert. In addition to showing many objectionable third-party ads, the adware/Trojan can also track your online activity, steal credentials and be intrusive in many other ways (What is a Trojan?). Do not allow a suspicious program to keep influencing your operating system.
In addition to trying to get access to your computer device, "Unauthorized Access Detected" pop-up can also try other strategies. For instance, people could be offered to purchase some security programs that they had never heard about before. Those allegedly high-quality tools are probably going to be rogue, showing false positives or barely doing anything to protect your OS from viruses (The Dangers of Rogue Security Software).
Therefore, you should never purchase programs or goods from pop-ups. If they require your banking account details, this is also an indication that you are not speaking with legitimate Microsoft technicians. The legitimate specialists would never require your bank passwords over the phone.
Overall, the "Unauthorized Access Detected" tech scam is clearly a malicious attempt to deceive users in one way or another. Please do not call the indicated numbers. Even if you do, do not believe their recommendations, nor you should follow their instructions.
How to prevent this "Unauthorized Access Detected" scam from appearing on my screen?
If you notices this "Unauthorized Access Detected" technical support scam, it is important to address this issue. It might be that your operating system is currently infected with an adware or a Trojan. To make sure, we recommend running a scan with Spyhunter. Both of these tools will find sources of malicious activities. In addition to this, you will be offered a quick and efficient removal option to make sure that your operating system would no longer contain viruses. Considering that the Internet is full of harmful content, we hope that you won't hesitate to download any of these great tools.
Furthermore, please remember to never download programs from unknown sources. Please check whether specific software has not been labeled as suspicious or malicious. In addition to this, read EULA and Privacy Policies of certain programs before deciding to download them. You might be informed of some disturbing features that the tool has, like, display of third-party content or user-tracking.
How to remove "Unauthorized Access Detected" tech scam using Windows Control Panel
Many hijackers and adware like
"Unauthorized Access Detected" tech scam
install some of their components as regular Windows programs as well as additional software. This part of malware can be uninstalled from the Control Panel. To access it, do the following.
Start→Control Panel (older Windows) or press Windows Key→Search and enter Control Panel and then press Enter (Windows 8, Windows 10).
Choose Uninstall Program (if you don't see it, click in the upper right next to "View by" and select Category).
Go through the list of programs and select entries related to "Unauthorized Access Detected" tech scam . You can click on "Name" or "Installed On" to reorder your programs and make "Unauthorized Access Detected" tech scam  easier to find.
Click the Uninstall button. If you're asked if you really want to remove the program, click Yes.
In many cases anti-malware programs are better at detecting related parasites, thus I recommend installing Spyhunter to identify other programs that might be a part of this infection.
Automatic Malware removal tools