Xbit tool Pro is a third party program promoted as a PC protection utility. It claims to make a PC run faster with the help of tools like a registry cleaner and startup cleaner. Though not quite a virus, Xbit tool Pro has all the marks of a rogue application and should be avoided by those who wish to keep their computers safe.
Xbit Tool Pro quicklinks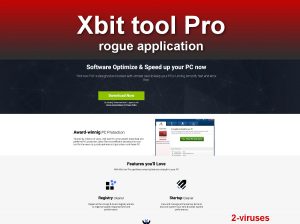 On its own website, Xbit tool Pro claims that it is "The most efficient and simple-to-use tool for the users to quickly optimize and get a clean and faster PC.". In reality, it's yet another shady system optimiser whose developers are so concerned with getting people to buy the paid version that they make use of some unethical tactics to accomplish that.
How was Xbit tool Pro installed?
Xbit tool Pro bundled with other free software in an effort to introduce it to as many computers as possible. Software bundling is a way for the distributors of the main program to make a bit of money. While installing some free programs you might have seen a screen with words like "Try this!" or "Recommended software" and wondered what that was about. These additional offers are there because they have paid to be there. Sometimes these programs are legitimate, other times they're spyware or adware.
The reason that bundling is problematic is that it makes it possible to download additional programs and install them without even realising it, without giving consent. That's unethical, considering that by installing them you supposedly agree to their Terms of Service and Privacy Policies, which sometimes includes things like your private information being tracked. To avoid having that happen, make sure to check every installation option slowly and carefully so that you know precisely what you are installing. Xbit tool Pro should only be on your PC if you wanted it there.
Another strategy that rogue applications use is malicious ads and websites. For example, a fake security warning online could be used to try to convince you that your machine is in immediate danger. The developers of fake security warnings try to shock and stress people to pressure them to act rashly, such as download a program that will "fix" the nonexistent problem (more likely some malware).
Finally, many PC cleaners and optimisers, including Xbit tool Pro, are available on their own websites, as well as freeware download sites. You only need to search for some version of the words "faster PC" and you'll find many applications bragging about how they can make your computer run smoother. But if you want to find a good quality tool, be sure to research the product before downloading it. After all, a PC optimiser will have the power not only to improve things, but also to break them.
Why is Xbit tool Pro not recommended?
Once you've installed Xbit tool Pro, you can scan your machine to see if anything needs to be fixed. After the scan, Xbit tool Pro does detect a lot of "problems" on your computer — things like registry entries that need to be fixed and files that should be removed. To do that, though, you must buy the full Xbit tool Pro version. That would not be a good idea. Here's a link to VirusTotal — various antivirus programs detect Xbit tool Pro as a potentially unwanted program or generic malware.
The problem is not that Xbit tool Pro has a paid version — lots of good quality software products have paid versions. The problem is that Xbit tool Pro basically makes up problems with your PC, then tries to sell you the solution. That's just fraud. It's also not in Xbit tool Pro's favour that it's associated with Pcvark Software —  a company that has developed a number of potentially unwanted and rogue applications, some of which look and behave exactly like Xbit tool Pro.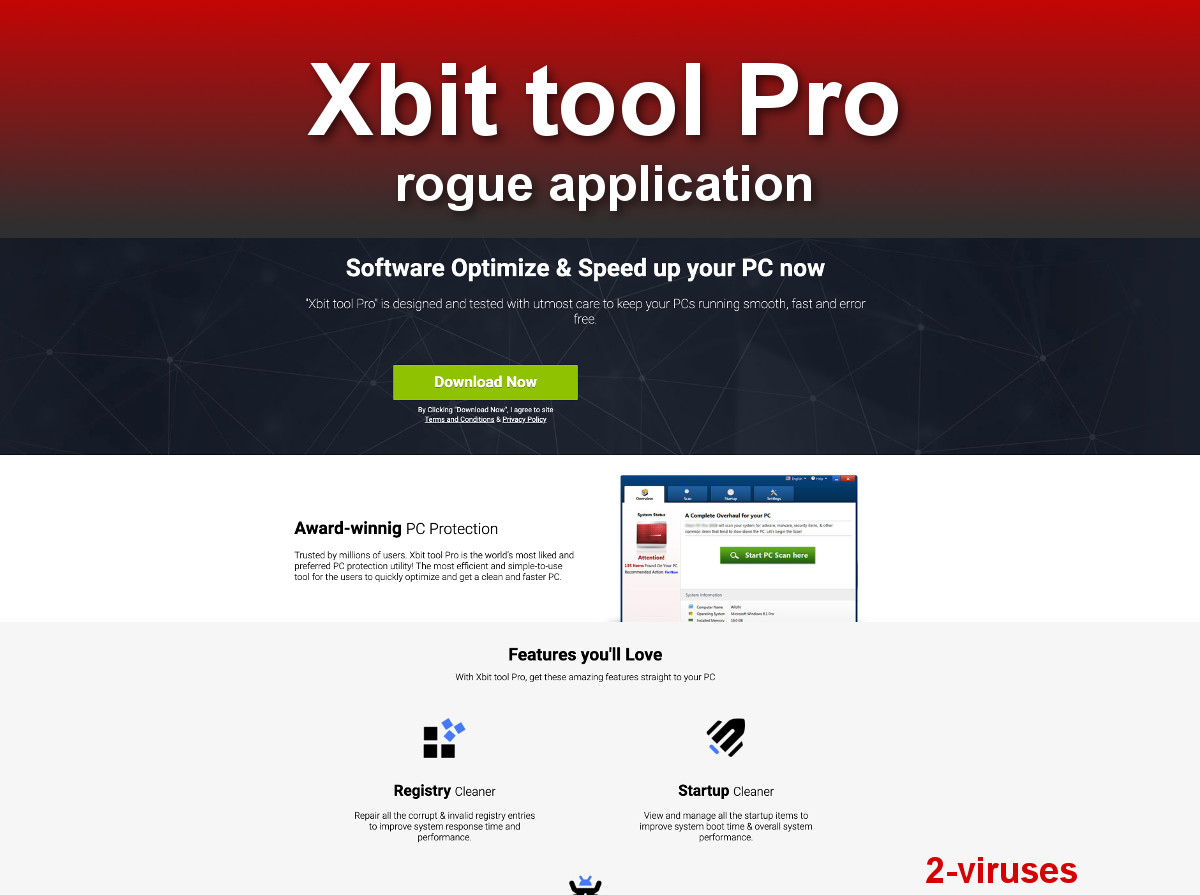 Besides, you don't need Xbit tool Pro to improve the performance of your PC. Anything that it does, you can do yourself with Windows' built-in tools. Edit startup programs, defragment your hard drive, delete temporary files — everything can be done without third-party applications. There is one thing that probably should not be done, though — registry cleaning. Registry editing has a lot of potential to break things if not done correctly, and cleaning the entries almost certainly won't improve the performance of your PC.
How to remove Xbit tool Pro
You can remove Xbit tool Pro manually, though make sure to also scan your computer with an antivirus program afterward. Some rogue applications leave files lying around that, for example, display popup ads on your desktop, and these files can be very difficult to find manually. Use Spyhunter, r another professional antivirus program to make sure that no malware is left on your PC.
Automatic Malware removal tools
How to remove Xbit tool Pro using Windows Control Panel
Many hijackers and adware like
XBit tool Pro
install some of their components as regular Windows programs as well as additional software. This part of malware can be uninstalled from the Control Panel. To access it, do the following.
Start→Control Panel (older Windows) or press Windows Key→Search and enter Control Panel and then press Enter (Windows 8, Windows 10).
Choose Uninstall Program (if you don't see it, click in the upper right next to "View by" and select Category).
Go through the list of programs and select entries related to Xbit tool Pro . You can click on "Name" or "Installed On" to reorder your programs and make XBit tool Pro  easier to find.
Click the Uninstall button. If you're asked if you really want to remove the program, click Yes.
In many cases anti-malware programs are better at detecting related parasites, thus I recommend installing Spyhunter to identify other programs that might be a part of this infection.