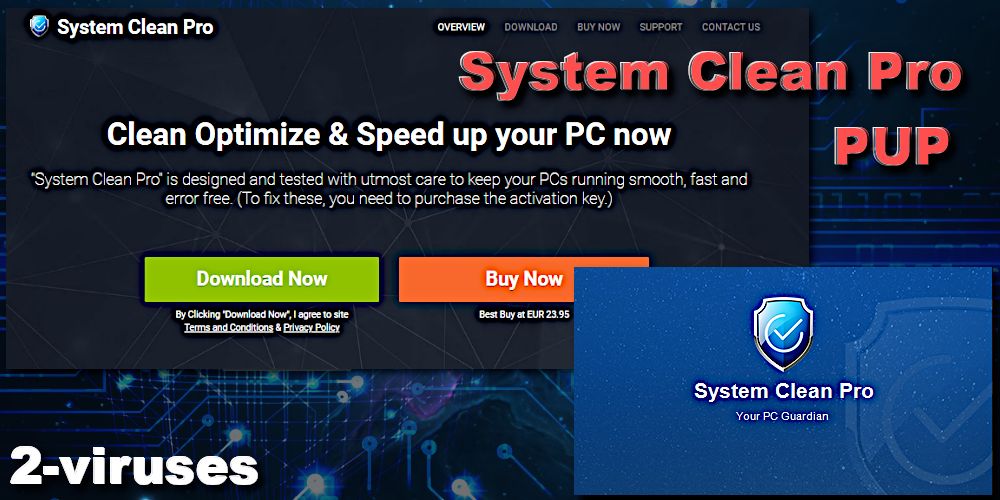 System Clean Pro is a questionable system optimizer for Windows made by infamous company PCVARK, which sugarcoats its creations abilities and tries to convince the user by displaying excessive false errors to purchase a full version of a program. What is more, during the installation this potentially unwanted program tries to sneak in additional products, which end up slowing the system even more and terrorizing victims to pay for the service they don't even need.
System Clean Pro Pup quicklinks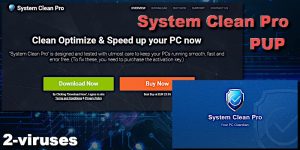 Unfortunately, still not every computer owner is aware of such rogue applications, which only seem real, but actually do nothing, therefore developers succeed in making a pretty decent revenue from their gullible victims. Since System Clean Pro PUP is a very recent variant, not all antivirus programs pick up on it, as you can see in Virustotal.com analysis report, however if your security product failed to block this dubious application from installing, that doesn't mean that it's safe, and on the contrary, it may be a time to change your anti-spyware program.
In this article, 2-viruses.com team will show you, what happens when you install System Clean Pro PUP, how could it have infected your Windows if you did not voluntarily download it and recommend best possible elimination methods and reputable malware removal programs which for sure will detect and get rid of this unwanted and irritating application, so keep reading.
Features of System Clean Pro program
Now that you know that System Clean Pro is a potentially unwanted program and not the real product for Windows, there still may be a few doubts, but we assure that our research confirmed that the only thing that makes this application close to the true system optimizer is the visual aspect of it. Not only does it have a professional looking website that offers live support, download/purchase options and the rest of the information about the tool, when you open the program itself, it looks like a typical Windows utility program with its scanner, various different sections that it seems to scan, options for driver updating, virus scan, system repair and etc. Sad to say, these great-at-first-sight features are fake just like in other rogue applications Mac Heal Pro, My Mac Speedup, PC Repair Pro and etc.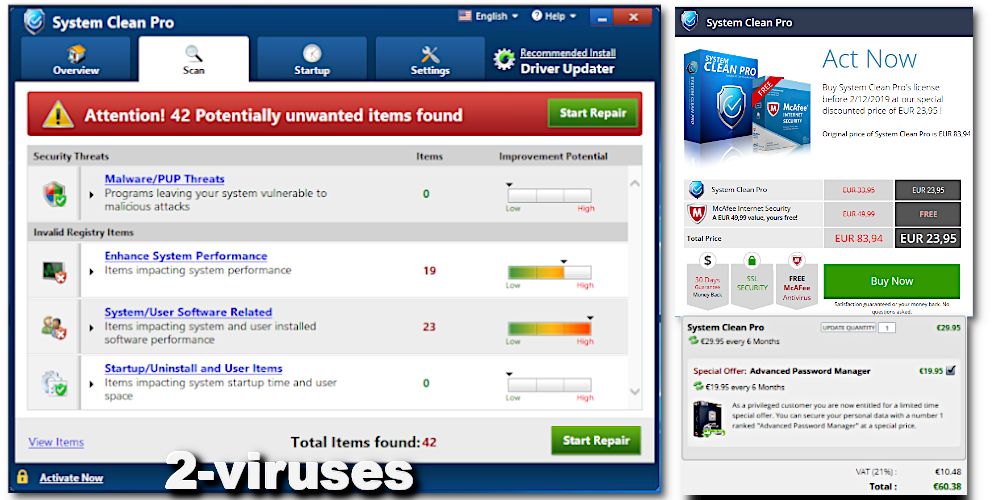 We ran a test on a clean Windows system and System Clean Pro managed to find a large number of errors without giving a specific directory and explanation because they simply weren't there. Faking issues allows the program to put the user in a worried state (typical qualities of Scareware) and push them to make illogical decisions. When System Clean Pro PUP is done with the scan, it always finds critical problems which are urged to be solved now, but you can only 'Start Repair' if you buy the full version of the program that cost you around €24/€30 every 6 months. While it seems like a small amount, as we mentioned before, this software does not do anything beneficial to your PC and fake the errors, therefore even a penny is not worth it.
Mind you, once you get this service once, after the end of six months, the subscription will auto-renew without a warning, therefore even if you will end up deleting System Clean Pro, it will be taking your money silently. If you don't play by System Clean Pro PUP's rules and ignore the discovered issues, it will definitely start acting inappropriately annoying and interrupt your work by displaying reminders continuously. Needless to say, when you end up on the purchase page, it will also try to sell you their other product called Advanced Password Manager, hoping that you will miss it, and they can charge you extra €20. Similarly, during the installation System Clean Pro will be bundled with Driver Updater which, unless deselected will invade your system too.
How does System Clean Pro PUP spread
2-viruses.com researchers found out that at the moment there are a couple of websites that are spreading System Clean Pro PUP. These pages are meant for self-promotion and are very well made, looking like any other professional Windows system tool. This way developers are able to proliferate the program legally because the user installs it voluntarily after falling for the deceitful cover. These websites that you should avoid are bitssystools.club and bitsolutils.live. But not only they can appear in your search when you'll be looking for system utility products, you can be redirected to these domains after browsing in other shady or ads-full websites, which contain hidden hyperlinks in eye-catching banners and highlighted phrases, or scam offers like Your Windows Is Infected With 5 Viruses!, Your McAfee Subscription Has Expired Today or Google Chrome Critical ERROR .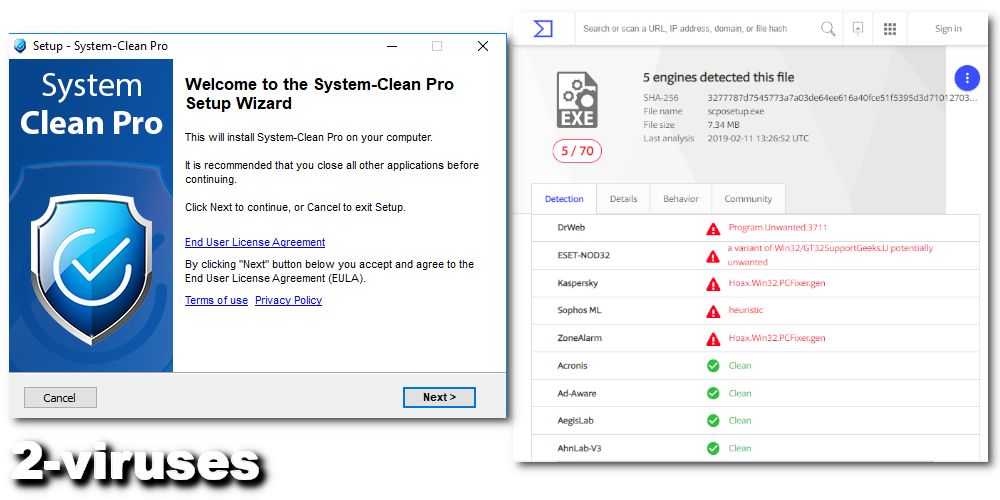 Truthfully speaking, optional installation is not the main spreading method that brings the most success to System Clean Pro PUP. It is the Bundling. There are some third-party websites that distribute shareware and freeware programs, which although being free, make you pay another price – your system's safety. Typically malware developers pay these domains to compile their products with other popular software installers as additional programs which get set by the default to set up at the same time unless a user chooses differently. Mind you, this can only be done in Custom/Advanced mode and not all such shady Setup Wizards have it. Therefore the best thing to do is to get programs only from their official sources and never choose Recommended/Express installation.
How to eliminate System Clean Pro
System Clean Pro potentially unwanted program can be easily uninstalled as it is shown in the instructions below, just like any regular application on your Windows. Yet, at times there are samples of this tool which become very persistent and simply reappear despite you completely removing it. In that case we advice using a special anti-spyware program like Malwarebytes or Spyhunter and running a full system scan so that the security app would find all the harmful files related to System Clean Pro PUP and delete them together with the rest of the virus. Additionally, such sophisticated malware tools also wipe out other threats that potentially could have sneaked in as well, and all you need to do in order to cleanse your computer is just to click a few buttons.
Automatic Malware removal tools
How to uninstall System Clean Pro software
Here are the guidelines for the manual System Clean Pro removal. As we mentioned before, they are very simple and not different than what you are used to regularly, yet you may find them useful if you get stuck at some point in the process. Moreover, you may want to quit System Clean Pro PUP first from the Task Manager, so it would not interrupt your elimination procedure.
How to remove System Clean Pro PUP using Windows Control Panel
Many hijackers and adware like
System Clean Pro PUP
install some of their components as regular Windows programs as well as additional software. This part of malware can be uninstalled from the Control Panel. To access it, do the following.
Start→Control Panel (older Windows) or press Windows Key→Search and enter Control Panel and then press Enter (Windows 8, Windows 10).
Choose Uninstall Program (if you don't see it, click in the upper right next to "View by" and select Category).
Go through the list of programs and select entries related to System Clean Pro PUP . You can click on "Name" or "Installed On" to reorder your programs and make System Clean Pro PUP easier to find.
Click the Uninstall button. If you're asked if you really want to remove the program, click Yes.
In many cases anti-malware programs are better at detecting related parasites, thus I recommend installing Spyhunter to identify other programs that might be a part of this infection.