Getquantity.club is a scam site. It asks you to fill out a survey, tells you that you won a phone, and then tries to get you to subscribe to Gamefoo.net. If you were unexpectedly charged some money by Gamefoo, or if you were promised a free phone and were wondering where it went, Getquantity.club might be responsible. If you see its address in your browser, close the tab immediately.
Getquantity Club Subscription Scam quicklinks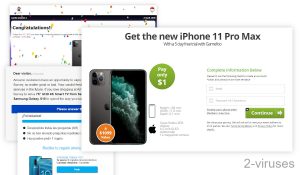 Details on Getquantity.club:
Type of threat
Scam.
How Getquantity.club scams people
Pretends to be a trusted company having a giveaway,

promises a free phone and says it needs some personal information,

asks for name, address, and credit card number.

How malicious ads spread
Deceptive links online, in social media sites,

misleading ads,

redirects by adware viruses.

How to deal with Getquantity.club
Ignore the site and don't interact with it,

scan your computer for malware (with Combo Cleaner for Mac, Spyhunter for PC, Malwarebytes, etc.),

ask for a refund if you were charged,

secure your computer with a good antivirus app.
Getquantity.club – a scam site
Getquantity.club is a scam site very similar to Vip.fortunatetime.xyz. In short, Getquantity.club impersonates a company and tells visitors that they're participating in a giveaway. It makes people think that they just won a prize. By promising this prize, it tricks them into filling out a form with their personal details. Then it uses that information to sign people up for a subscription service and charge them a monthly fee (Subscription Scams).
Here's how Getquantity.club operates:
you unintentionally open Getquantity.club, usually on your phone (on how Getquantity.club spreads – later),
Getquantity.club tells you to complete a short survey and promises a chance to win a prize,
you complete the survey and eventually are told that you won a new phone,
you're redirected to Gamefoo.net and are told to fill out a form with your personal and payment information,
your data is used to subscribe you to Gamefoo.
Getquantity.club has a few different pages it starts out with: an Amazon Customer Satisfaction Survey, a Tigo giveaway, a Telecentro giveaway, one for Movistar, StarHub, and a bunch of others. All of them – fake. They're not affiliated with these companies, but rather, they target people based on their location, internet service provider, and popular local stores and businesses. Getquantity.club does this to gain your trust. It's not affiliated with any of the businesses that it impersonates.
After completing the short survey, you're told that you won a phone (usually an iPhone 11 Pro or a Samsung Galaxy S10). Sometimes you need to guess, like spin a wheen on open little gift boxes, but you always win on the third try. The fake Facebook comments at the bottom of the page help sell the whole thing.
Then, Getquantity.club says that you need to confirm your identity and opens Signup.gamefoo.net. At the bottom of the site, it says that a winner will be selected from all participants, which implies that only one person of all those who were promised their prize will actually get it.
Gamefoo, or GameSpotter Ltd, is collecting your full name, address, and payment card details. According to the site's terms of service, it's offering paid memberships. Gamefoo is "the leading source for all your online entertainment needs". Actually, it sells old low-quality media that's absolutely not worth the money. Gamefoo.net is related to Dalimedia.net (Trustpilot), Lutemedia.net, Lazygame.net, Donnaplay.com (Complaintsboard), and others. These sites are somewhat similar to Geeker.com.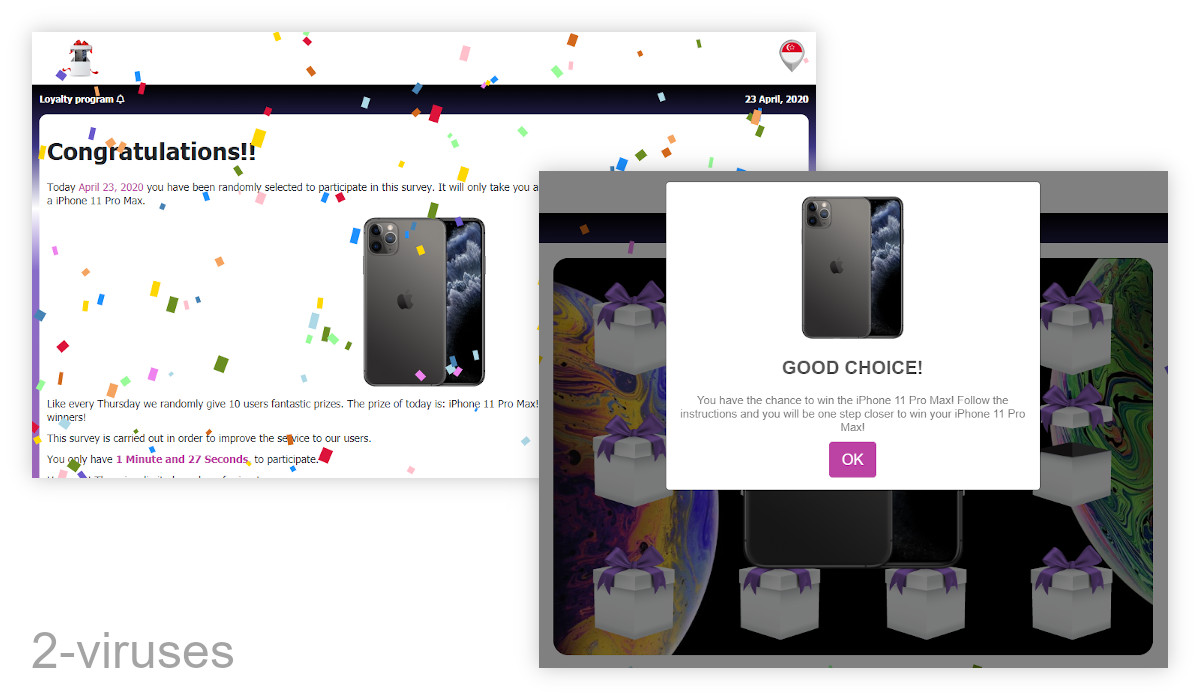 How scam sites spread
Getquantity.club ads often appear on mobile devices, but similar scams spread on all devices and all web browsers:
links in the descriptions of online videos,
links in spam email,
links in comments and messages in social media sites,
redirects from free movie sites,
redirects from any sites and advertisements.
Although you never know which ad may lead to Getquantity.club or which site may be infected and open a scam website, it's rare for malicious ads to make it on legitimate websites.
It's pirating sites that are most likely to cause Getquantity.club to appear on your screen. This includes malicious links in Youtube's video descriptions, as well as ads on various "free" movie sites. Pirating websites always have a lot of aggressive and dangerous advertisements, so this is nothing new. If you want to block malicious sites in your browser, you can use an anti-malware program with web security features. But it might block the pirating sites, too. You'll have to whitelist them yourself.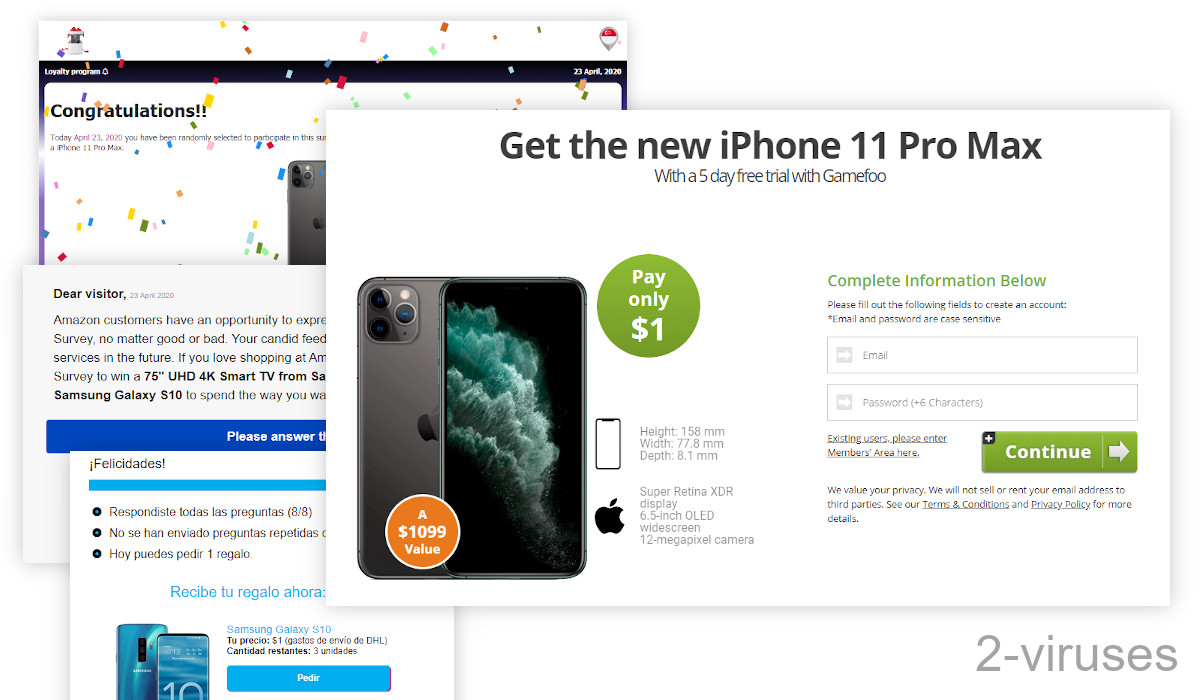 How to stop Getquantity.club pop-ups
If you find yourself on Getquantity.club, just ignore it and close the site. Don't get roped into the scam. With sites like Getquantity.club, the best way to know if they're real is to look for the terms of service and read on. If there's no link to terms of service, that's a huge red flag, too.
You are not in danger as long as you did not fill out the form that asked for your personal information. If you did, watch your bank account. Don't let anyone charge you money when you did not agree to it. Ask Getquantity.club for a refund and consider asking your bank for help. Accidentally giving your payment information to a malicious company is no joke.
If you have to deal with Getquantity.club and similar sites regularly, if excessive ads attack you all the time, scan your device with an anti-malware scanner, such as Combo Cleaner for Mac, Spyhunter for PC, Malwarebytes, and others. You might have an adware infections. These can be programs, apps, browser extensions. They may also be notification spammers, such as Bestdealfor.life.
It's also important to keep a good antivirus program on your computer, or very good browsing habits (no pirating, no unnecessary apps and browser extensions). Otherwise, your computer may get infected again.
But, again, if you only saw Getquantity.club a few times and you have no other problems with your browser, then you do not need to worry – you're fine.
Automatic Malware removal tools