WinZip Driver Updater is a rogue application that is detected by antivirus programs, shows down your computer with unnecessary scans, and shows unwanted pop-ups. It is meant to help you update all drivers just in one click, ensure that your Windows is always up to date, and to back up and restore any drivers whenever you need it. Though that may sound good, WinZip Driver Updater is not worth using. At best, its functions are completely redundant to the ones already built into the Windows operating system.
Winzip Driver Updater Virus quicklinks
Instead of actually helping users to make their system better, WinZip Driver Updater virus falsely shows alerts that some drivers immediately need attention and that they can only be renewed only if you purchase the full version of the product. WinZip Driver Updater is not very useful or necessary, so to get people to buy it, it needs to use some scareware tactics.
You can use WinZip Driver Updater while ignoring its warnings and pop-ups. But they will get more and more annoying, appearing every couple of minutes despite your attempts to make them stop. Besides, buying WinZip Driver Updater could get you into bigger trouble because the subscription renews automatically and can be difficult to cancel. Also, the $32 price is pretty steep and it will only be valid for one device. Take a look at this   article about how free trial programs end up charging your credit card without your consent.
Unfortunately, WinZip Driver Updater ends up being a problem to a lot of its users:
Symptoms

WinZip Driver Updater installed without consent
Constant scans and alerts
Unable to remove WinZip Driver Updater

Installation

Free software bundles
Deceptive marketing

Harm

Slower computer
Lost money
Unnecessary stress

Removal

Uninstall manually using the Control Panel
Remove unwanted programs automatically (Spyhunter)
Is WinZip Driver Updater a virus
Truthfully speaking, WinZip Driver Updater is not a virus but a rogue program that tries to convince you by lying to purchase the full version of the product. It might be incredibly annoying — constant pop-ups and scans running in the background — but it doesn't really cause that much damage to the computer. Nor does it do anything good, either. Some users noticed that the free trial would one time show that more than 20 drivers are out-of-date and the next minute it would say that system is in the perfect condition and doesn't need any updates. Furthermore, people who got the full WinZip Driver Updater version for money were tricked and said that the full version was available only on one computer but not multiple, which would be expected for $32.26 a year.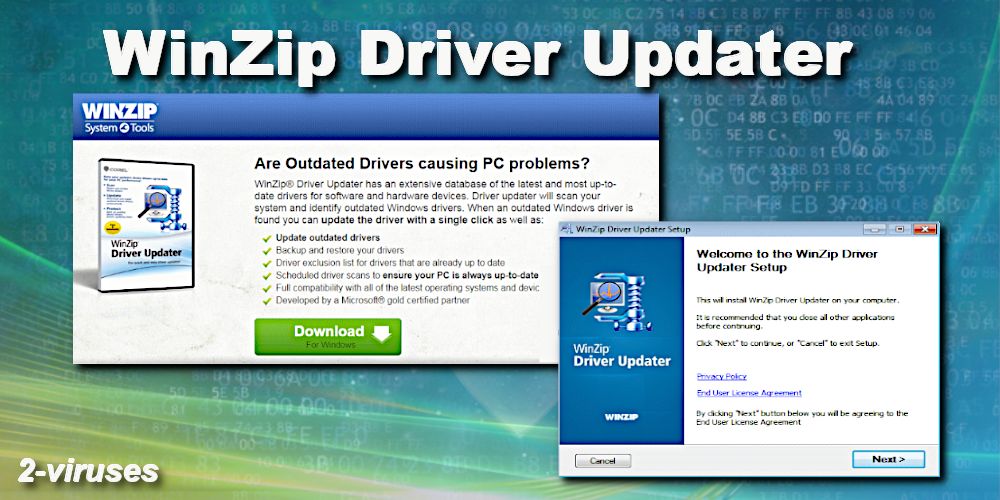 Additionally, WinZip Driver Updater's official site offers to download double trouble for $5 – something called WinZip System Utilities that works as a PC performance optimizer. But guess how 'helpful' it actually is. If you want a legitimate optimization tool, better invest in Spyhunter, which is real software. Anyway, this type of scam is old news and you can see similar behavior in programs like MacShiny, PC Optimizer Pro, Win Tuneup Pro, and Super Driver Updater. Take a look at the Eula and see for yourself how tricky this software and its plans are.
WinZip Driver Updater's Eula reveals a few interesting details:
WinZip Driver Updater can be installed silently, without showing you any alerts.
Together might be installed Smart Monitor, which runs in the background and shows pop-ups.
WinZip Driver Updater creates scheduled scans, so even if you close the program, it will still scan your computer regularly. Usually, Windows would ask you to confirm each of these scans because they need administrator-level permissions. However, WinZip Driver Updater pre-approves those and runs with administrator rights automatically.
Running WinZip Driver Updater through a thorough scan with VirusTotal/Hybrid-Analysis, showed that it is recognized as a malicious program that uses deception to trick users. Just like another similar group of programs called registry cleaners, WinZip Driver Updater works on the placebo principle. It pretends that there are a lot of issues with your computer and requests you to pay for the full version to fix everything, providing the user with a false sense of security for $30 dollars.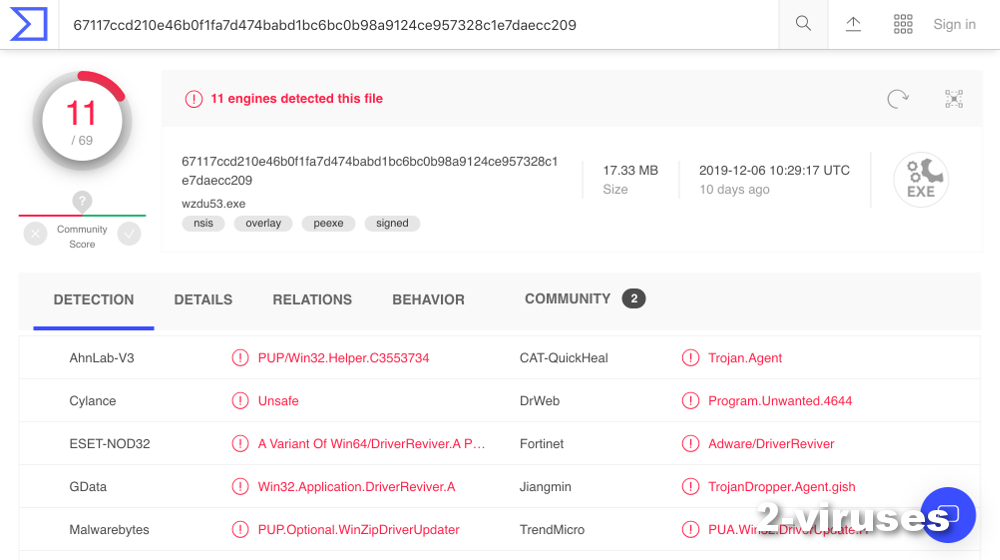 To be honest, you probably don't even need a driver-updating utility like WinZip Driver Updater. It promises that updated drivers will "boost performance and improve reliability to your PC", but that's suspicious — as hardware on your computer remains the same, there is almost never new functionality or performance that a new driver can give you (graphic cards being an exception). It is still good to update device drivers, but Windows already does it with new updates. So, when WinZip Driver Updater scares you about outdated drivers, there is no need to panic. It does that to appear more useful and to appeal to our obsession over optimizing our computer. In that way, WinZip Driver Updater is manipulative and dishonest.
How does WinZip Driver Updater virus infect computers
WinZip Driver Updater can look very professional and trustworthy. It has a website that looks like any other system optimizer site and on it, WinZip Driver Updater is said to boost PC and device performance. It is advertised online quite a lot on social media sites and on tech sites and it can look appealing to people who want to make their computer run better.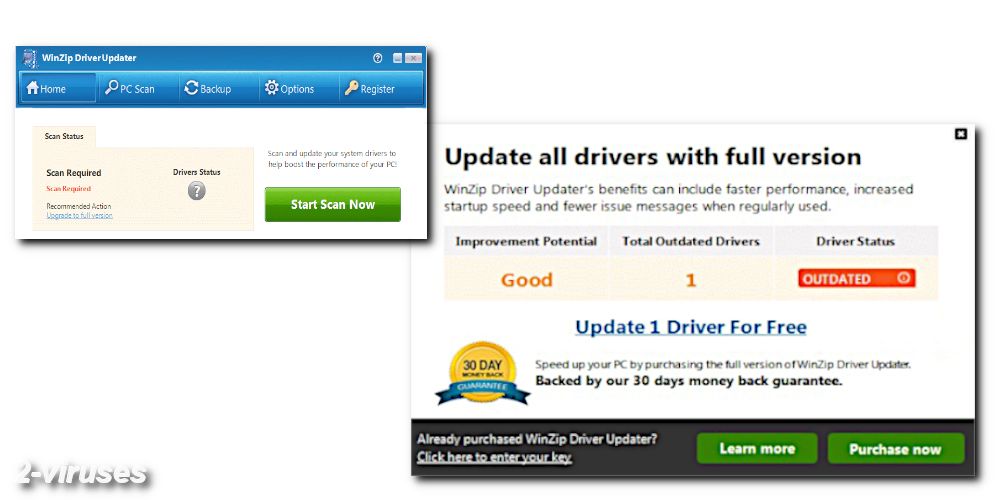 Yet, in some cases, WinZip Driver Updater may appear on your Windows system unexpectedly, when you hadn't even heard of it before. If that happened to you, then you may have experienced its first shady feature – hiding in another program (aka bundling). Bundled programs are those that are offered to you during the installation of another application. Thanks to bundling, users may install WinZip Driver Updater by accident and without wanting it. Bundling allows WinZip Driver Updater to spread to vast amounts of computers, increasing the chances to get their users to purchase the full version of the program after scaring with alerts.
Pretty much every freeware distributing site takes popular legitimate programs and pairs them with unwanted software. When the victim runs the installation, there are additional programs that are premarked to get installed by default with the main software unless the user selects differently. WinZip Driver Updater can also be installed after downloading illegal torrents, running fake updates, or if you have another virus on your computer.
How to uninstall WinZip Driver Updater PUP
Luckily, WinZip Driver Updater and some other rogue applications can be fairly easy to remove since they include the uninstalling function like a normal program. That is why you shouldn't have much trouble getting rid of it by simply using good old Control Panel. We have a step by step guide on how to do that below.
Unfortunately, you might not be that lucky. Some people can't seem to uninstall WinZip Driver Updater while it starts behaving worse and worse. For example, your version of WinZip Driver Updater might have a different official name that makes it hard to find. Or it might have been installed by malware. In that case, you certainly will need a Spyhunter or Malwarebytes which are legitimate security products that will identify WinZip Driver Updater and its all its files, find the other virtual parasites and delete them for good.
That said, it's also important to know how to avoid PUPs like WinZip Driver Updater in the future, since there's no shortage of them online.
Research each program before installing it. Look for reviews, alternatives, and the business model so that you don't get tricked like some WinZip Driver Updater users into recurring payments.
When you're installing a free program, check every screen for "optional offers" and "recommended installations". Carefully think about if you want to install them, as they're usually PUPs.
Be suspicious of products that are advertised intrusively or dishonestly. Those that use pop-ups and appear in new tabs and which promise you to "boost performance" of your computer. WinZip Driver Updater certainly makes plenty of unrealistic promises.
Automatic Malware removal tools
How to remove WinZip Driver Updater virus using Windows Control Panel
Many hijackers and adware like
Winzip Updater
install some of their components as regular Windows programs as well as additional software. This part of malware can be uninstalled from the Control Panel. To access it, do the following.
Start→Control Panel (older Windows) or press Windows Key→Search and enter Control Panel and then press Enter (Windows 8, Windows 10).
Choose Uninstall Program (if you don't see it, click in the upper right next to "View by" and select Category).
Go through the list of programs and select entries related to WinZip System Utilities . You can click on "Name" or "Installed On" to reorder your programs and make WinZip Driver Updater virus easier to find.
Click the Uninstall button. If you're asked if you really want to remove the program, click Yes.
In many cases anti-malware programs are better at detecting related parasites, thus I recommend installing Spyhunter to identify other programs that might be a part of this infection.