"Windows Security has been Compromised" pop-up message is nothing more than a technical support scam. If you were browsing the Internet and found yourself looking at this message – don't be scared, there are no problems with your Windows operating system. It's just a cheap trick to scare users and force them into buying services that are not really needed.
Windows Security Has Been Compromised quicklinks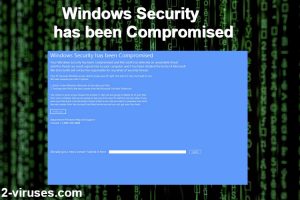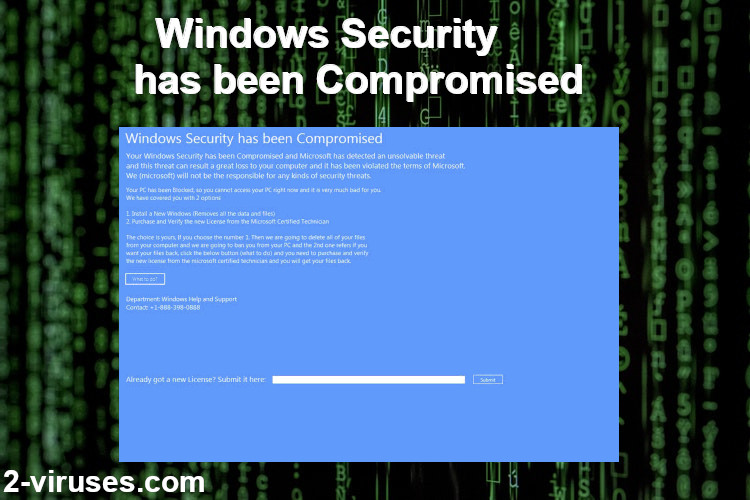 Basically, there are two possible scenarios for "Windows Security has been Compromised" scam. It might be that you just coincidently visited a website that is monetized with this advertisement. In this case, there is nothing to worry about – you can simply leave the website, close the ad and you won't experience any problems regarding "Windows Security has been Compromised" ever again. However, if this message just keeps following you and it appears on different websites that you are visiting, it might be that it is caused by some kind of malware that is operating on your computer.
So if you have experienced "Windows Security has been Compromised" scam notification more than once, you should definitely take care of the security of your computer. You will need to diagnose the problem and fix it – we are here to help you do that. By the end of this article, you will be able to detect and remove the virus related to "Windows Security has been Compromised" scam.
How "Windows Security has been Compromised" Scam Works
We have mentioned that "Windows Security has been Compromised" is a technical support scam and you might be wondering how those schemes work. There is a number of similar scam viruses, such as Select Region scam, Microsoft Help Desk tech support scam, or This User Is Disabled scam, so we certainly know how they work.
Well, cyber criminals behind notifications like this use Social engineering methods to create messages that would alert users about some kind of problems that don't exist in the reality. They want to encourage users to seek help to those problems they just created and they offer this help right away.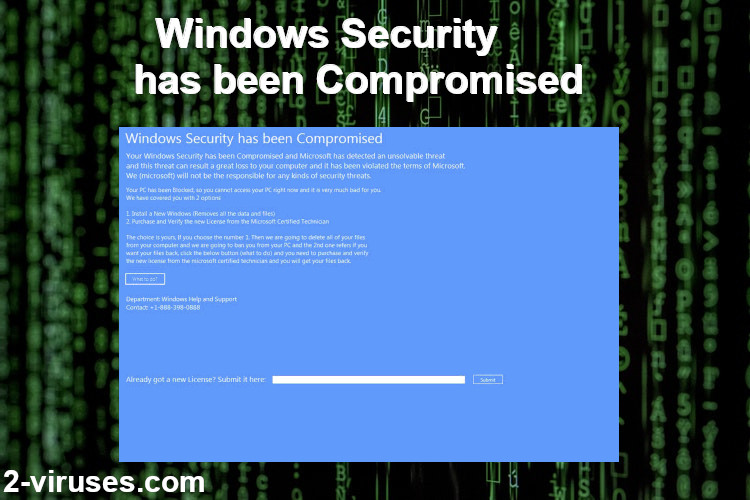 The trick is that they want to make money by offering you a solution that is not needed. In this particular case, they try to convince users that there is a severe problem regarding the security of their Windows OS copy and that it can't be used anymore. They propose two possible solutions – to reinstall the operating system and lose all your data or purchase and verify new license from a certified Microsoft technician. Obviously, they want you to go for a second option and here is why – they will ask you to call +1-888-398-0888 number in order to do that, and by doing that you can get scammed. Here is original text from their notification:
Windows Security has been Compromised

Your Windows Security has been Compromised and Microsoft has detected an unsolvable threat

and this threat can result a great loss to your computer and it has been violated the terms of Microsoft.


We (microsoft) will not be the responsible for any kinds of security threats.

Your PC has been Blocked, so you cannot access your PC right now and it is very much bad for you.


We have covered you with 2 options

1. Install a New Windows (Removes all the data and files)


2. Purchase and Verify the new License from the Microsoft Certified Technician

The choice is yours, If you choose the number 1. Then we are going to delete all of your files


from your computer and we are going to ban you from your PC and the 2nd one refers if you


want your files back, click the below button (what to do) and you need to purchase and verify


the new license from the microsoft certified technician and you will get your files back

What to do?

Department: Windows Help and Support


Contact: +1-888-398-0888

Already got a new License? Submit it here:
Don't be fooled – there is no problem with your operating system, do not call that number. Usually, there are some guys sitting on the other side of the globe, waiting for naive users that could spare some money for nothing, like in this example:
There are two possible outcomes if you actually do call that number. You can be asked to purchase a fix to this problem and it will cost you something in a range of $100-$500 or even more. Or, those crooks can just gain access to your computer and steal your personal information. Either way, that's quite a loss.
How To Fix "Windows Security has been Compromised" problem?
As we have already said, there is a chance that you were simply unlucky to visit a website that displays this pop-up advertisement. However, it might be that it's some kind of malware that is operating on your computer and you need to remove it right now.
To detect and delete the virus, you should get yourself a reliable anti-malware application, such as Spyhunter. Those tools can instantly detect and remove most of the computer viruses, so it shouldn't be a challenge to deal with this problem.
It might be that there is a certain application installed directly on your computer that is responsible for "Windows Security has been Compromised" scam notifications. You can fix this problem yourself – just follow the instructions provided below.
Automatic Malware removal tools
How to remove Windows Security has been Compromised using Windows Control Panel
Many hijackers and adware like
Windows Security has been Compromised
install some of their components as regular Windows programs as well as additional software. This part of malware can be uninstalled from the Control Panel. To access it, do the following.
Start→Control Panel (older Windows) or press Windows Key→Search and enter Control Panel and then press Enter (Windows 8, Windows 10).
Choose Uninstall Program (if you don't see it, click in the upper right next to "View by" and select Category).
Go through the list of programs and select entries related to Windows Security has been Compromised . You can click on "Name" or "Installed On" to reorder your programs and make Windows Security has been Compromised easier to find.
Click the Uninstall button. If you're asked if you really want to remove the program, click Yes.
In many cases anti-malware programs are better at detecting related parasites, thus I recommend installing Spyhunter to identify other programs that might be a part of this infection.