One way to describe the arrival of "This User Is Disabled" lock-screen is to point out the improbability of the incident. Viruses have little interest in forewarning people before an attack. Its like setting up a trap and then telling the victim to watch out for it. "This User Is Disabled" lock-screen will guarantee that some malicious activity has been sensed. Even though the message is going to indicate its maker as Microsoft, this corporation is not related with it. The real culprits behind this roguery are crooks that are focused on increasing revenues. Their main and only goal is to influence users enough for them to cave in. "This User Is Disabled" message prevents users from accessing their systems. It is generated by an active Trojan infection that managed to obtain a spot in your device.
About "This User Is Disabled"
As you can see from the provided screenshot, users are going to be informed about ostensible malicious files in the device. No more details are mentioned. In order to solve this issue, the message gives a recommendation of contacting Microsoft technicians via 1-914-465-0012. This would not be a poor idea if the provided number would actually connect victims with legitimate security consultants. People that answer incoming calls are most frequently sly advertisers with a cunning tongues. Their skilled persuasions can affect people enough for them to open wallets and purchase promoted products. To fix "This User Is Disabled" screen locker, victims are going to be offered to purchase a specific code to log in. Actually, there is no reason to pay for a combination of numbers and letters since this message is a complete sham. Yes, your system has been invaded by a Trojan, but this message is not responding to this issue. By buying the necessary code or software, you are simply throwing away your money. The issue will indeed be solved with the received code, but sending money to unreliable developers definitely was not obligatory.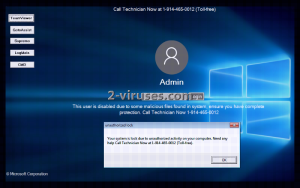 "This User Is Disabled" is not operated by Microsoft corporation. The real creators are deceptive people that have no interest in benevolently helping Internet users. Their goal is to outwit users and get them to buy advertised products. By being unable to separate legitimate messages from completely ludicrous ones, users are risking to spend money and time on total nuisances. Furthermore, interaction with "This User Is Disabled" screen also triggers an additional window. If you press on the lock screen, you are going to be introduced with a table, signaling that your system is locked because unvalidated sources are influencing the functionality of device.
Distribution Methods of "This User Is Disabled" Tech Support Scam
"This User Is Disabled" alert is demonstrated due to an infection with a Trojan. In order to get infected, you have to download a misleading file that was indicated to be something completely different. It might be that you were deceived into downloading a program that actually installed a Trojan as well. Out of consideration for security, you should only download and install programs from reliable file-distributers. By constantly selecting software from fickle sources, you are putting your device in jeopardy. Trojans, spyware, adware, browser hijackers, worms are all awaiting for an opportunity to negatively influence devices. By engaging in dubious online activities (for example, visiting peculiar domains) you are voluntarily stepping into a danger zone.
In order to escape the "This User Is Disabled" Tech Support Scam, you have to reboot your computer in a Safe Mode. An easy tutorial can be spotted in the section labeled as "Tutorials". After that, you should use an anti-malware tool for a proper elimination of the Trojan. Spyhunter or Hitman should be assigned for the protection of your device.
Automatic Malware removal tools