Vimlo.pro is a malicious notification spammer and it causes unwanted pop-ups to constantly be sent to your browser. The pop-ups are caused either by malware, or by you accidentally subscribing to Vimlo.pro notifications. The ads are dangerous, they include malware, scams, and other potentially harmful content. Luckily, Vimlo.pro's pop-ups can be stopped completely.
Vimlo Pro Pop Ups quicklinks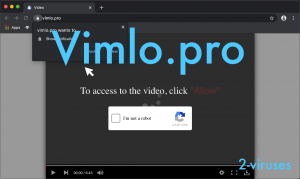 Pop-up ads by Vimlo.pro are dangerous and should be avoided/stopped:
How Vimlo.pro pop-ups start
Ads open the site and users allow its notifications,

malware enables the pop-up ads

Dangers of the ads
Fraud schemes can cost a lot of money,

malicious websites can download malware,

scams may steal your personal information

What to do when faced with a site like this
Close the browser tab,

use keyboard shortcuts to close the tab or the browser,

use antivirus programs to block Vimlo.pro and other spammers

Stop the Vimlo.pro pop-ups
Unsubscribe to its notifications,

remove malware from your computer (Combo Cleaner for Mac, SpyHunter for PC, or another program)
How the pop-ups start
Vimlo.pro has a few pages that show a picture of a loading image with the text:
Press "Allow" to watch the video
or
To access the video, click "Allow"
The "Allow" in these lines refers to allowing Vimlo.pro to send you notifications (the pop-ups in your browser).
Vimlo.pro's notifications are often allowed by mistake or Vimlo.pro forces it by holding visitors hostage. The malicious page may be displayed in full screen and lock your screen until you relent and press the "Allow" button. The only obvious way to get of Vimlo.pro is to follow the instructions. In reality, you can use keyboard shortcuts to close the browser tab, like Cmd+W on Mac and Alt+F4 on PC.
Another reason for allowing the Vimlo.pro notifications by accident is that users trust it. Sometimes, people are forwarded to Vimlo.pro automatically from streaming websites. Imagine – you're trying to watch a video on some Putlocker site and then a new tab opens with a video about to play. You could just follow Vimlo.pro's instructions on inertia. It's important to recognize that Vimlo.pro is just an ad that's trying to look like whatever website you were on previously.
Finally, Vimlo.pro could be enabled by malware on your computer. If your computer is infected, other symptoms should include new unfamiliar programs being installed, frequent hangs and slowdowns, email spam, hacked accounts, and pop-ups on your screen.
Problems with Vimlo.pro pop-up ads
Vimlo.pro's behavior is not legitimate and not fair. This site shows you ads in your browser and you do not get anything from it in return. The pop-ups spread malware sites which can be dangerous:
Scams that tell you to invest and promise great returns. These include trading scams, celebrity-backed scams, work-at-home schemes, pyramid schemes, and similar fraud.
Fake virus alerts, warnings about your operating system being blocked, alerts for installing an update for your browser or media player.
Prize, lottery, sweepstakes games that promise you a valuable prize (thousands of dollars, a brand new phone, etc.) and ask you to reveal your credit card data and to pay money for various fees. The prize doesn't actually exist, of course.
Sites that automatically download malware.
Even if you're being careful, it's easy to be caught off guard by a tech support scam or a phishing scam. Vimlo.pro shows normal ads, too, as well as only mildly dangerous stuff, like gambling sites. What ads Vimlo.pro shows you depends on your location and your browsing habits. The pop-ups are often designed to look like social media updates and have nothing to do with the contents of what's being advertised. But a big portion of the ads are legitimately dangerous.

How to stop the Vimlo.pro pop-up ads
You can unsubscribe from Vimlo.pro's ads manually. Just open your browser and find notification settings:
Chrome – type "chrome://settings/content/notifications" in the address box.
Safari – in the Safari menu, choose Preferences, Websites, Notifications.
Edge – open Settings, Advanced settings, Notifications, Manage.
Firefox – type "about:preferences#content" in the address bar, find the Notifications section.
There, you should see the names of websites that are either blocked from sending you pop-ups, or are allowed to. Vimlo.pro has multiple versions, such as "kpjrx.vemlo.com" and "tsh2u.vemlo.com", so you need to find all of them. Open a menu by each one and choose to block it. Block other adware sites, too, like Install.notify-service.com, Ultimate-captcha.com, Best.prizedeal0919.com, and others. If you don't use notifications at all, you might want to block them.
It's important to scan your computer with an anti-malware program. If Vimlo.pro caused malicious files to be downloaded or if you have adware on your computer, these need to be deleted. You can use any good-quality anti-malware program, like Combo Cleaner for Mac OS or SpyHunter for Windows.
Automatic Malware removal tools