TweakBit Driver Updater is a third-party utility for Windows. It tells you that drivers on your computer are obsolete and that your PC performance may be compromised because of that. If you use the paid version of TweakBit Driver Updater, it then downloads and installs new drivers from its database. Most cybersecurity experts seem to agree that driver updaters are no good, while TweakBit Driver Updater is detected by some anti-malware scanners as a deceptor and a potentially unwanted program.
Tweakbit Driver Updater quicklinks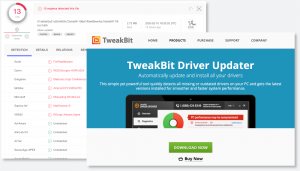 TweakBit Driver Updater features and issues:
Classification
Potentially unwanted program.
Problems with TweakBit Driver Updater
Claims that updating drivers will improve performance,

advertises dishonestly,

bundles unwanted software,

isn't clear about payment conditions,

detects functional drivers as "obsolete",

may misidentify the hardware and install the wrong driver.

How it gets installed
Advertised when searching for drivers,

bundled with other programs.

How to remove TweakBit Driver Updater
Manually uninstall from the Control Panel,

use an anti-malware scanner if needed (Spyhunter, Malwarebytes, etc.).
Is TweakBit Driver Updater useful?
About TweakBit Driver Updater
Who needs a driver-updating utility like TweakBit Driver Updater?
Some people find it when one of their devices malfunctions or is missing a driver. Instead of going to that device manufacturer's site, they go to TweakBit Driver Updater. Other times, people look for a way to get the newest drivers all the time and see an ad for TweakBit Driver Updater.
But security experts warn against compulsively using driver updaters. These programs may detect and install new drivers that haven't been properly tested. Lots of stories online about devices malfunctioning after a driver updater was allowed to do its thing. TweakBit Driver Updater also features in some of these stories.
The reality is, you don't need to stress about keeping all of your devices up-to-date. Old drivers are fine, as long as everything works well. And using newer drivers won't improve the performance of your PC. After all, this is hardware – there's an unbreakable physical limit to how well it can work. And yet, TweakBit.com claims that TweakBit Driver Updater can improve computer performance. Hardly!
TweakBit Driver Updater can help you install a missing driver. But in the long run, it's not that helpful. Its drivers won't be as stable as those installed by Windows updates. If there are any performance gains, they won't make up for the time wasted on TweakBit Driver Updater's scans.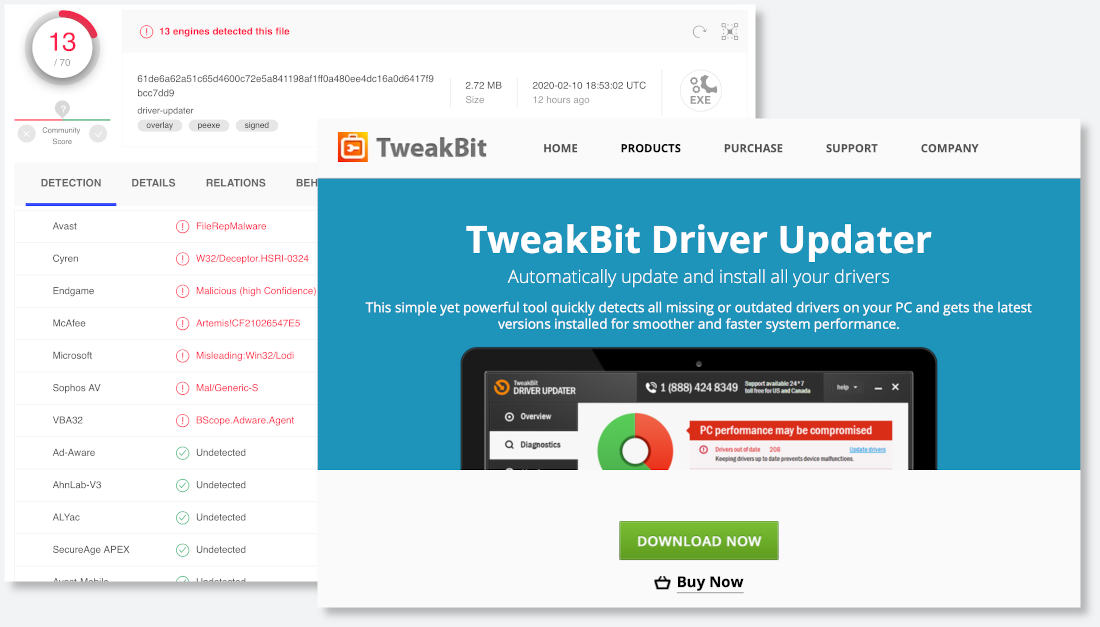 Should you use a driver updater?
For most devices, new drivers are only needed to keep devices compatible with new software, as well as to fix bugs. Drivers let your operating system talk to the hardware, so testing them and making sure that they work right is very important.
We know how important software updates, especially operating system updates, are for security and user experience. New features are introduced and security bugs are fixed.
Device driver updates then are also very important. Microsoft selects safe and tested drivers and installs them with Windows updates. Microsoft favors stable and safe drivers over new ones. Recently, they made it easier to avoid installing new drivers with the optional updates screen, but that's not recommended unless you really know what you're doing.
Besides letting Windows do it, you can install new device drivers yourself. Manufacturers make new drivers available regularly on their sites and through a special application.
Whichever way you do it, driver updates are always free – or they should be. TweakBit Driver Updater goes for $29.95 and bundles another paid program, File Recovery. Other tools, like Driver Updater Plus, Super Driver Updater, and WinZip Driver Updater, also don't come free.
Most people don't need to ever worry about drivers – they can just let Windows take care of it. And advanced users who already know how to keep their system up-to-date can install the drivers that they want quite easily.
Problems with TweakBit Driver Updater
Overall, TweakBit Driver Updater is not malicious, but it's definitely unnecessary. It has some issues and should not be used. After all, it's just a paid program that's totally redundant to Windows Update, so you'd pretty much be throwing your money away. Also, some people have noted that when buying TweakBit Driver Updater, it's not obvious whether one is getting a 3-month subscription, or a 6-month, or a 12-month one.
Plus, the way that TweakBit Driver Updater gets installed isn't always honest:
It may come bundled with other programs as an optional offer, which often results in some unintentional installation.
Also, it's pretty concerning that a bit of TweakBit.com's traffic comes from fake virus alerts and update prompts, like "w-microsoft.com" and "microsoft-windows10.com".
Then I have an issue with TweakBit Driver Updater's ads looking like a Microsoft page to the point where it's borderline spoofing to trick people into thinking that Microsoft recommends TweakBit Driver Updater (it does not).
Just look at TweakBit Driver Updater's ad on Tweakbit.com and the comparison to Microsoft's sites: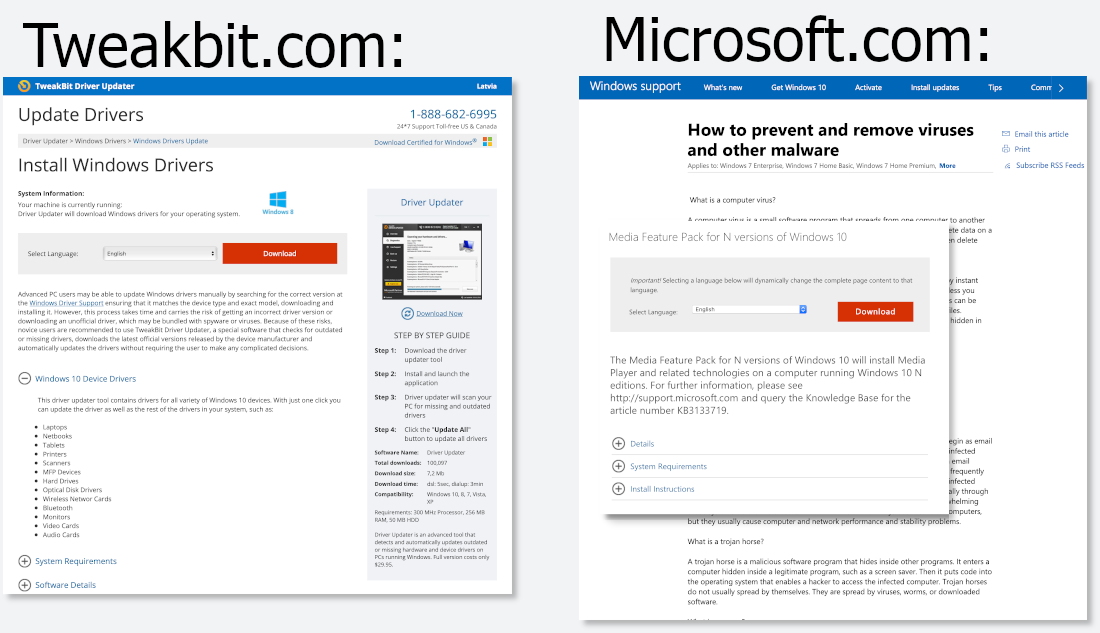 How to remove TweakBit Driver Updater
If you found TweakBit Driver Updater to be helpful, I'm not telling you to quit using it. But it is not recommended to use.
You can remove it by going to the Control Panel and uninstalling it. You may need to kill its process first. Or, if that doesn't work or if some pop-ups keep appearing after TweakBit Driver Updater is gone, you can use an anti-malware program like Spyhunter or Malwarebytes to scan your device and find the offending files.
Automatic Malware removal tools
How to remove TweakBit Driver Updater using Windows Control Panel
Many hijackers and adware like
TweakBit Driver Updater
install some of their components as regular Windows programs as well as additional software. This part of malware can be uninstalled from the Control Panel. To access it, do the following.
Start→Control Panel (older Windows) or press Windows Key→Search and enter Control Panel and then press Enter (Windows 8, Windows 10).
Choose Uninstall Program (if you don't see it, click in the upper right next to "View by" and select Category).
Go through the list of programs and select entries related to TweakBit Driver Updater . You can click on "Name" or "Installed On" to reorder your programs and make TweakBit Driver Updater easier to find.
Click the Uninstall button. If you're asked if you really want to remove the program, click Yes.
In many cases anti-malware programs are better at detecting related parasites, thus I recommend installing Spyhunter to identify other programs that might be a part of this infection.