Torrentgalaxy is a pirate site that allows content to be downloaded or streamed for free, often without permission from the copyright holders. It's used as an affordable way to watch movies and TV shows online. In theory, it is possible to get in legal trouble for using it, but that's not the biggest issue with Torrentgalaxy.
As with other pirating sites, the real problem with Torrentgalaxy is its aggressive and obnoxious ads. To make money, Torrentgalaxy shows ads and redirects, many of which lead to potentially unwanted sites and some may even lead to adware infections or notification hijackers.
Torrentgalaxy Pop Ups quicklinks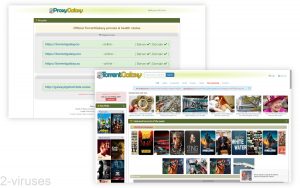 Torrentgalaxy in short:
Classification
Adware.
Dangers of using Torrentgalaxy
Pirating could potentially be illegal, depending on how you do it,

the ads on Torrentgalaxy may lead to dangerous sites,

some of the torrents could be unsafe.

How the ads show up
New tabs open randomly in the browser,

little notifications in the corner of your browser.

How to remove Torrentgalaxy ads
Disable unwanted notifications,

use antivirus programs (Spyhunter for PC, Combo Cleaner for Mac, others) to check your device and to remove malware.
Torrentgalaxy
Legality
Torrentgalaxy is a pirate site for getting free movies, TV shows, and other copyrighted content. It's got a few websites, including Torrentgalaxy.to, Torrentgalaxy.org, Torrentgalaxy.mx, and Torrentgalaxy.su.
Torrentgalaxy was established in 2018 and distinguished itself as a mix of a torrenting site and a streaming site.
It is to Limetorrents, Zooqle, and others, but it also allows streaming like 123Movies.
Legally, at least in the United States, people consider that streaming stolen content could be not-illegal, but downloading and sharing (torrenting) is. How people use Torrentgalaxy is up to them, and they may or may not face some consequences later. This is complicated.
Privacy and security
There's a lot of drama with Torrentgalaxy and other pirating sites. Sometimes, they or their content providers keep information on their users. And now, Torrentgalaxy warns that it is apparently about to be blocked in some countries.
You can use VPNs and proxies to get across country borders. In addition, using a VPN moves your browsing history away from your ISPs and giving it to the VPN operators, which could help hide your pirating activities. That said, you never know when the VPN could be keeping logs of all of its users, so don't trust the VPNs too much.
You should also remember that VPNs cannot protect you from malware. Luckily, Torrentgalaxy seems to be curated well enough.
However, there is some cracked and "patched" software that can be downloaded off of Torrentgalaxy that will be detected as malware by antivirus scanners. Mostly various download managers that are cracked and sometimes even bundled with adware.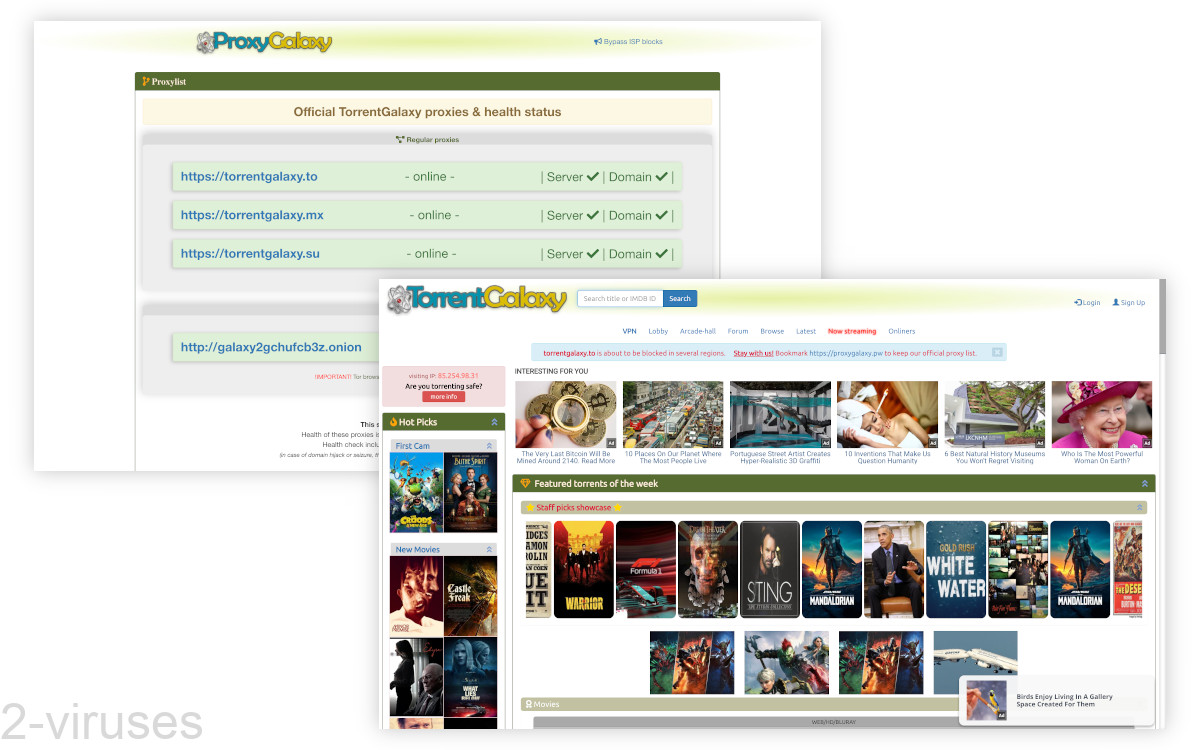 Unwanted ads
Torrentgalaxy shows a lot of pop-up ads when you interact with the site. As is normal for pirating sites, these ads pop up without clicking on ads and they're impossible to avoid.
Some of the ads include categories that may be unwanted:
Online casino ads.
Payday loans.
Adult videos.
Potentially unwanted browser extensions.
Spoofed articles selling miracle cures.
Plus, there is plenty of clickbait on Torrentgalaxy by ad companies like AdsKeeper. These ads could result in notification spam.
How to remove Torrentgalaxy ads
Block notifications
If little pop-up ads show up from websites that you don't even have open, that is likely caused by notification hijackers. Notifications allow sites to send messages to browsers and they're often abused to display ads.
To block them, wait for a notification to show up and then click on the Settings button.
Or don't wait for the ads and go into your settings right away:
Chrome – open Settings, scroll down to Site settings (under Privacy and security), click on Notifications.
Edge (Chromium) – open Settings, click Site Permissions, Notifications.
Firefox – open Settings, Privacy & Security, scroll down to Permissions, and click on Settings next to Notifications.
Safari – in the Safari menu, choose Preferences, Websites, Notifications.
Find all the addresses of sites that are sending you unwanted ads and block their notifications. Don't worry, this doesn't block the sites themselves.
You may also want to stop notification prompts from appearing at all. This can help you avoid hijackers in the future.
Remove malware
Check your device for malware with an anti-malware tool, like Spyhunter for Windows, Combo Cleaner for macOS, and others. Do this regularly and use a real-time filter or scan the files that you torrent.
Especially if those files are software. There are infections, such as Djvu ransomware, that spread in pirated files.
Automatic Malware removal tools