Limetorrents.info pop-ups can appear unexpectedly on your screen and flash some intrusive and inappropriate content, disrupting all the other work you are doing on your computer.  It mainly can start from one or two push notifications per hour, but later get so extremely aggressive and send more than ten pop-ups at once. Most of us know Limetorrents.info as a Torrent site, where pirated entertaining media or software can be downloaded for free, but that does not mean that only its customers are affected.
Limetorrents Info Pop Ups quicklinks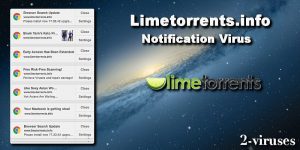 Limetorrents.info notifications are definitely not a good sign and show that your computer needs a deep cleansing, from the malicious adware, potentially unwanted programs, harmful browser extensions and much more. Right now Limetorrents.info pop-ups mainly disturb users from the United States, Canada, Brazil, Turkey and India and has been increasingly infecting more and more people from all around the globe (in August it has more than 10.3 million visitors).
If you are seeing Limetorrents.info notifications and want to learn how to get rid of them, then you came to the right place, because here 2-viruses.com team will show you the best methods on how to get rid of this popping threat.
What's special about Limetorrents.info Pop-ups
Limetorrents.info is a real torrent site, which is a subdomain for the main web page, which was closed due to the copyrights, according to the Techworm.net article. In the same article, Limetorrent.info creators explain that, because of the Google ban, they had to open multiple site copies like Limetorrents.io, Limetorrents.asia, Limetorrents.zone, so that they could continue their torrent services and change Monetization techniques to start earning more money. Limetorrents.info developers mentioned that at the moment most people are using ad-blockers, therefore they are losing the profit they could be making form sponsored promotions like they used to, which helps to support the page and allow free downloads.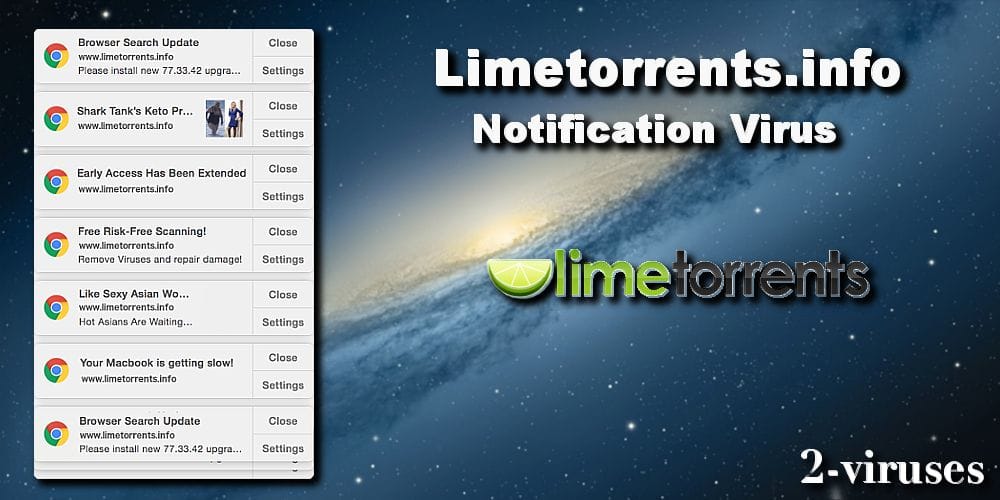 Website closure, people's awareness and use of other sites have driven Limetorrents.info to start Advertising slightly different, this time even outside their site. By using malicious codes, crooks were able to overcome the settings of the browsers and start placing various online deals, that look like push notifications from your Chrome or Mozilla, on the desktop, and not just their site. These eye-catching messages are mostly coming from PopAds, sh.st, adfoc.us, clixSense, TrafMag, and a few other advertising networks, but at the same time can redirect to other dangerous pages, eg. hidderswera.club, invictioner.club, cyberlink.pro, remistrainew.club, rementoolsr.club.
Only one online security program marks limetorrents.info site as malicious, as seen in VirusTotal.com report, however, it only scans the site, but not the external and internal links to which you will be diverted several times after a visit. Affiliate marketing is what's behind the Limetorrents.info pop-ups, which although helps to support the torrent page, can result in a full system compromising. Limetorrents.info creators are not intentionally posting malware themselves, but they allow third-parties to directly connect with you through these push notifications, and no one controls what they can post, therefore Malvertising is a common phenomenon.
These pop-ups are really persistent because they are generated by other malicious viruses, which have better possibilities to distribute, avoid antivirus and stay persistent. There is no need for you to risk your computer's and your own safety by keeping  Limetorrents.info pop-ups. Just scroll down this article and learn how to remove these annoying and malicious add-ons once and for all.
Why are you seeing Limetorrents.info notifications
Let's face it, torrent sites are already pretty malicious themselves, therefore those who actively use Limetorrents.info or any of its other subdomains, should not be very surprised if they catch some sort of virus. It's usually the unfortunate click on a link or an ad on these websites, that initiates the setup of a malicious browser extension which in the end starts controlling your search engine and displays various pop-ups.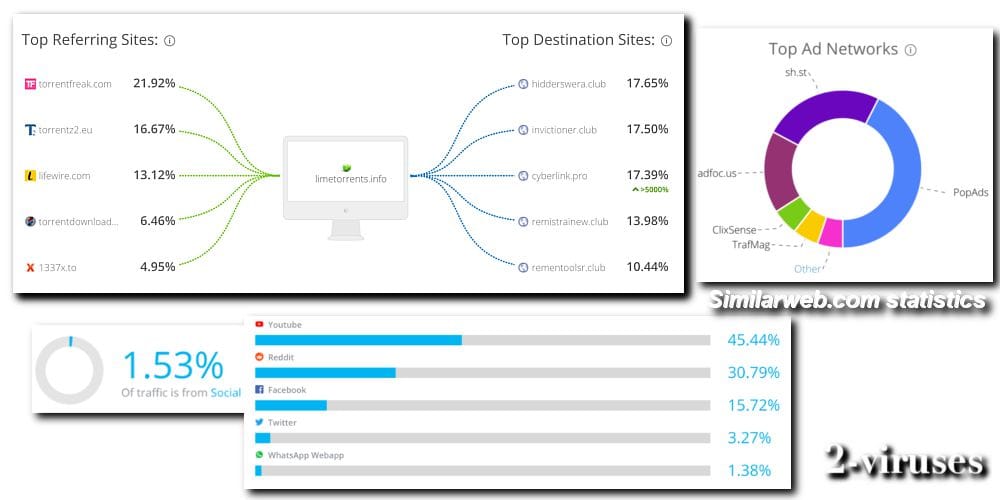 In addition to that, some other, even legitimate sites can be the reason why you are seeing the Limetorrents.info virus notifications. According to the SimilarWeb.com, the main referring sites that bring some traffic to Limetorrents.info are torrentfreak.com, torrentz2.eu, lifewire.com, torrentdownaload.ch, 1337c.to. Be extra cautious, when surfing through their content, because you can easily attract the unnecessary Limetorrents.info pop-ups as well.
Lastly, probably the most popular Limetorrents.info virus distribution method is through adware/PUPs that you can download from the same torrent page or some Free software distribution sites. These malicious programs are bundled with other legitimate programs and installed by the default on victims' computers because they simply did not opt out from getting additional compiled applications in the Advanced mode. Such advertising threats can cause Limetorrents.info ads and many other issues, like redirects, pop-up scams, fake update requests and much more.
How to block Limetorrents.info web push notifications
Limetorrents.info pop-ups can be truly interruptive when you are really focused on some other tasks on your PC, or simply just watching a movie, so it makes perfect sense to just want to block them permanently. If you have not yet done this, you can try disabling web push notifications completely or just by adding Limetorrents.info as a single page to stop receiving any messages from. This should prevent your browser from showing any disruptive pop-ups but don't think that your system is safe to use again. While disabling web and desktop push notifications is a good practice for your own online safety, this is just the beginning of the actual virus removal.
How to remove Limetorrents.info Pop-up virus completely
Even though, your chances to click on Malicious ads will significantly decrease, the root adware causing Limetorrents.info pop-ups is still there in your browser or PC, which needs to be identified and deleted. Yet the trouble with the Limetorrents.info virus is that it is still unclear which PUP/add-on could be responsible for it, so manual removal becomes pointless. You will need SpyHunter, Malwarebytes anti-malware tools to get rid of the irritating infection. These programs are sophisticated and tested by many cyber professionals, therefore your notification issue should be completely solved with their help.
All you need to do is to run a full system scan and wait for it to be done to see if anything malicious was detected and removed. Again, if Limetorrents.info pop-up virus managed to alter a lot of your settings, then we advise reading this article and checking your DNS settings and hosts files for possible changes and ways to restore them. In the same place, you'll find the manual virus removal instructions if you know for sure which software could be behind Limetorrents.info messages.
Automatic Malware removal tools