Thusfun.live sites are a group of malicious websites that show fake virus warnings to visitors. This is not meant as a prank, but rather, it's supposed to convince people to buy useless Mac optimizers by promising that they'll remove the "viruses".
Thusfun Live Virus Warnings quicklinks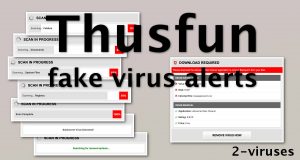 When you enter the Thusfun site, it first displays a warning:
VIRUS FOUND
A website you visited today has infected your Mac with a virus.
Press OK to begin the repair process.
And then, if you click "close", it shows a webpage with an imitation of a Mac OS window with the title "VIRUS FOUND" and this text:
A website you have visited today hasinfected your Mac with a virus. A full system scan is now required to find and remove harmful files or applications from your Mac OS X device.
Then Thusfun lists some information like your IP address, the version of your browser, your operating system, and your location – nothing special, any website can capture this; and at the bottom – a "Scan Now" button.
Thusfun is not to be trusted, it's just a simple scam site:
Classification

Tech support scam
Scareware
Malvertising

Causes of the pop-up

Unsafe ads
An infection in your Mac

Dangers of the Thusfun scam

Lost time and money
Interrupted browsing
Unsafe software downloaded from the site

How to stop Thusfun pop-ups

Remove malware (Combo Cleaner
Clear your browser data and get rid of suspicious browser extensions
Block malicious websites
How to stop Thusfun warnings
If you only saw a Thusfun warning once, that's probably just a malicious ad. It would be good to get some web-protection, maybe an ad-blocker that would stop Thusfun and other known dangerous sites from loading. It's also important to update your browser, your antivirus program, and other software to make sure that they're not vulnerable against malicious sites.
Malicious advertisements lurk on shady sites and there is not much you can do besides avoiding those sites. It's impossible to block all the malicious pages, so be careful.
However, if Thusfun is loading regularly, and especially if it's opened by pop-ups in your Mac's desktop, time to check your computer for malware. Open the Applications folder and see if any malicious programs are lurking there and drag them to Trash. Don't forget to check your browser extensions and consider clearing browser data.
It would be useful to scan your computer with an anti-malware program like Combo Cleaner to see if any malicious files remain in, for example, the Library folders. Delete those files and this should get rid of any possible causes of the pop-ups on your computer.
If you ended up downloading whatever program Thusfun wanted you to get to "remove the viruses", it's better to remove it – the "Advanced Mac Cleaner" application stands for Smart Mac Booster, Super Mac Cleaner, or another PUP.
Danger of Thusfun virus warnings
Thusfun websites have URLs that look like this (there are plenty more than listed here):
best1495.thusfun28.live,
aps2853.thusfun33.live,
competition1500.thusfun41.live,
play9727.thusfun82.live,
play6148.thusfun95.live,
game2570.tusfun100.live.
They're usually recognized by a few antivirus programs, so if you have web protection, Thusfun sites should be blocked. For a good reason – these sites target Mac users with a type of a tech support scam and can cost victims real money, time, and cause unnecessary stress.
Everyone, including young people and those who believe in their own abilities to use a computer, is vulnerable to tech support scams and end up wasting time with tech support scams like ones that Thusfun spreads. According to this Microsoft report, over 50% of people from 18 to 37 years old experienced fake pop-up and/or redirect virus alerts and some of those people go on to lose money to the scam, so sites like Thusfun are a huge problem to online safety and to your wallet.
Mac computers are not safe – even though they are not vulnerable to some types of malware that plague Windows PCs, cybercriminals always find a way to take advantage of innocent users and rob them of their hard-earned money. Social engineering can be just as powerful as clever coding when it comes to getting access to users' computers or their wallets.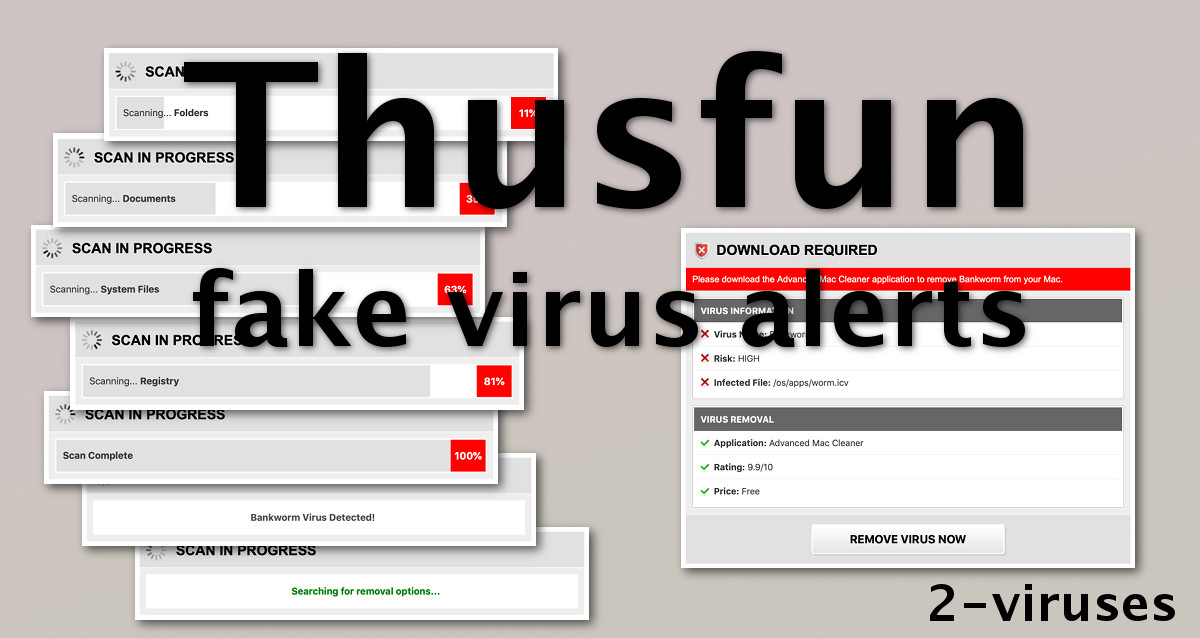 How Thusfun fake virus warnings work
Thusfun and other malicious sites are almost impossible to avoid completely, but just because you encounter one, that doesn't mean that your security is compromised. In fact, if you just ignore the warning and close it, you can continue browsing and not worry about it.
There are a lot of things that reveal Thusfun as being a fake virus warning. For one, the URL is not official at all and clearly not associated with Apple. Though Thusfun tries to make its warning look like it's coming from official Apple support, it clearly has nothing to do with it.
Then, if you allow Thusfun to "scan" your computer, it'll pretend to do that lightning-fast. This is physically impossible, not to mention that Thusfun.live are websites – they can't scan your computer because they don't have access ot your files.
Close Thusfun by closing the current browser tab by holding Cmd and W keyboard buttons. Or you can force-quit the browser by pressing Cmd+Alt+Esc and quit the browser from there. Thusfun is very similar to FunnyMonday, Checkingforward, and other scam sites and they should all be dealt with by ignoring them and dismissing their warnings.
Automatic Malware removal tools