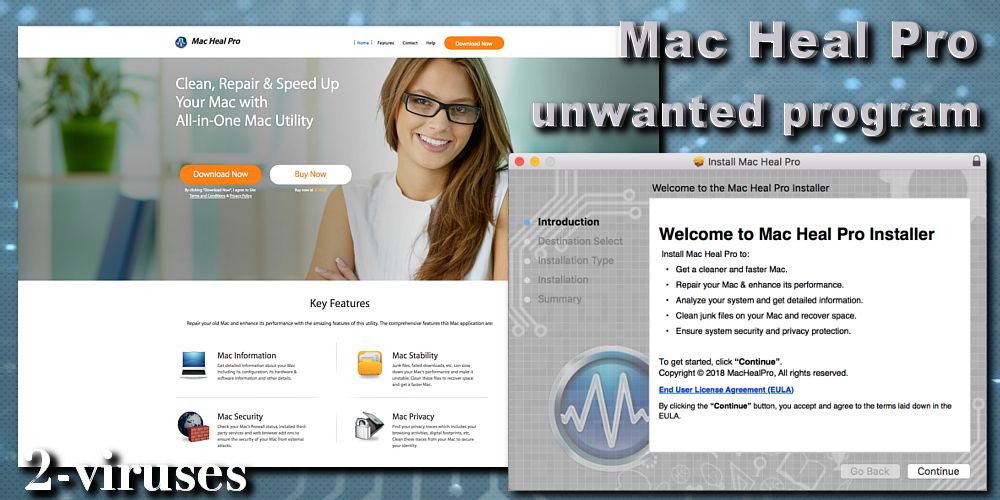 You may know Mac Heal Pro as an all-in-one utility application for Mac computers: supposedly, it can remove junk files and duplicates, speed up the performance by fixing hardware and software issues, provide protection from the malware, and secure your virtual data. It might sound tempting, but software that can do everything for the computer, including security, organization, driver care, etc. is still too good to be true. So, it's no surprise that Mac Heal Pro is a bogus program that just pretends to be great to lure out money from unsuspecting users.
Mac Heal Pro Virus quicklinks
Mac Heal Pro is not helpful and should be removed:
Type of threat
Potentially unwanted program,

scam.

Problems and issues
Slower Mac thanks to unwanted scans,

misleading scan results where harmless files (cache, cookies, logs) are identified as severe problems.

Removing Mac Heal Pro automatically
Download a trusted anti-malware app (like Combo Cleaner or Malwarebytes) and scan your Mac,

if needed, perform an automatic removal.

Removing Mac Heal Pro manually
Remove unwanted startup items,

get rid of unwanted applications,

remove leftover settings and files in the Library folders.
Mac Heal Pro looks like a product of PCVARK, the infamous company behind many other computer threats – Smart Mac Care, Mac Cleanup Pro, Mac Fixer, 1Click System Mechanic, Advanced PC Mechanic, Smart PC Tweaker, and a few others. PCVARK's software is often distributed with fake virus warnings and malicious ads that trick people into thinking that they have to download and buy it.
Whether Mac Heal Pro appeared on your computer unexpectedly or you installed it yourself, you should get rid of it. Don't buy its paid full version – it will only result in more malware infections later on. If you are having trouble removing Mac Heal Pro or don't know where to start, continue reading this post to find our researchers' discoveries on this unwanted application and the best techniques to eliminate it.
Is Mac Heal Pro a virus
Users who end up with Mac Heal Pro often wonder if this mysterious program is a virus or the real deal. Some get the impression that Mac Heal Pro is an official Apple product because it appears on their Mac out of the blue (bundling). Its ads may also give off the impression that Mac Heal Pro is endorsed by Apple. It is not.
Mac Heal Pro is not a virus but the unfair distribution, misleading scan results, and persistence definitely lead to considering this program as malware, or at least a potentially unwanted application. It behaves like malware, so many users refer to it as a virus. The results Mac Heal Pro presents after running a scan (which it also does without your permission) are fabricated to scare you.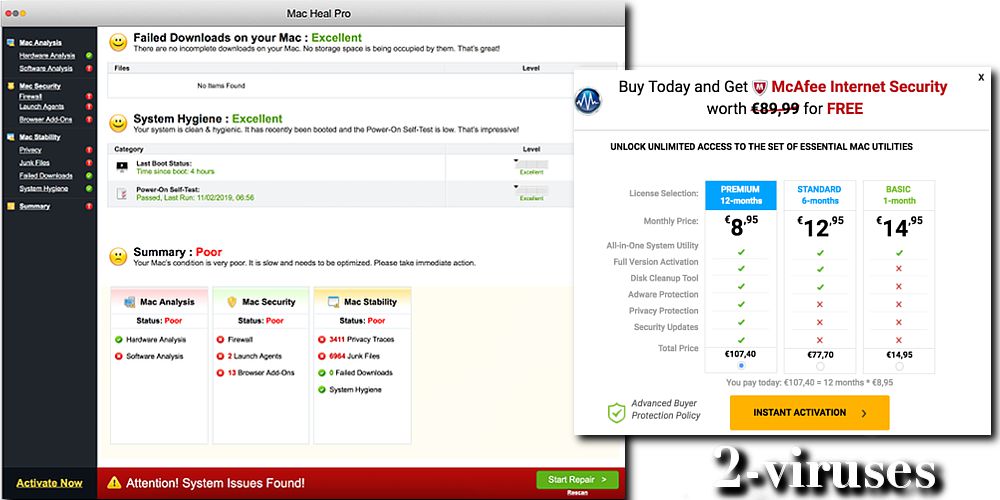 Even on a clean and healthy computer, Mac Heal Pro finds hundreds if not thousands of errors. This is supposed to work as a scareware trick to pressure the user to pay for a repair. You see, the free scan is the only charge-free service that Mac Heal Pro offers. Solving the "issues" it finds will cost you around USD120 per year – like three actually good antivirus programs. As Mac Heal Pro manufactures the problem before trying to sell you the solution, it's pretty much a scam.
Mac Heal Pro is detected by quite a few antivirus engines, as shown by Virustotal.com. Mostly it's labeled as a potentially unwanted program – and for good reason: it does nothing beneficial for the system and uses a fake scanner to get naive and trusting users to buy the premium service, one that renews automatically, again with no warning. If you don't comply with Mac Heal Pro and don't feel like purchasing it, soon enough it shows its another dark side and begins using more scareware techniques, such as generating continuous pop-ups, saying that your system needs urgent help and you MUST get their product.
Therefore, if you don't want to deal with this, the only solution is to remove Mac Heal Pro permanently. No big loss – optimization tools are not even necessary, after all.
How did Mac Heal Pro get into your Mac
Knowing how the Mac Heal Pro virus got inside of your computer can help avoid future infections and teach you about your weak points in online security.
Mac Heal Pro has an official webpage that helps the program promote itself as a really useful tool for any Mac. And yet, it is referrals from dubious and even dangerous websites that bring the most success and popularity to this application. Such rerouting links can be hidden under eye-catching ad-banners, hyperlinks, or even invisible links. The links take you to a page that says that your computer needs an immediate repair with this miraculous tool (e.g. MAC OS is infected with Spyware, Your Mac Might Be Infected!, Your Mac Is Infected With 3 Viruses!). If you click on the harmful hyperlink, then the installer automatically gets downloaded on your Mac.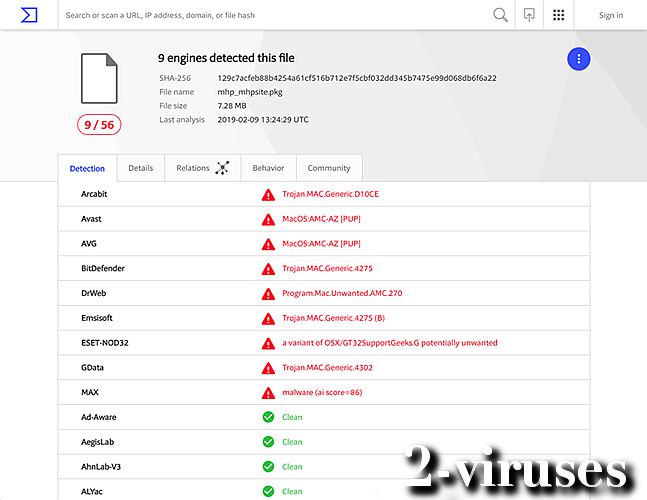 But the Mac Heal Pro virus isn't only spread through questionable websites. It may also disseminate via bundling. This would include Mac Heal Pro getting secretly paired with some other legitimate software and then being spread through third-party vendors. Users don't always know that it gets installed automatically with the main application. This could be prevented by simply getting programs from their official sources and running the installer in Custom/Advanced mode, later deselecting all the unwanted, prechecked apps, Mac Heal Pro including.
How to remove Mac Heal Pro virus from Mac
First, you should try removing Mac Heal Pro yourself. It is a potentially unwanted program, and deleting those typically doesn't cause any issues. After all, these programs may be dishonest, but they're not actually malware. They are supposed to replicate trustworthy apps, so all the crucial functions, the uninstalling button included, are there for you to use.
Unfortunately, Mac Heal Pro can, in some cases, show persistence and reappear even after a thorough manual elimination. Fortunately, that does not mean that you have to reinstall the whole system or deal with it until you'll get a new computer. Automated removal tools like Combo Cleaner or Malwarebytes, may be the solution to your issue with Mac Heal Pro when nothing else seems to help or you are lost in the termination process.
All you need to do to get rid of Mac Heal Pro is to get a good anti-spyware application, run its free-of-charge scan of the full system, and later follow up with the provided removal instructions. And just like that, in a few clicks, the Mac Heal Pro virus will be gone from your Mac. This method saves time, gets rid of only dangerous files without harming the machine, and hunts down malware that sometimes you are not even aware of.
Automatic Malware removal tools
How to uninstall Mac Heal Pro on your own
Mac Heal Pro can be uninstalled with no additional security applications just like any other Mac software, however, it requires a few steps to fully be deleted from the computer. These necessary actions are not that hard to complete if you know what you are doing, therefore below we have listed potential directories which you should check to complete Mac Heal Pro virus eliminations from the compromised machine. Here is what you can do:
Remove Mac Heal Pro from Login Items.Go to System Preferences > Users & Groups > 

Current User > 

Login Items. Check 'Mac Heal Pro' and click on the '-' button at the bottom of the window. This will prevent the malicious program from booting up automatically every time you turn the system on, making the computer run faster.

Delete the Mac Heal Pro program from Applications. Go to Finder > Applications > Select Mac Heal Pro and drag to Trash bin > Empty Trash. This will get rid of the main files of the PUP.
Eliminate leftover Mac Heal Pro preferences from the Library. Go to Finder > Go > Go 

To Folder > T

ype '~/Library'. 

Then search various folders for the leftover files that can be related to Mac Heal Pro and delete them. You may find:

Library/Mac Heal Pro

Library/Application Support/Mac Heal Pro ALSO 'mhptask' folder
Library/Caches > files related to Mac Heal Pro

Library/Preferences > files related to Mac Heal Pro

Library/LaunchAgents > 

files related to Mac Heal Pro
If these guidelines did not work and Mac Heal Pro reinstalled again, you should try getting rid of it with a proper malware removal product.