Driver Update Plus is a potentially unwanted program that advertises itself as an effective tool that manages software by providing necessary updates for related drivers. It also claims to support system back-up and restoration if things go wrong. Basically, it is a typical system optimizer that pretends to have miraculous features that will turn your old machine into a super-fast computer. Unfortunately, this is not true at all and on the contrary, if you fall for this Driver Update Plus software, you will end up with a slower system than ever. Not to mention the risk your personal data will be facing.
Driver Update Plus Virus quicklinks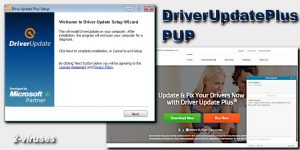 Driver Update Plus can be easily mistaken with Driver Updater Plus, which is almost the same thing but from different developers. Actually, all these PUPs that are offering system optimization like WinZip Driver Updater, Safe PC Cleaner, PC SpeedBoost or Smart PC care are just a scam to get gullible users to pay for the premium service that supposedly will remove all the bogus threats and improve your 'very vulnerable' system. Whether you installed Driver Update Plus program voluntarily or it sneaked into your PC using other sneaky methods, we advise to not keep it there any longer and remove it using our instructions, because it can end up causing more issues than necessary.
How malicious is Driver Update Plus virus
The way scams like Driver Update Plus virus work is, they present themselves in a very beautiful facade, looking like any other trustworthy software with various detection mechanisms, buttons, scanning process and etc., while in reality they cannot perform anything (or the processes are very weak) and simply just flash various colorful alerts, almost like children's toys, which uses visuals for the effect. Even if your system is fully updated, has no viruses Driver Update Plus program would still discover something that is necessary to fix.
This is done to push the user to purchase the full version of the Driver Update Plus software, which is $29.95 per year. Although it is not that much, why to pay for some unwanted program that does not do anything. Moreover, after the payment crooks will have your banking details which can later be used for malicious reasons. What is more, your data will be in danger even if you won't pay. (The battle with PUPs)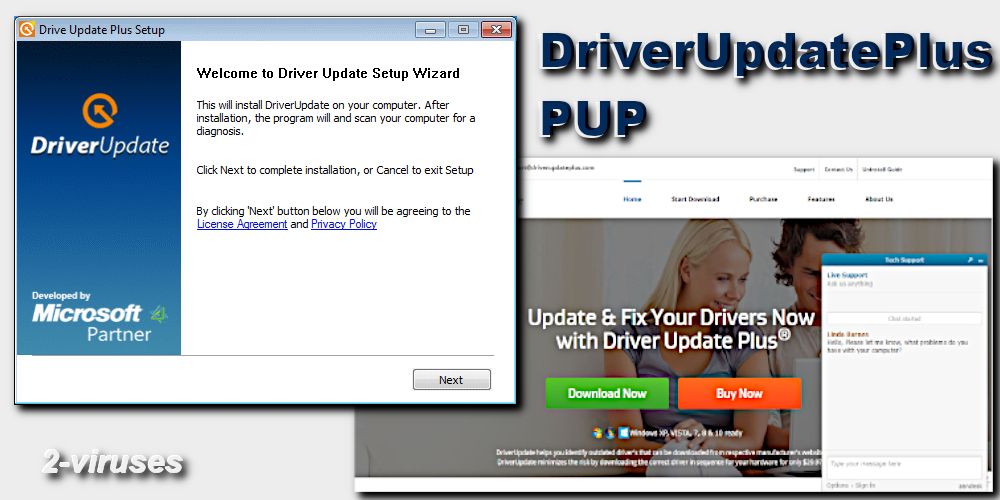 Driver Update Plus virus creators disclose in their Privacy Policy and EULA that they are going to gather your personal information and possibly share it with third parties, including your name, search queries, visited websites, bought items online, ads you clicked on, location, email and etc. While some of it will be used for online marketing improvement and targeted advertising, yet no one knows what will happen to the rest data. Take a look for yourself:
We collect Personal Information at the time you provide it to us. We collect Personal Information through sign-up forms and as part of your registration for an account, product, or service, promotion, or contest from this website. Personal Information that we collect may vary with the each sign-up or registration. In addition, we collect personal information from all communications with site visitors including without limitation, text messages, faxes, telephone calls, and regular "snail mail", as well as from third-party outside sources including database vendors.

We may use your Personal Information for the performance of the services or transaction for which it was given, and in connection with other products, services, promotions, or contests we may offer, and our private, internal reporting for this site, and security assessments for this site.
We reserve the right to make full use of Usage Data. For example, we may use Usage Data to provide better service to site visitors, customize the site based on your preferences, compile and analyze statistics and trends about the use of this site, and otherwise administer and improve this site for your use.

We invite you to socialize and share your participation with this site and purchases. If you choose to use social media platforms such as Facebook, Twitter, Pinterest, and Instagram, you will be allowing interaction with these platforms or other external platforms directly from this site, and in the process you may be sharing certain profile elements, including your comments. This sharing is subject to each social media program's privacy policies.
Above mentioned behaviors the main reasons why Driver Update Plus PUP is considered to be a virus. Additionally, it writes a command of AutoStart, which allows this threat to show up right after you turn on your computer. Driver Update Plus is developed by Energizer Softech Pvt Ltd and is most prevalent in the US, UK, and Canada, yet is not limited to only these countries. Since Driver Update Plus virus has been tricking people for a longer time, most antivirus or antimalware programs recognize it as malicious. Take a look at VirusTotal.
How did you end up with Driver Update PUP
Driver Update Plus can be installed in two ways. One is fairly simple and understandable. You just come across this program online while looking for some tool to help speed up or update your system efficiently and decide to go with Driver Update because you assume it is reliable and skip reading EULA to see its true colors. Later on, you start noticing that PC is not faster, and there are many shady things like other additional programs installed on your computer, without you even giving a consent. (Most common ways PUPs spread)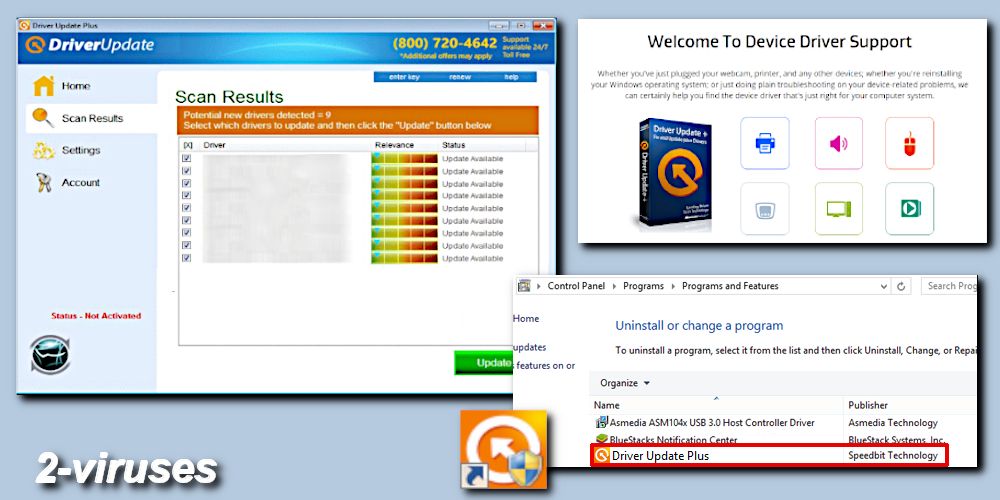 However, another distribution method that most likely brought you here and gave a name PUP to Driver Update Plus is bundling with other software. Many users noticed that this rogue program appeared suddenly after installation of WPS Office. This means that Driver Update Plus was compiled to some other Setup Wizard as an additional default program to install together with the main one and was set up, because you as a user did not select otherwise. Although some installers from Untrustworthy distribution sites don't even allow victims to choose a Custom installation and bring Driver Update Plus whether you want it or not. That is why always use official sites and online safety precaution.
How to get rid of Driver Update Plus virus
The removal of Driver Update Plus PUP is fairly easy, all you have to do is to go to your Control Panel and uninstall this bogus software. For that, we even made manual removal instructions below. Yet this does not always help since the virus could have added additional persistent leftovers, that cannot be detected or removed by hand. Then you must put your trust to automatic removal tools. We suggest Malwarebytes, SpyHunter
They do not only allow you to delete Driver Update Plus virus instantly and without a technical knowledge, but they also make sure that system is overall clean and prevent you from further pop-ups like the ones suggesting to call Driver Update Plus support numbers (1-800-884-6849, 0800-044-8195, 44-203-514-5572) and fix the issues or get better deals so you wouldn't uninstall it. If you call these numbers, no matter what problem you have you will soon realize that it is a whole other scam. Therefore, our best advice is to get rid of the Driver Update Plus immediately.
Automatic Malware removal tools
How to uninstall Driver Update Plus from your PC manually
How to remove Driver Update Plus virus using Windows Control Panel
Many hijackers and adware like
Driver Update virus
install some of their components as regular Windows programs as well as additional software. This part of malware can be uninstalled from the Control Panel. To access it, do the following.
Start→Control Panel (older Windows) or press Windows Key→Search and enter Control Panel and then press Enter (Windows 8, Windows 10).
Choose Uninstall Program (if you don't see it, click in the upper right next to "View by" and select Category).
Go through the list of programs and select entries related to Driver Update Plus virus . You can click on "Name" or "Installed On" to reorder your programs and make Driver Update virus easier to find.
Click the Uninstall button. If you're asked if you really want to remove the program, click Yes.
In many cases anti-malware programs are better at detecting related parasites, thus I recommend installing Spyhunter to identify other programs that might be a part of this infection.