Advanced Identity Protector, supposedly, is a personal security ensuring program, that you may come across when searching for some tool to take care of your passwords and the safety of virtual identity. Despite the professional looking design, there is nothing useful about this program and on the contrary, using it can result in hacked accounts, banking and personal detail breach and much more. Advanced Identity Protector was developed by the infamous Indian company called Systweak, which has other similar potentially unwanted programs attacking unsuspecting victims.
Advanced Identity Protector Pup quicklinks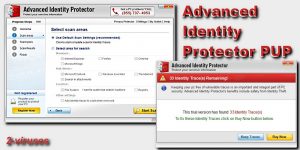 Is Advanced Identity Protector a virus
Bottom line up front, no, Advanced Identity Protector is not a virus, yet it is a special kind of malware called potentially unwanted program, which tricks users into thinking that they are using a regular application, which is helping them, but actually doesn't do its work properly, additionally tries to convince victim's to get a full version of it and pay money for 'better' effect (which is also useless). You can see these features in PUPs like Identity Protector and other tools from Systweak such as Advanced System Protector, RegCleanPro, Systweak Support Dock, Systweak Toolbar and System SpeedUp.
As we mentioned before Advanced Identity Protector claims to protect from online Identity theft by securing all passwords, making one universal password to unlock all accounts, automatically fills forms to save time, removes traces for security, connects and syncs all browsers' details. And all of it is for free but… Once you download the tool and run a scan, it can show ridiculous amounts of detected vulnerabilities (up to several thousand), which can only be removed with the premium version which costs 29.95 USD and is 'refundable'. Sadly, this is also not true because the seller is not Systweak itself, but Cleverbridge AG, which does not guarantee any money-back.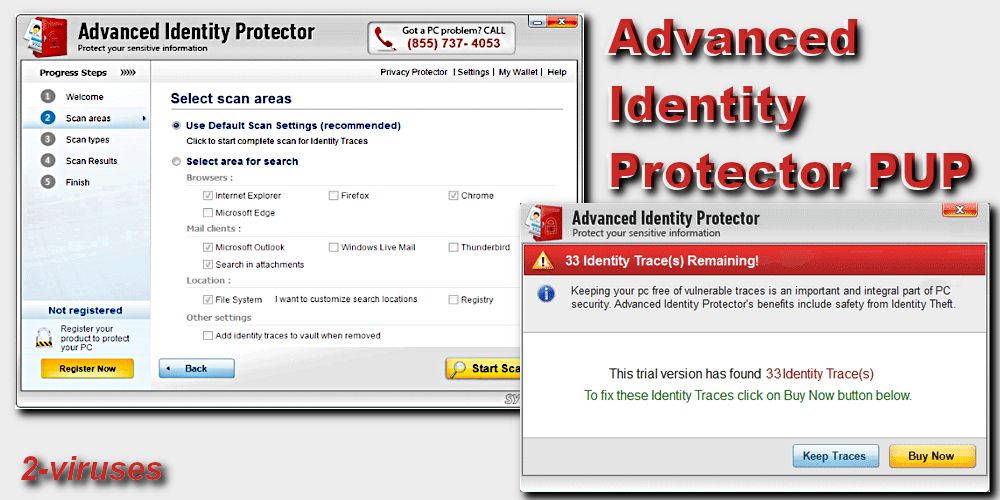 All these false warnings are made to push the user to buy the program. Developers are so desperate that when you try to exit the offer page it even says that for you the price has been reduced 50% and now you can fix all your security problems with 14.98 USD. Moreover, you will get a free Photostudio and Special Disk Cleaning tool. If you do not get the premium version, soon enough you will start experiencing very annoying pop-ups offering SystWeak's products and upgrade, together with a special toll number that you can call for support.
Some users reported that Advanced Identity Protector's support number 855-737-4053 is actually a phone number of Indian scammers, which can contact you if they find out your phone number. Not only they try to push the products and you paying them, but also they get Remote and can copy important files, or lock your screen and access personal data or install malware. (More on scammers).
The good part is that the majority good antivirus programs detect Advanced Identity Protector as a riskware (PUP.Riskware.Systweak) and  Pup.Optional  (PUP.Optional.SysTweak), which should help to find out about it before it's too late. You can see for yourself in VirusTotal. But no matter it being marked dangerous, Advanced Identity Protector can still legally spread because it mentions all malicious features in its Privacy Policy and EULA, therefore the user who keeps using or downloads such program is the one to blame if his/her data is stolen, because Systweak warned you officially.
Advanced Identity Protector specifically disclaims any warranty for the amount of performance increase or utility provided by the SOFTWARE PRODUCT. By purchasing this software and accepting this EULA you specifically agree that you understand that no representation or warranty is made by Advanced Identity Protector that the SOFTWARE PRODUCT will necessarily increase performance or provide a utility benefit on your computer, and that no claim of specific deficiency, defect, or underperformance has been made with respect to your computer. Any claims of performance increases or utility made for the software are those of possible or potential improvement or utility, and no warranty is offered that a specific utility or amount of performance increase, if any, will be realized on any particular computer.

The Application can be installed without displaying the installation windows and without showing promotes. Third party components are used and are not digitally signed.

We collect personally identifiable information; such as name, mailing address and e-mail address when you register to one of our products or place an order (see the section below for more information on placing order). In connection with the installation and use of Systweak Software application, we may collect certain information concerning the use of application or the services, including certain personal data and information about your PC. This may include, information about your installed software and hardware, your IP address, your operating system, about your version of installed Systweak Software's application including its product key, and about the use of individual functions of that Systweak Software's application including the relevant times. The aforementioned data may be shared with third party vendors and partners and it will be governed by their privacy policy, which will be provided to you when you accept any offer from them.
Clearly, the company is admitting themselves that they are using your personal data that they are supposed to protect, for their own use and share it with third-parties. This is unacceptable for a security software that claims to help avoid identity theft and keep your passwords secure. This is why you need to get rid of Advanced Identity Protector as soon as possible if you want to keep your data actually safe and not get any calls from scammers.
How did you get Advanced Identity Protector PUP in your PC
Well-prepared design of Advanced Identity Protector creates an illusion of a trustworthy tool and allows crooks to spread this program in more ways than most other malware can. Most likely you installed Advanced Identity Protector yourself voluntarily, thinking that it will help you to secure passwords and access accounts faster, but you did not read their EULA and now are surprised why computer is acting so strange, why there are so many pop-ups, why antivirus is finding threats in your system and some social media or bank accounts are not accessible all of a sudden. Yet, Systweak has other not so legal distribution methods.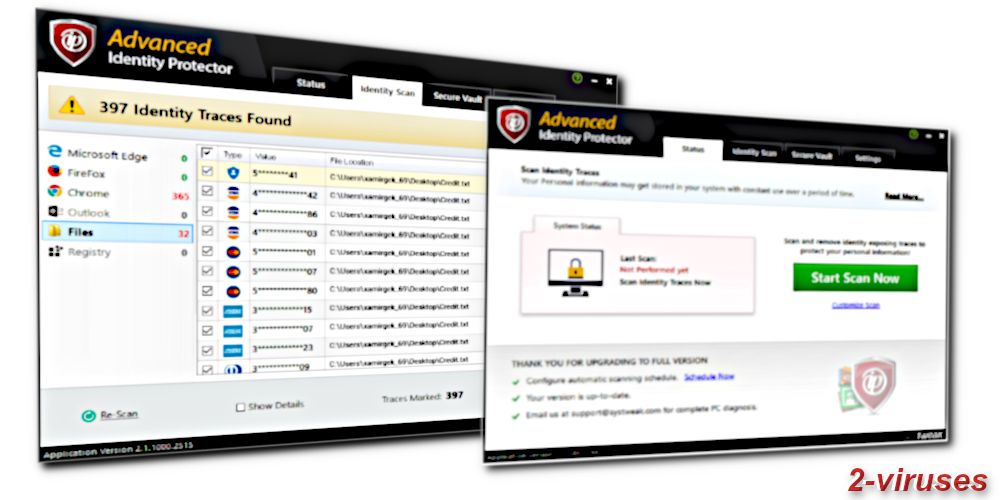 The main silent spreading technique Advanced Identity Protector mentions even in their EULA is bundling. Once you are downloading something from P2P networks or freeware distribution sites, you have to always go with Custom installation because their Setup Assistants usually are compiled with malware, such as Advanced Identity Protector, which will be set up together with the main program by the default if you won't unselect them. As well as this, sometimes Advanced Identity Protector might use fake Java or Adobe updates to get into victim's system. (More)
How to remove Advanced Identity Protector virus
Since Advanced Identity Protector is pretending to be a trustworthy program, therefore it should be possible to remove it without any specific tool by simply uninstalling it from the Control Panel, as we demonstrate in the instructions below. However, if it came in a bundle with other programs that may contain more than one PUP and another virus, or you kept using Advanced Identity Protector for a longer period of time, it could have exposed vulnerabilities and allowed other threats in, then you may want to run a proper full system scan with automatic malware removal tool SpyHunter These actual security tools are tested by many cybersecurity professionals and work excellent when it comes hunting and deleting all kinds of virtual parasites.
Automatic Malware removal tools
How to remove Advanced Identity Protector PUP using Windows Control Panel
Many hijackers and adware like
Advanced Identity Protector PUP
install some of their components as regular Windows programs as well as additional software. This part of malware can be uninstalled from the Control Panel. To access it, do the following.
Start→Control Panel (older Windows) or press Windows Key→Search and enter Control Panel and then press Enter (Windows 8, Windows 10).
Choose Uninstall Program (if you don't see it, click in the upper right next to "View by" and select Category).
Go through the list of programs and select entries related to Advanced Identity Protector PUP . You can click on "Name" or "Installed On" to reorder your programs and make Advanced Identity Protector PUP easier to find.
Click the Uninstall button. If you're asked if you really want to remove the program, click Yes.
In many cases anti-malware programs are better at detecting related parasites, thus I recommend installing Spyhunter to identify other programs that might be a part of this infection.