Sports-today.club is a fake streaming site. It very dishonestly promotes an overpriced subscription service. Sports-today.club might make you think that you're signing up for a free sports streaming service, when really, you're giving your information to a very expensive streaming website. As a result, it may take monthly payments of around $60 from you.
If you find yourself on Sports-today.club, don't interact with it at all – just close it immediately.
Sports Today Club quicklinks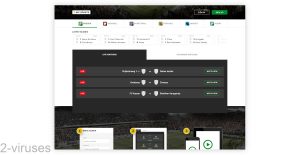 About Sports-today.club:
Type of threat
Scam.
How Sports-today.club spreads
Ads and redirects online.
Problems and issues
It leads to a subscription site that has nothing to do with sports streams, one that is expensive but whose presentation makes it look free.
How to deal with Sports-today.club
Ignore the site,

block malicious sites, remove all malware with antivirus programs (Combo Cleaner for Mac, Spyhunter for PC, others).
Is Sports-today.club safe?
You may encounter Sports-today.club while trying to find streams of sports events online. The site offers unlimited free access to HD streams with no ads and no platform restrictions.
Sounds good – way too good. In reality, Sports-today.club is the gateway to a subscription site. Just like Movie-streams-online.com, Allsports4free.live, Nfl-online-streams.club, Stream2watch sites, etc.
If you find yourself on Sports-today.club, close it and look for sports streams elsewhere. Sports-today.club is a waste of time at best and a phishing scam at worst. It's no wonder that looking up the name "Sports-today.club" gives you results of scam-watching sites.
How to find Sports-today.club
As far as I can tell, Sports-today.club is not a real streaming site.
Sports-today.club is promoted by ads and links in social media, as well as by sites like Buffstream, Buffstreamz, etc. These sites open advertisements in new browser tabs when you try to watch streams that aren't active right now. Sports-today.club is one of such ads.
Of course, Sports-today.club doesn't look like an advertisement. It looks like a signup page for a very attractive streaming service. Free, no ads, high definition – it sounds amazing. Not to mention, all that Sports-today.club is asking for is an email address and a password.
It's very easy to think "Oh, if I just sign up here, I will get access to that stream that I was trying to watch earlier". But that's not what happens.
Here's an example of a site that leads to Sports-today.club: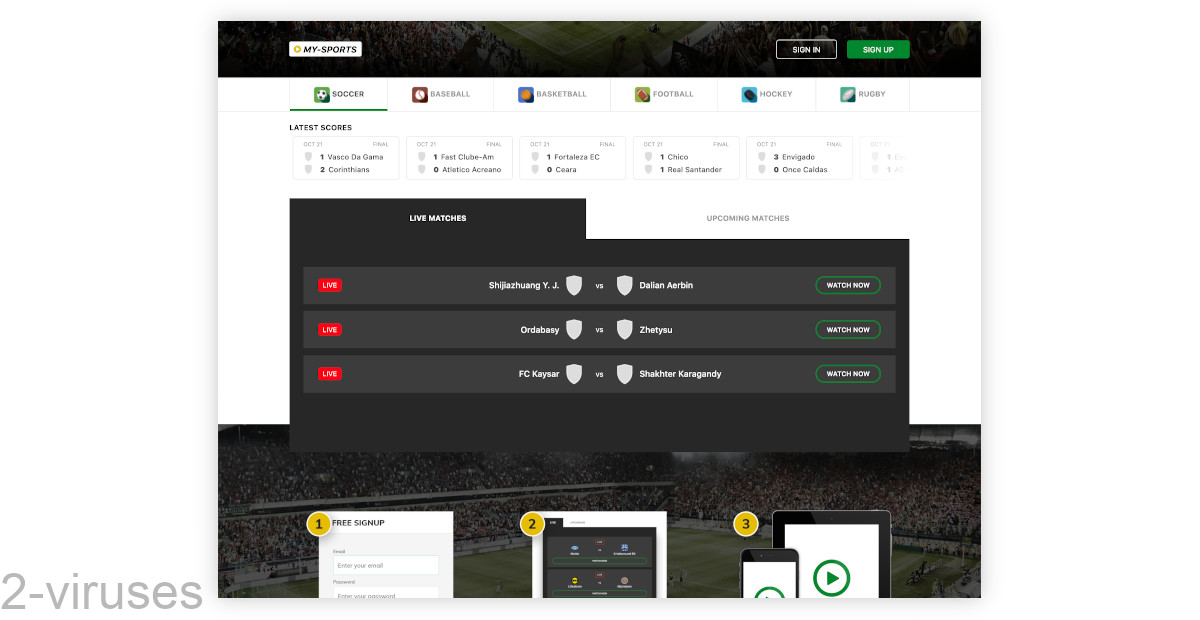 A media subscription scam
If you give an email and a password to Sports-today.club, you're directed to another site. It could be Urmediaz.com, Mussicz.com, Playkull.com, or a similar subscription site.
The new site asks for your personal information, including your name, address, and payment information, to "verify your account". It promises that no money will be taken.
However, according to Mussicz.com's terms of service, you signing up means that you agree to be billed a monthly membership fee. You get a 5-day trial and then a monthly membership that costs €57,95. Also, Mussicz.com is a music streaming site that doesn't seem to offer video streaming or sports streams.
So, that's what Sports-today.club is – an advertisement for ridiculously expensive subscription sites. An ad that deliberately tricks people with false promises. It's basically a scam.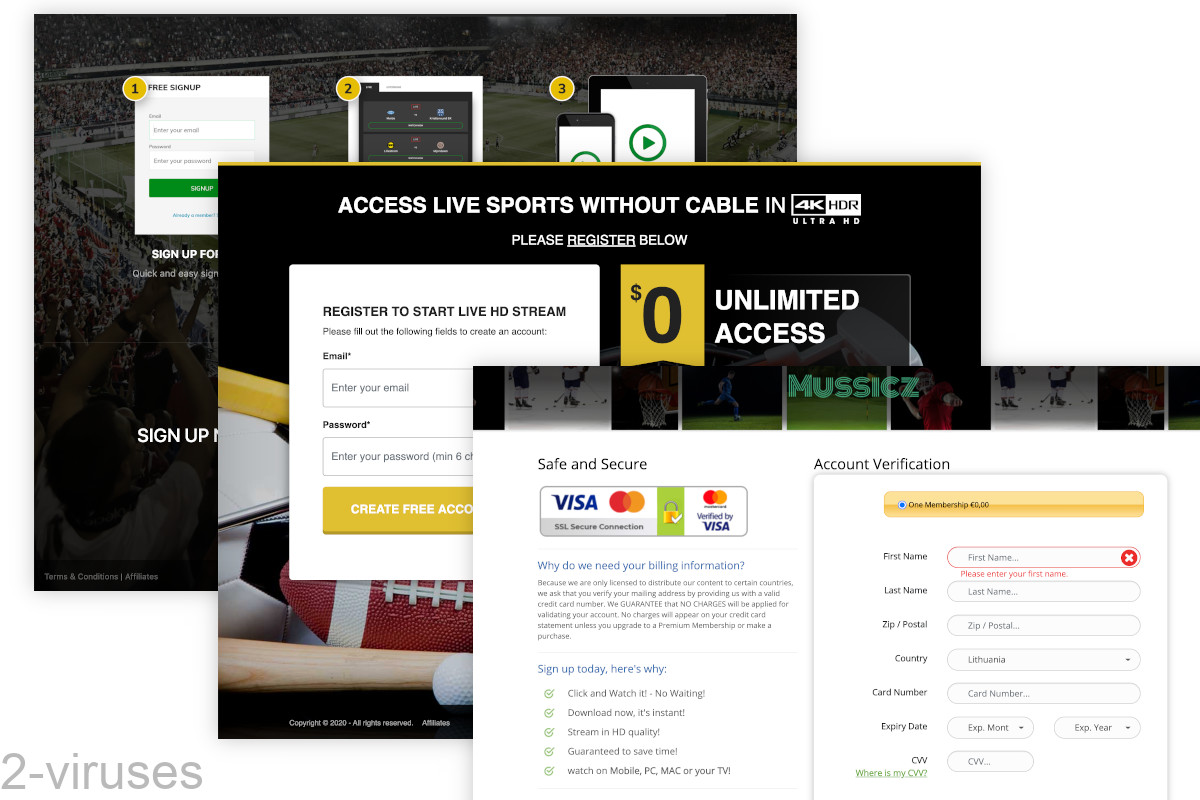 Dangers of illegal streaming sites
It can be difficult to find the stream of a particular match. Even then, they're often paid or full of advertisements. As a result, the pirating scene is thriving.
But sports pirate sites, like other infringing sites, can't afford to be picky when it comes to advertisements. So, they allow scammy, dangerous, and malicious ads to be shown.
Malicious ads can mean a lot of things:
Bad browser extensions demanding to be installed.
Notification hijackers asking for access.
Fake media player installers that carry adware.
 Fake surveys and giveaways that, like Sports-today.club, also advertise those same subscription sites.
How to avoid Sports-today.club and other scams
You can try to stick to only legal streaming sites, but that might not be viable for you. Just remember to not give any of your personal information to sites that you do not know well.
In addition, don't install things that pirate streaming sites ask you to install. It's always some kind of an adware infection.
Scan your computer regularly for malware. Keep an eye on your programs and browser extensions and remove suspicious items. Use antivirus tools like Combo Cleaner for macOS and Spyhunter for Windows to check your device for adware infections and other malware.
Some antivirus (or anti-malware) tools are able to block malicious sites, which means they can stop some malicious ads. Ad blockers also help.
If, when Sports-today.club asked, you typed in a real password that you use, then reset it on whatever account you use it for. Also, make sure that you use 2-factor authentication. That way, if anyone tries to hack into your accounts, you'll know and will be able to stop them.
Automatic Malware removal tools