Go.smarttrk.eu redirect virus can take place without any warnings and present rogue websites that could be trying to infect users with malware or expose them to phishing scams. Lately, we have noticed many similar rogue redirects, like Adf.ly and Clicknshare.net.
Our testing revealed that Smarttrk.eu domain can transfer users to technical support scams, fake winning announcements and suggestions to install rogue versions of otherwise regular applications. We are referring to the appearance of pop-ups that urge users to install MacKeeper. To determine the reliability of this offer, we downloaded the MacKeeper.3.17.pkg installer and had to conclude that it was definitely a malicious file.
Go.smarttrk.eu malicious website presents many fraudulent domains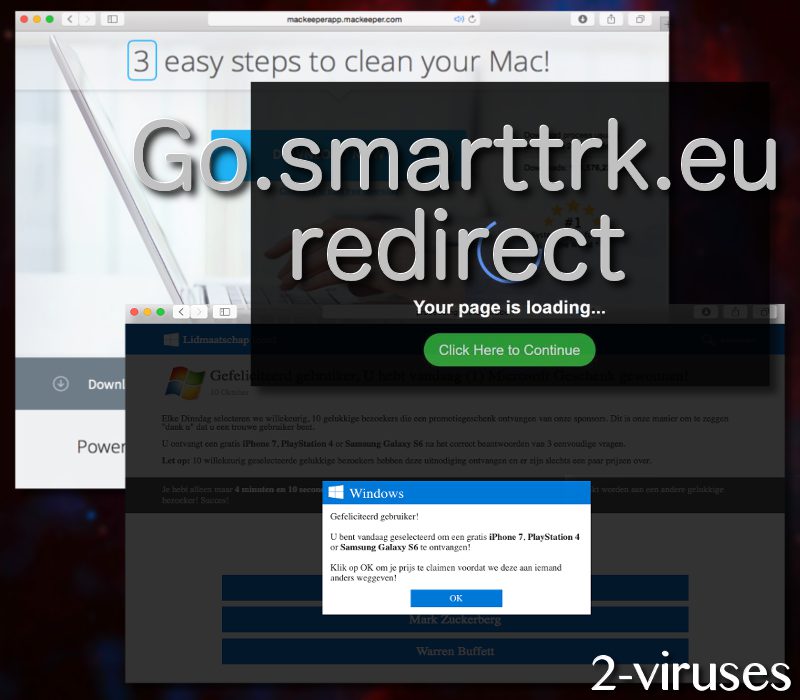 The thorough scan we ran (VirusTotal analysis) determined it as Trojan.Application.MAC.PazaCA.1, Gen:Variant.Application.MAC.PazaCa.1 or OSX/Mackeeper.J potentially unwanted. Redirects from Adexchangegate.com also promote malicious versions of MacKeeper.
Also, we noticed that Go.smarttrk.eu/?utm_term= redirect will be able to obtain users' geo-locations, presumably from the IP addresses. Therefore, deceptive ads might be adjusted in a specific language. For instance, a survey scam was shaped according to our geo-location. However, it is clear that users should not respond to these messages as they will presumably end up infecting computers with malware.
Smarttrk.eu redirect virus has been extremely active ever since of the end of July, 2017. For the most part, users from Portugal are receiving this message, in addition which United States, Greece, Netherlands and Canada. Please do not interact with the advertisements that this redirect presents on your screen. We have no doubt that most of that material will aim to compromise your cybersecurity, spy on your online activities, steal your personally identifiable information and get their hands on such valuable details as online banking account info (What is the purpose of malware?).
Go.smarttrk.eu can also offer installations of other rogue versions of programs. Installing applications from unknown and completely random sources can only mean that your device will be presented with propositions to install useless and potentially dangerous tools (Sources of threats).
However, if you are constantly being redirected to Smarttrk.eu malicious domain, it might be that your operating system is already suffering from an adware parasite. Adware parasites are known to generate many online advertisements and most of them are deceptive and spreading dangerous content. Newpoptab.com is a very similar website, aiming to promote suspicious products/offers/software.
We decided to mention a few domains that the Go.smarttrk.eu redirect leads users to:
ps4.femo.gdn,
technologycraze.co.uk,
proceedingwinners.trade,
idjv.jere.gdn,
lktrack.com,
get.appversion.tk,
omtzz.rizmnotshw.goco.gdn.
Of course, these are only a few links that you will after the redirection is concluded. We also determined that web traffic for Go.smarttrk.eu malicious domain will be generated from various sources. It could be done via referrals, social networking sites, email services and displays of advertisements. Please be careful when browsing and try to ignore propositions that this deceptive redirect can introduce.
Convenient tips on keeping operating systems malware-free
If you do not want to be bothered by malware parasites, we suggest you to take advantage of all the tips we have up our sleeve. One of the most important suggestions is to have an anti-malware tool installed into your operating system. Run regular scans to determine whether any malware threats mane managed to slither into your operating system. If this occurs, Spyhunter will offer a quick option of automatic removal.
If you do not have an anti-malware program and wish to remove a program, potentially triggering Go.smarttrk.eu redirect virus, we have provided instruction on how programs are supposed to be deleted from Control Panel. For the future, remember to never install programs from suspicious sources.
Also, do some research about an application you wish to get. In addition to this, you should understand that keeping operating systems clean means having only the essential programs. Unnecessary software should be removed. If you do decide to install a program, select advanced or custom modes for the installer.
How to remove Go.smarttrk.eu redirect using Windows Control Panel
Many hijackers and adware like
smarttrk redirect
install some of their components as regular Windows programs as well as additional software. This part of malware can be uninstalled from the Control Panel. To access it, do the following.
Start→Control Panel (older Windows) or press Windows Key→Search and enter Control Panel and then press Enter (Windows 8, Windows 10).
Choose Uninstall Program (if you don't see it, click in the upper right next to "View by" and select Category).
Go through the list of programs and select entries related to Go.smarttrk.eu redirect . You can click on "Name" or "Installed On" to reorder your programs and make smarttrk redirect easier to find.
Click the Uninstall button. If you're asked if you really want to remove the program, click Yes.
In many cases anti-malware programs are better at detecting related parasites, thus I recommend installing Spyhunter to identify other programs that might be a part of this infection.
Automatic Malware removal tools