Newpoptab.com Redirect Virus - How To Remove?
Newpoptab.com redirect virus is a piece of malware that has infected many people in Indonesia, Gambia and India. A reoccurring new window with this link will persistently appear in such browsers like Google Chrome, Mozilla Firefox, Safari or Internet Explorer. You are noticing this website because of an adware parasite in your device. Additionally, the website reads information about your geolocation. Therefore, fraudulent ads will be be written in your native language.
This website is controlled by a vicious ad-network that manages to expose people to all sorts of scams. Firstly, people could be introduced with fraudulent propositions to install a rogue version of MacKeeper. Also, the website reroutes people to many technical support scammers that require people to either download a specific software application to treat their OS from viruses or to call a helpline.
What should be said about this ad-network?
However, this pop-up might only show the Newpoptab.com URL at the beginning: the link in the address bar can soon shift to another website. During our investigation, we were redirected to a bunch of fraudulent domains. Macdamaged.tech website might have pretended to provide a legitimate application of MacKeeper, but the link has nothing to do with the official authorities of this security tool. By installing it, we could have been infected with a Trojan or a different malware sample. A similar message was launched in Slowmacfaster.trade website which also offered us a free cleanup analysis.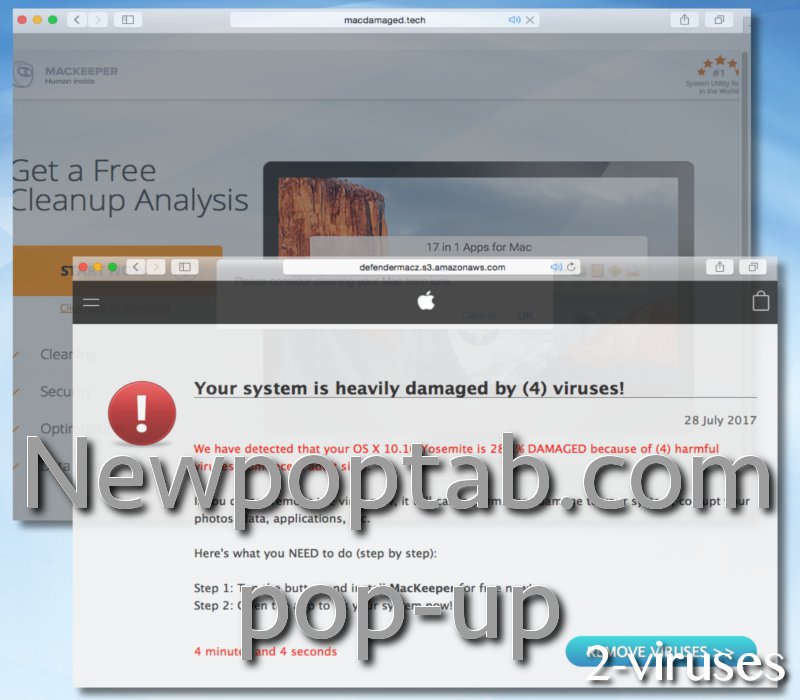 Defendermacz.s3.amazonaws.com was another domain that we were rerouted by this pop-up. This time, it proclaimed that out OS X 10.10 Yosemite system is heavily damaged by 4 viruses. It even provided a timer to suggest that after the countdown hits zero, we won't be able to download the allegedly-sophisticated MacKeeper. This is, once again, an unreliable source for this application. One of the domains almost gave us a heart-attack with its sound effects: Apple.com-webbrowsing-security.site was the domain to suggest that now, instead of 4 viruses, we only have to worry about 3. It even provided detailed description that 2 of them were malware samples and 1 was phishing/spyware.
From the looks of it, Traffic-media.co is also associated with this malicious adware as we were forced to enter its domain with inappropriate and adult-oriented content. Also, business-seekers should pay attention as we were also introduced with a clear scam to swindle cash out of people: Businesslnk.com. This domain will clearly make majestic promises about huge income and require either personal information or credit card details.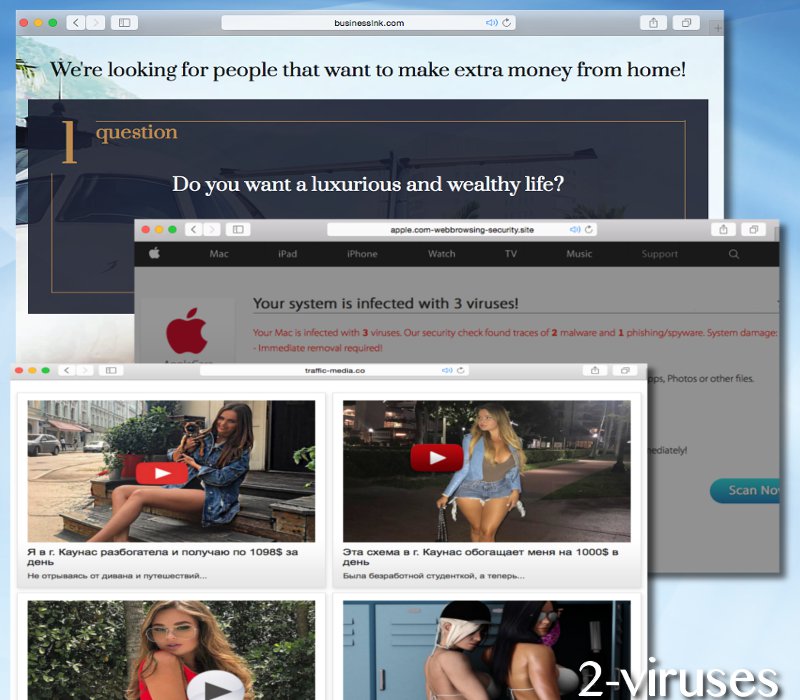 Clearly, the creators of Newpoptab.com are associated with a bunch of scammers that are either attempting to make people download malware or to reveal their banking account details. Never, and we repeat, never be as naive as to download programs from sources other than their official websites. If you wish to try out MacKeeper, you are welcome to download it from its official website and not from rogue websites that will presumably distribute Trojans or even ransomware infections.
Newpoptab.com website is hosted in United States of America and it is most likely to be generated by an adware parasite. If your operating system is currently suffering from aggravating advertisements that overlay with your active windows or are incorporated into the websites you visit, please remember to fight this infection as soon as you detect these signs.
An adware has infected your operating system: what to do?
First of all, you should have not interacted with any of the portals that got loaded by this adware parasite. If, unfortunately, you did: more malware samples could be currently leaving an impact. This situation desperately requires you to scan your system with an anti-malware tool like Reimage, Spyhunter or Hitman. They will detect the actual infection which is currently threatening your safety and offer the necessary option of removal.
For the future, please be careful about which programs, browser extensions and plugins you allow to become a part of your device. For installation processes please select advanced/custom modes and never agree to update or to get applications from unknown sources. If you have installed some suspicious software samples, we suggest you to remove it from your Control Panel.
How to remove Newpoptab.com redirect virus using Windows Control Panel
Many hijackers and adware like
Newpoptab.com pop-up
install some of their components as regular windows programs as well as additional software. This part of malware can be uninstalled from Control Panel. To access it, do the following.
Start→Control Panel (older Windows) or press Windows Key→Search and enter Control Panel (Windows 8);

Choose Uninstall Program;

Go through a list of programs and select entries related to Newpoptab.com redirect virus .

Click uninstall button.

This method will not remove some of browser plugins therefore proceed to the next part of the removal guide.
Removing Newpoptab.com pop-up from your browsers
Automatic Newpoptab.com redirect virus removal tools
We might be affiliated with some of these programs. Full information is available in disclosure
About the author