Adexchangegate.com redirect virus is definitely transferring people to all sorts of malware-laden and phishing websites. We investigated the domains that are presented after redirection is concluded, and we noticed that the deceptive website leads to Marketgid.com fraudulent website. In addition to that, the Adexchangegate.com/script/preurl.php?r=1641659&sub1=2370291 link has been noticed to be replaced by domains that promote rogue versions of popular programs, like MacKeeper.pkg which turned out to be hiding Trojan viruses (VirusTotal analysis).
Adexchangegate.com malware-laden domain is a sign of an adware infection
In addition, advertisements, containing nudity and promotions of adult-oriented services, were also noticed to be displayed. These websites are not only inappropriate for minors, but could also be regarded as potential sources of malware (Researchers connect pornography and malware). Most of the web traffic of this domain is generated from referrals that are initiated by websites like Yts.ag, Vidzi.tv, 1fichier.com, Zooqle.com and Vivo.sx. The ads, promoted via Adexchangegate.com redirect, are going to be from Propeller Ads Media, AdSupply, PopAds, AdCash, Adf.ly and other advertising networks.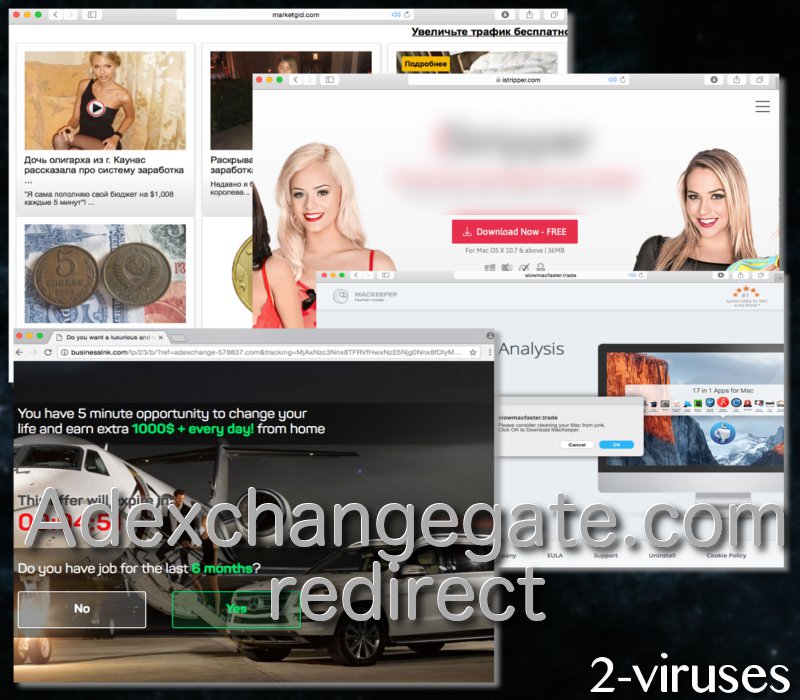 We also decided to examine the redirect itself and see whether security programs would find this URL malicious. The investigation showed that some scanners found some malicious content on the website and labeled it as "malware site" (VirusTotal scan). It is mostly displayed in Brazil, India, Spain, Argentina and Germany. In these countries, advertisements will be displayed the most frequently, but other regions can also be bothered by Adexchangegate.com redirect virus. It will display tailor-suited ads because of its tendencies to read users' IP addresses and determine the language of presented adverts.
Ever since July, redirection to Adexchangegate.com has become much more intense. Before that, the domain barely received any visitors. Now, it is ranked as the 4,955 top-visited domain in the world. Do not respond to promotional content and certainly do not visit the domains that it leads to. For instance, gambling and betting sites will be introduced and you might lose money after engaging in such risky businesses. Protect yourself from being exposed to such tempting material by getting rid of malware viruses that might be allowing Adexchangegate.com redirect virus to occur.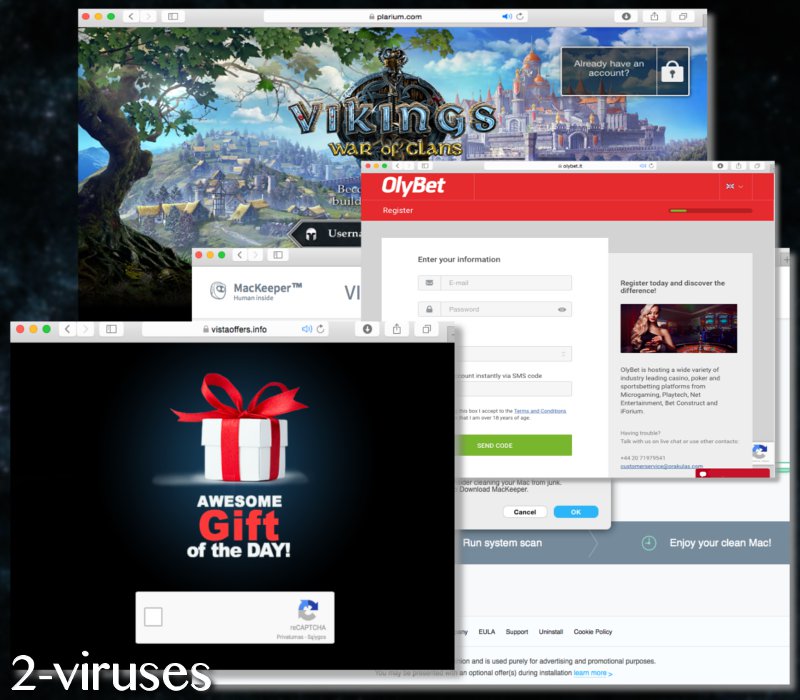 Adware is most likely to display unsolicited advertisements. In addition to this activity, ad-based parasite can also engage in spying and constantly monitor your online movements. Whenever you will enter certain websites or type in information in them, a sneaky malware parasite could be tracking your activities. This activity could even lead to such cyber crimes as identity theft (What is identity theft?) since adware controllers could be sharing users' information with unknown third-parties. In addition to this, the suspicious tool could be presented to you because of the suspicious domains you choose to visit on a regular basis.
Keep operating systems malware-free and properly protected
If you want to protect your device, please have an anti-malware tool. Spyhunter will help you run regular scans and detect malware infections before they do significant damage. In addition, if this redirection virus is generated by an adware parasite, an anti-malware tool will help you detect it and remove it without any hassle. As an alternative, we also present guidelines for manual removals. They are most frequently selected by people that have experience in removing malware. However, even those who have not can also try.
We should remind our visitors that it is important to update operating systems and make sure that no vulnerabilities would be making it easier for malware parasites to enter. In addition, during installation processes of freeware programs, always pick advanced/custom modes so you could properly review the Setup Wizard. Read Eula and Privacy policy documents to detect whether there are many suspicious statements in them. For instance, a free tool explains that it uses third-party advertisements to be able to sustain its services. This could be one of the red flags.
How to remove Adexchangegate.com redirect using Windows Control Panel
Many hijackers and adware like
Adexchangegate.com redirect
install some of their components as regular Windows programs as well as additional software. This part of malware can be uninstalled from the Control Panel. To access it, do the following.
Start→Control Panel (older Windows) or press Windows Key→Search and enter Control Panel and then press Enter (Windows 8, Windows 10).
Choose Uninstall Program (if you don't see it, click in the upper right next to "View by" and select Category).
Go through the list of programs and select entries related to Adexchangegate.com redirect . You can click on "Name" or "Installed On" to reorder your programs and make Adexchangegate.com redirect easier to find.
Click the Uninstall button. If you're asked if you really want to remove the program, click Yes.
In many cases anti-malware programs are better at detecting related parasites, thus I recommend installing Spyhunter to identify other programs that might be a part of this infection.
Automatic Malware removal tools