Clicknshare.net redirect virus is similar to fraudulent websites like Adexchangegate.com and Adf.ly. They all present advertisements from websites all over the world, but the Clicknshare.net redirect will most likely favor content in the Russian language.
No wonder this domain has obtained the 4,778 position in the rankings of most-visited websites in the country. Furthermore, users from other regions might also be harassed by this repetitive redirection virus. Ukraine, Brazil, United States and United Kingdom are the most likely to be influenced by this infection. Yandex service has also been indicated as one of the publishers that lead advertising traffic to Clicknshare.net fraudulent domain.
Clicknshare.net deceptive website will present advertisements from unreliable domains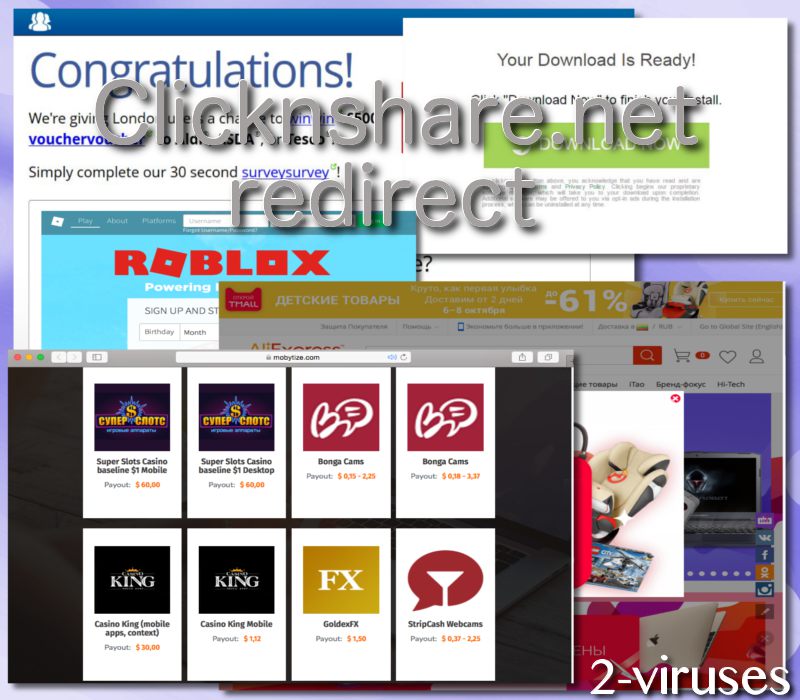 Clicknshare.net is a typical domain to present suspicious ads. This link will be briefly shown to users until a new domain like Mobytize.mobi, R.srvtrck.com or Pilaff-go.ru will be displayed. The material promoted in these domains can hide Malicious codes.
If ran, they will affect operating systems with malware. Furthermore, users can also be exposed to technical support scams, rogue services, low-quality online shops and other content that should be avoided. Merchandises that this domain might be strongly promoting could be not worthy of their prices. Adware parasites like ShopHelper have also been noticed to display rogue commercial material.
Clicknshare.net redirect will occur without any warnings. We have discovered that some websites are getting paid to transfer advertising traffic to this domain. During your visits in Tamilrockers.pl, Allegro.pl and Jofogas.hu, users will be automatically transferred to Clicknshare.net website.
Surprisingly, the website receives approximately 60,535 visitors daily which results in about $200 of revenue from advertising. According to the global rankings of top-visited domains, the website is in the 15,947 place. Not too bad for a website that might introduce scams and other suspicious content.
Also, some of the content, displayed after Clicknshare.net redirect, will be from ad-networks. Adcash, Propeller Ads Media, RevenueHits, Voluum are all said to be involved with this virus. All of these advertising companies might promote content which is not always to be regarded as respectable. Please bear in mind to interact with a very few advertisements during your online browsing (Ads are the future web danger).
Malvertising has been indicated as one of the most prevalent strategies to distribute malicious codes. After an online ad is clicked, it might redirect you to a website which is completely unrelated with the advertised services/products. Instead, you will be exposed to technical support scams or other deceptive material.
The re-occuring Clicknshare.net redirect virus might be a symptom of an adware infection. These malware parasites are very easy to get infected with. This might occur even without you having to interact with a malicious ad or website: drive-by downloads might automatically install the adware.
This specific kind of malware is also known to act as a spy. Adware tracking cookies could be placed into hard drives and used to keep track of users' online activities and the information they use.
Users have to learn more about cybersecurity and removal of malware
To enjoy a properly functioning operating system, we insist that you would not download applications or files from unknown sources. For instance, if a suspicious pop-up recommends you to get an update for a specific tool, make sure to decline this offer. It might be that the update is actually a Trojan or a different type of malware infection. Obviously, these infections should be avoided at all costs.
If the Clicknshare.net virus is bothering you, we hope you will scan your operating system with an anti-malware tool. Spyhunter is one of the programs you should employ for this job. In addition to this, we provide thorough removal instructions. Try to find suspicious or unknown tools and remove them from Control Panel. In some cases, ads might be triggered by a rogue browser extension. Open the list of active add-ons and remove the ones you did not install yourself/strike you as unreliable.
How to remove Clicknshare.net redirect using Windows Control Panel
Many hijackers and adware like
Clicknshare.net redirect
install some of their components as regular Windows programs as well as additional software. This part of malware can be uninstalled from the Control Panel. To access it, do the following.
Start→Control Panel (older Windows) or press Windows Key→Search and enter Control Panel and then press Enter (Windows 8, Windows 10).
Choose Uninstall Program (if you don't see it, click in the upper right next to "View by" and select Category).
Go through the list of programs and select entries related to Clicknshare.net redirect . You can click on "Name" or "Installed On" to reorder your programs and make Clicknshare.net redirect easier to find.
Click the Uninstall button. If you're asked if you really want to remove the program, click Yes.
In many cases anti-malware programs are better at detecting related parasites, thus I recommend installing Spyhunter to identify other programs that might be a part of this infection.
Automatic Malware removal tools