Rosetheet.com redirect virus is one of those suspicious domains that presents all sorts of fraudulent messages from scammers and other unreliable parties. It is bound to bring introduce users to technical support scams, rogue winning announcements, fake surveys and even adult-oriented content.
The same strategies are exploited by threats like Onclickrev.com and Click-cpa.net as they all will bring suspicious ads on your screen. The Rosetheet.com virus is the most prevalent in United Arab Emirates in which it takes 143rd position among top-visited domains. Other exotic countries are targeted by this infection as well: Turkey, Indonesia, Colombia and Eritrea.
Rosetheet.com redirect virus will present malicious or deceptive material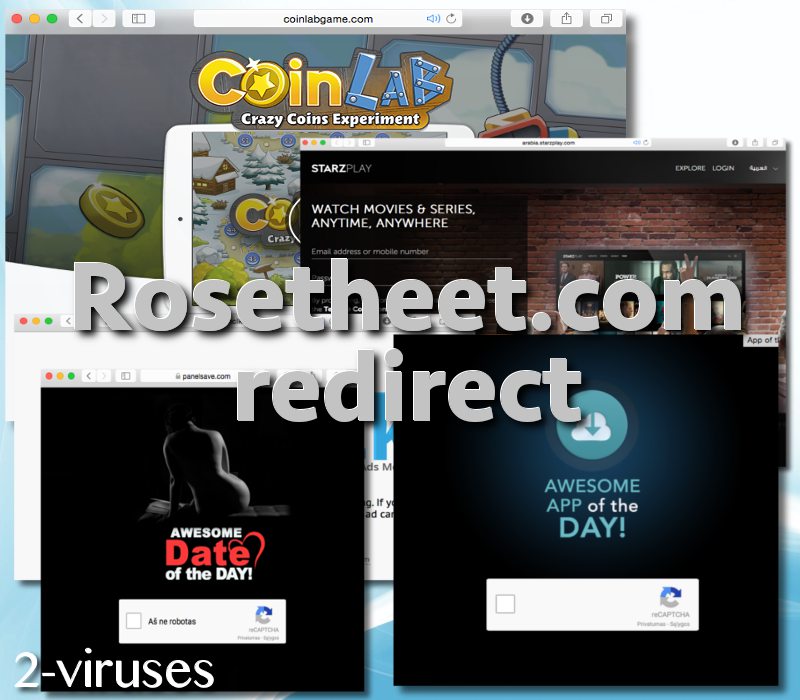 Also, we noticed that it will present propositions to scams like Muvflix. Arabia.starzplay.com is one of the most frequently introduced services that should not be taken advantage for a free trial (Free trial traps: how to identify them and what to do if you're stuck). We have discussed that free trials might be a trap, set by cunning people to increase their profits. During our investigation, we noticed that Onclkds.com, powered by Propeller Ads Media, will for be regularly shown after redirection to Rosetheet.com virus occurs.
This is not the only ad-network that Rosetheet.com redirect is co-operating with. According to our analysis, it was determined that companies like AdSupply, WWWPromoter and AdWorkMedia are all going to show ads via this suspicious website. In addition to this, Redirectvoluum.com will also be introduced on a regular basis, meaning that Voluum ad-network is also involved with this domain.
Rosetheet.com rogue website receives a lot of referrals from all sorts of different websites. Take a look at this list of domains that can automatically redirect you to it:
"click.6f76b4c82656094f26.com,
cdn.boodlewrite.com,
digitaldsp.com,
tr.mobiletrackking.com,
openload.co,
3sk.tv,
watchfree.to,
lambingan.su,
anakbnet.com. "
Therefore, it could be that Rosetheet.com redirect will take place because of your poor browsing habits. If you do not want to be introduced with this domain, we suggest you to scan your operating system with Spyhunter to find the problem. It could be that the redirect will happen because of an adware infection in your OS. This means that you will have to find it and remove it. Of course, manual removal of malware might be difficult for beginners. Therefore, we offer an alternative (the option with an anti-malware tool) (Reasons you need an anti-malware software).
Before finishing up with this part of the article, we have to emphasize two more factors. First of all, Rosetheet.com redirect virus might be secretively collecting your personally-identifiable information or tracking your every move online. This is a violation of your privacy and you should hurry up to run a scan. In addition to this, this website is extremely suspicious as it introduces a lot of adult-oriented content which is is offensive and even potentially malware-laden.
How to treat an operating system, infected with malware?
As we have established, Rosetheet.com redirect virus might be harassing you because of a malware infection. The most possible infection would be adware, but also might be any other infection that is capable of initiating redirection. To find out the truth, we strongly encourage you to run a scan with the anti-malware tool we recommended. Furthermore, you should start following a few rules for safe browsing if you do not want to be bothered by malware parasites.
First of all, do not install unknown programs from suspicious sources (this includes pop-ups, random file-sharing websites). Secondly, disable the setting, allowing browser to automatically accept programs it encounters. Thirdly, select advanced or custom modes for installation processes.
The fourth advise would be to have security software properly functioning and updated. Of course, it is important to patch all of your software applications, including the whole operating system. If you are using an old version of Windows, we would suggest you to switch to a more newer variant.
How to remove Rosetheet.com redirect using Windows Control Panel
Many hijackers and adware like
Rosetheet.com redirect
install some of their components as regular Windows programs as well as additional software. This part of malware can be uninstalled from the Control Panel. To access it, do the following.
Start→Control Panel (older Windows) or press Windows Key→Search and enter Control Panel and then press Enter (Windows 8, Windows 10).
Choose Uninstall Program (if you don't see it, click in the upper right next to "View by" and select Category).
Go through the list of programs and select entries related to Rosetheet.com redirect . You can click on "Name" or "Installed On" to reorder your programs and make Rosetheet.com redirect easier to find.
Click the Uninstall button. If you're asked if you really want to remove the program, click Yes.
In many cases anti-malware programs are better at detecting related parasites, thus I recommend installing Spyhunter to identify other programs that might be a part of this infection.
Automatic Malware removal tools