Click-cpa.net redirect virus was created in September of 2016 and it has been consistently harassing Internet surfers. Track.spzan.com malicious domain is a comparable example and has bothered users with a similar persistent attitude. Such websites are very frequently exploited for malicious purposes. For instance, infecting computers with viruses or phishing out users' personally-identifiable information which should always remain concealed from unknown third-parties (How to keep your personal info safe).
Over 77% of web traffic to Click-cpa.net virus is generated from domains, specializing in pornographic or other adult-oriented content. Furthermore, recent news also implies that even miners of crypto currencies could also be delivered through websites that are tainted with special codes.
All important details about Click-cpa.net fraudulent website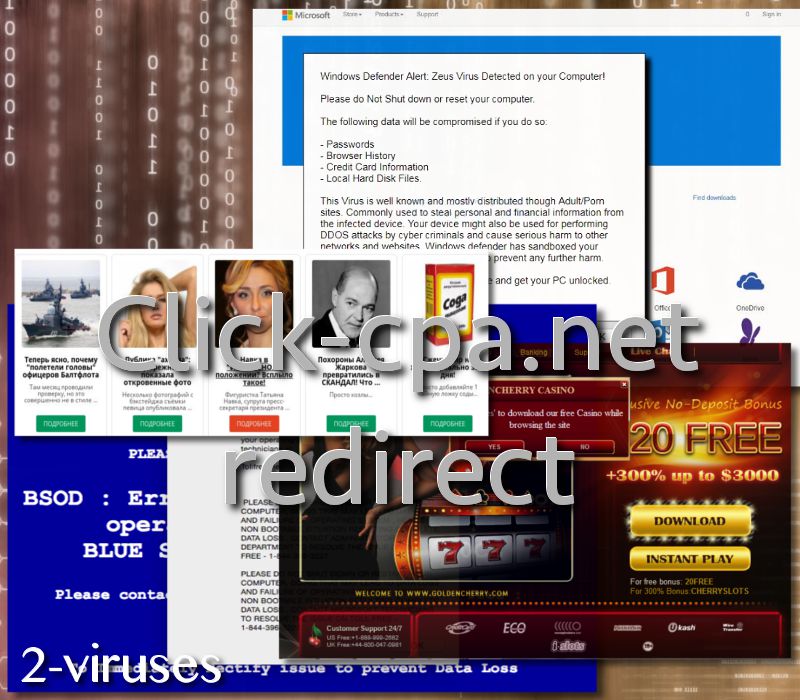 For the purpose of keeping underage readers from accidentally accessing potentially harmful and clearly offensive websites, we will not enumerate the exact initiators of referrals. However, we do have to stress out that pornographic content is one of the leading causes of malware infections (Pornography websites could give you a virus). These adult-oriented websites do not lead to reliable or certified domains. Therefore, people have to suffer streams of pop-ups, pop-unders and banners.
In addition to this, Click-cpa.net redirect is very frequently noticed in computer devices that have already became infected with malware parasites. If your browsers' preferences have not been recently re-modeled to feature unknown domains like Search.hometab.com, it is the most likely that an adware parasite has gotten inside your operating system.
These ad-based parasites trigger automatic redirection to malware-laden websites with the hopes of slithering even more viruses into computers. Unpatched software applications and operating systems might contain some significant, sometimes zero-day, vulnerabilities, allowing hackers to employ exploit kits against users (Exploit kits remain a cybercrime staple against outdated software).
Therefore, if you are noticing redirection to Click-cpa.net/out?zoneId=, your browsing will be filled with pornographic, offensive, adult-oriented or in other ways disturbing material. This is because the website is collaborating with suspicious ad-networks that are mainly serving content for adults. A few of these companies are the following: exoClick, Propeller Ads Media, PopAds, Adcash and AdsTerra.
If a secretive adware parasite is currently triggering redirection, not only adult-focused material will be brought onto users' screens. They could display clever phishing scams, urging people to reveal their physical/email addresses, names or even banking account information. In some cases, brutal scams like Popcornvod.com or "Windows Detected ZEUS Virus" could be seen.
Click-cpa.net redirect is a clear sign of a vulnerable operating system, influenced by malware. However, it could also appear due to poor browsing habits. Websites that offer pornography initiate redirects to all sorts of deceptive messages: notifications from Click-cpa.net are one of them. In addition to being promoted by these adult-oriented domains, analysis of web traffic sources also suggest other methods.
Malicious email letters could contain links to this domain since some of the visits originate from providers of email services. Fraudulent messages are clearly making a huge impact on Internet societies and compromising their safety after just one click to a malicious domain. Considering this, you will not download attachments or respond to the content inside shady letters (How to handle suspicious email). We are not exaggerating the importance of links to malicious websites: some of them might be planning to initiate drive-by downloads thanks to severe vulnerabilities in computers' operating systems.
In addition, rogue posts on social media networks might also be making certain contribution. Please do not click on articles that resemble fake news or on suspicious links that your friends sent through virtual chats. They might be transmitting certain messages without their own knowledge.
Stay safe from malware infections
We are not sure which malware infection is generating this specific redirection. However, we are fairly certain that a parasite has slithered inside. For the best results, run a scan with Spyhunter anti-malware tool. It will offer automatic removal which will be very convenient for people that have zero experience in manual removals of viruses. If you are not one of these users, we offer you guidelines below. Try to find unwanted software by following the instructions to remove them from Control Panel.
For the future, please try to select advanced/custom modes for installation processes. Packaged freeware is very commonly found the culprit of infiltration of potentially unwanted programs (PUPs) or malware infections. However, if you have been visiting adult websites, this might be the reason you are being introduced to this malicious website.
How to remove Click-cpa.net redirect using Windows Control Panel
Many hijackers and adware like
Click-cpa.net redirect
install some of their components as regular Windows programs as well as additional software. This part of malware can be uninstalled from the Control Panel. To access it, do the following.
Start→Control Panel (older Windows) or press Windows Key→Search and enter Control Panel and then press Enter (Windows 8, Windows 10).
Choose Uninstall Program (if you don't see it, click in the upper right next to "View by" and select Category).
Go through the list of programs and select entries related to Click-cpa.net redirect . You can click on "Name" or "Installed On" to reorder your programs and make Click-cpa.net redirect easier to find.
Click the Uninstall button. If you're asked if you really want to remove the program, click Yes.
In many cases anti-malware programs are better at detecting related parasites, thus I recommend installing Spyhunter to identify other programs that might be a part of this infection.
Automatic Malware removal tools