Muvflix malicious scam is a subscription service that provides its clients with access to movies and other content, streamed over the Internet to Internet-connected devices. Popcornvod.com service is equally unreliable as they are both known to charge users' online accounts during the alleged 5-day trials. These 'free trial' scams have been determined to be one of the newest trends (Do no be rushed into free-trial scams), targeting free-stuff-fanatics that are naive enough to provide their banking information to complete strangers.
Do not sign up for Muvflix scam: it takes money out of banking accounts
Counterflix parasite is also similar to this infection, and they both have set their eyes on gaining profits. They aim to trick users into signing up for their fraudulent services, leading to financial losses. The Internet is filled with negative comments about Muvflix deceptive service because people attempt to warn fellow surfers to see through these scam artists.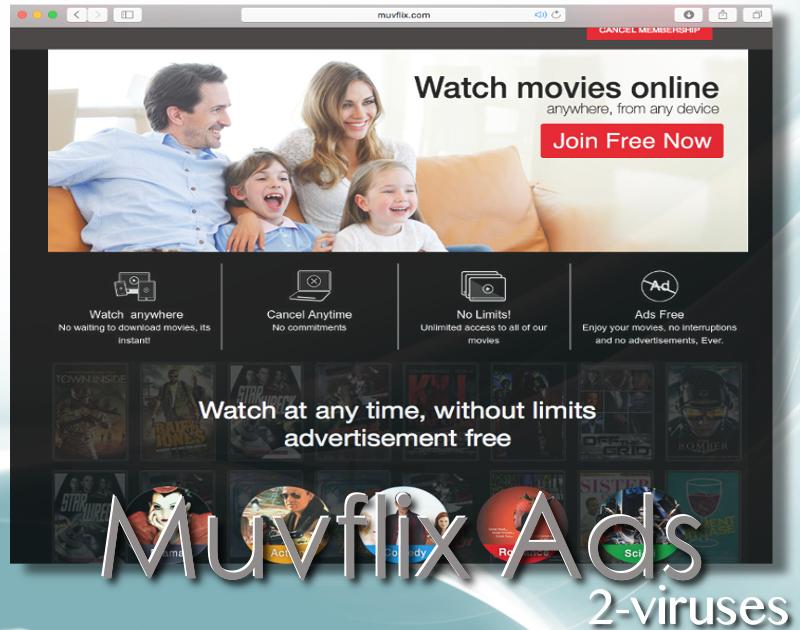 If users wish to sign up for Muvlifx services, they have to provide their credit card information during the registration process. While this might not seem as a suspicious condition, it is. By providing this misleading service with your credit card details, you are allowing them to charge you whenever they want.
In fact, people have indicated that they noticed unsupervised transactions from their banking accounts right after they signed up for Muvflix. On Twitter, people are also expressing their opinions about this deceitful service. Some of them are angry to have been charged $70 dollars for a rogue online-streaming services. In addition to this, they the clients' support lies about sending back the refunds.
Some of the victims express plans to sue the company for billing them without prior-notice. There are tips on how deceitfully-obtained money could be returned to their rightful owners (Guide to refunds), but victims are probably going to have to be patient. Take a look at eye-opening testimonials that the Muvflix scam former clientele has left:
"I know this is going to be difficult to get back my money. They did not even email me that they were taking money from account. I did not sign up for a single movie, yet they have been taking money.
These guys lead you to believe you have a five day trial but hit your credit card immediately and then try to get it back. The first reply is polite and really just buys them time, ten days later you are still sucking eggs, I got my bank involved, but I do not hold out much hope.
I should have known this was a scam, I signed up for a trial and was charged, then I cancelled my account, then was charged for another month, I finally got a response saying they had closed the account and were refunding the last month, I received a confirmation number from them but the refund has never shown up in my account almost 2 months later. Needless to say but stay away.
One of the worst experience ever, never get to see nothing and was charge $52. Got to issued a complain to my bank, and went to court to take of this with international matters. Even if I don't get my money back at least not one will get ripped off. "
Even if clients subscribe for a free trial of Muvflix fraudulent service, balances of their credit cards are bound to decrease. Users might not watch any movies or view only several of them. Nevertheless, they complained to be billed from 50 to 80 dollars. Official bank institutions are also warning their clients to stay away from free trials to avoid monthly fees (Bank warns public on free trials). Here is a look at a few more negative reviews from former clients of Muvflix:
Tried Muflix because they showed 1st run movies to watch on their website. These first run movies were in the movie theaters at this time. Was very impressed and decided to try out the trial. Just as I expected, when i logged in, I did not get 1st run movies but movies dating back to the 1940's and up to 2016 which i could download anywhere or rent. What a scam… then after cancelling they billed me for $49.99 on my credit card. I tried to call but there customer service number always says "NOT AVAILABLE TO TAKE YOUR CALL" Probably just available to take your money. Don't waste your time or money.

How can I get my money back from Muvflix They have debt my card for US$49.00 and are not replying to my emails I have sent. I am going to report them to 'VeriSafe' They are a scam, is there someone that can help me,

They have taken out $ 192.+ from my account also but I went to my bank and they are launching an investigation into them and will try to get my monet back for me.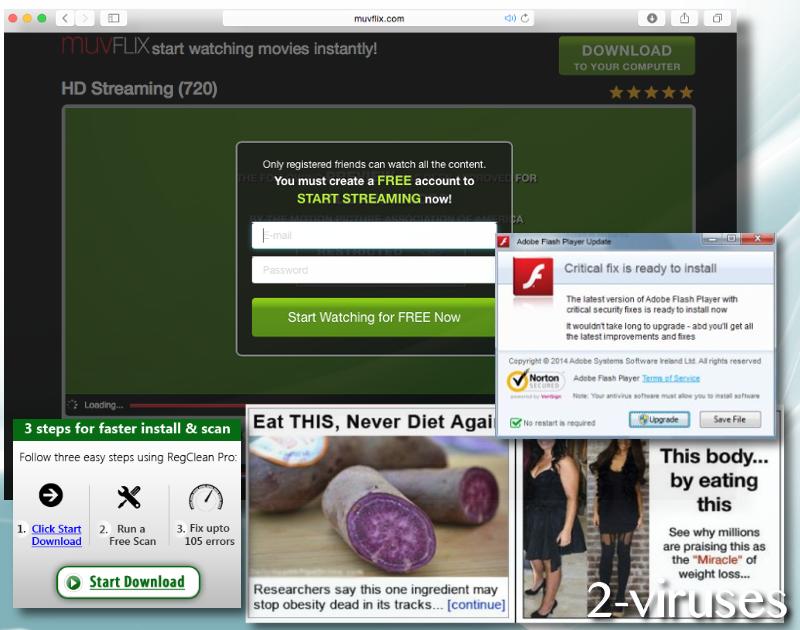 While the website pledges that free trial can be canceled and no money will be taken out of banking accounts, this is obviously not true. In addition to unauthorized billings, Muvflix scam has been determined to display advertisements from potential malware distributors: Adk2, AdsTerra, RevenueHits, Adbooth and Adcash.
The Muvflix service is also promoted by a number of online-streaming websites: pelispedia.tv, vidto.me, linkshrink.net, cricfree.sc, telewizja.com and hdpopcorns.com. Thanks to consistent referrals and other ways of marketing, the service has become the 607th website in Argentina. Its global ranking is also impressive: 9,393 website. People from Chile, Indonesia, Poland and Ecuador should be careful not to sign up for this service if they do not want to lose money.
How should users stay aware from malware and scams like this Muvflix service?
It is clear now that you are to avoid this specific video-provider. If you constantly notice ads for this service, you should check the status of your device by running a full security scan with an appropriate tool for protection. Spyhunter is one of the possible candidates for the job.
An adware infection, triggering series of advertisements, might be currently affecting your operating system. Such parasites from the malware category have a habit of being distributed in bundles of free applications.This refers to the fact by installing a single application, you might actually be unknowingly allowing additional programs to be implanted.
Therefore, you should pick advanced/custom modes for Setup Wizards and resist the temptation to agree with all of the terms of installations. Additionally, make sure that the solely downloaded programs would not be obliging you to face third-party advertisements in exchange for the free tool.
How to remove Muvflix ads using Windows Control Panel
Many hijackers and adware like
Muvflix ads
install some of their components as regular Windows programs as well as additional software. This part of malware can be uninstalled from the Control Panel. To access it, do the following.
Start→Control Panel (older Windows) or press Windows Key→Search and enter Control Panel and then press Enter (Windows 8, Windows 10).
Choose Uninstall Program (if you don't see it, click in the upper right next to "View by" and select Category).
Go through the list of programs and select entries related to Muvflix ads . You can click on "Name" or "Installed On" to reorder your programs and make Muvflix ads easier to find.
Click the Uninstall button. If you're asked if you really want to remove the program, click Yes.
In many cases anti-malware programs are better at detecting related parasites, thus I recommend installing Spyhunter to identify other programs that might be a part of this infection.
Automatic Malware removal tools