RelevantKnowledge is a potentially unwanted Windows program. It may even be considered spyware. Some install it voluntarily, others – unwittingly.
The RelevantKnowledge website claims that it's a voluntary research project where people can join to help shape the future of the internet, and maybe even get some prizes from sweepstakes.
But because RelevantKnowledge spreads bundled with free programs, which causes users to install it unintentionally. Plus, RelevantKnowledge behaves like spyware and doesn't remove all of its files once uninstalled. Many antivirus programs flag it as Adware, Malware, Unwanted, PUP, Trojan, and Relevant: Virustotal.com.
Relevantknowledge quicklinks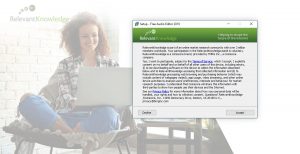 About RelevantKnowledge:
Classification
Potentially unwanted program,

spyware,

adware.

Problems with RelevantKnowledge
It logs data about your hardware, your browsing activities, other potentially sensitive information,

it may have been installed without you agreeing to it.

How it gets installed
Downloaded from its home site,

installed by various free programs.

How to remove RelevantKnowledge
Uninstall the program,

find and remove the files left behind,

find and remove all unwanted programs manually or with an anti-malware program like Spyhunter and others,

consider resetting your passwords.
What is RelevantKnowledge?
RelevantKnowledge is a program that collects data on people's browsing habits and hardware data:
browsing history, what sites you visited,
your search history,
which ads you click on and how you interact with advertised content,
your demographic data,
what programs you use.
RelevantKnowledge gives the data that it collects to various companies to help with their market research.
Besides collecting info on your hardware and your browsing activities, RelevantKnowledge also displays pop-ups with ads and surveys. According to some users, these pop-ups can be very difficult to get rid of.
However, RelevantKnowledge claims that it does not show pop-ups or send spam. It also promises to try and delete any data that it collects that may be sensitive, such as personally identifiable data or your passwords. (Yeah, RelevantKnowledge can see your passwords. It can see anything that you can, and more.)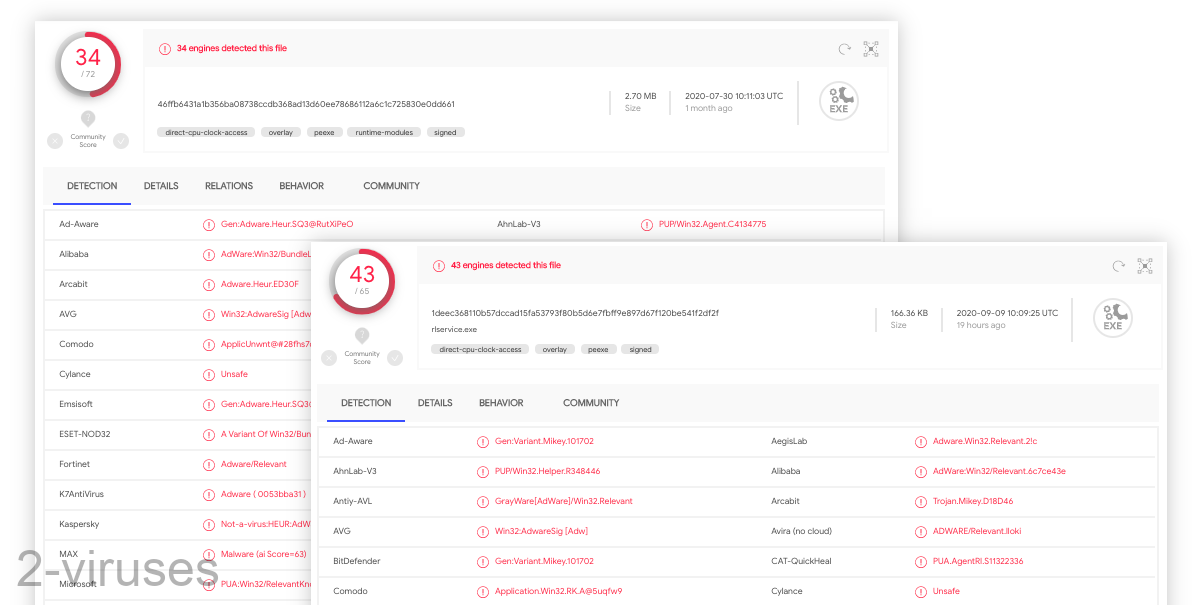 How RelevantKnowledge gets installed
RelevantKnowledge can be downloaded off of its website (the Virustotal.com results).
It also comes bundled with various free programs, such as Free Audio Editor. If you regularly use free download sites to get your software, you very likely have encountered RelevantKnowledge (or its cousins Premier Opinion, OpinionSquare, PermissionResearch, and others). Many free download sites offer installers that are bundled with optional offers, RelevantKnowledge often included.
RelevantKnowledge underlines that it is voluntarily installed software, which may be legally true, but it's not really the spirit of it. It's enough to be a little distracted during the installation process of a bundler to accidentally allow optional offers (like RelevantKnowledge) on your computer.
One way that can happen is when the installer puts the "Accept" button in an unexpected spot. Look at this offer below, where RelevantKnowledge is being offered by the setup of another program. The "Accept" button is on the right, where the "Next" button always is.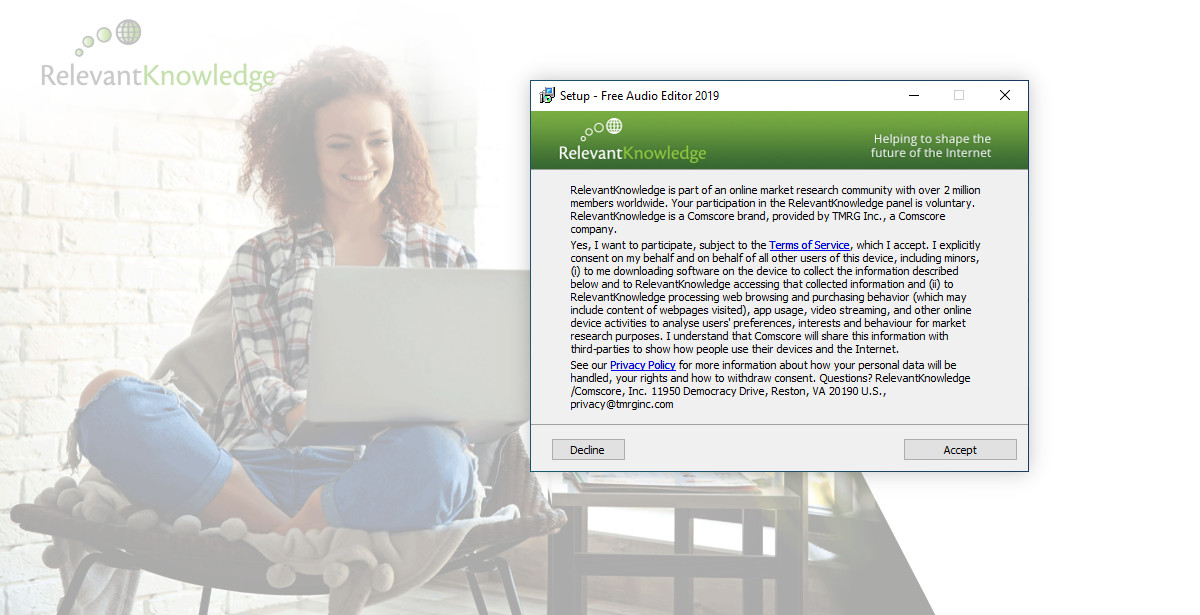 Also, RelevantKnowledge may be vulnerable to affiliate fraud. This would include bad actors using unethical means to force users to installations. For example, back  back in 2007, RelevantKnowledge was installed without permission by a rogue distributor.
How to remove RelevantKnowledge
Although RelevantKnowledge provides an uninstaller that does remove it from your installed programs (instructions below), it does not delete all the files. There may still be a C:\Program Files (x86)\RelevantKnowledge folder on your device with a file in it.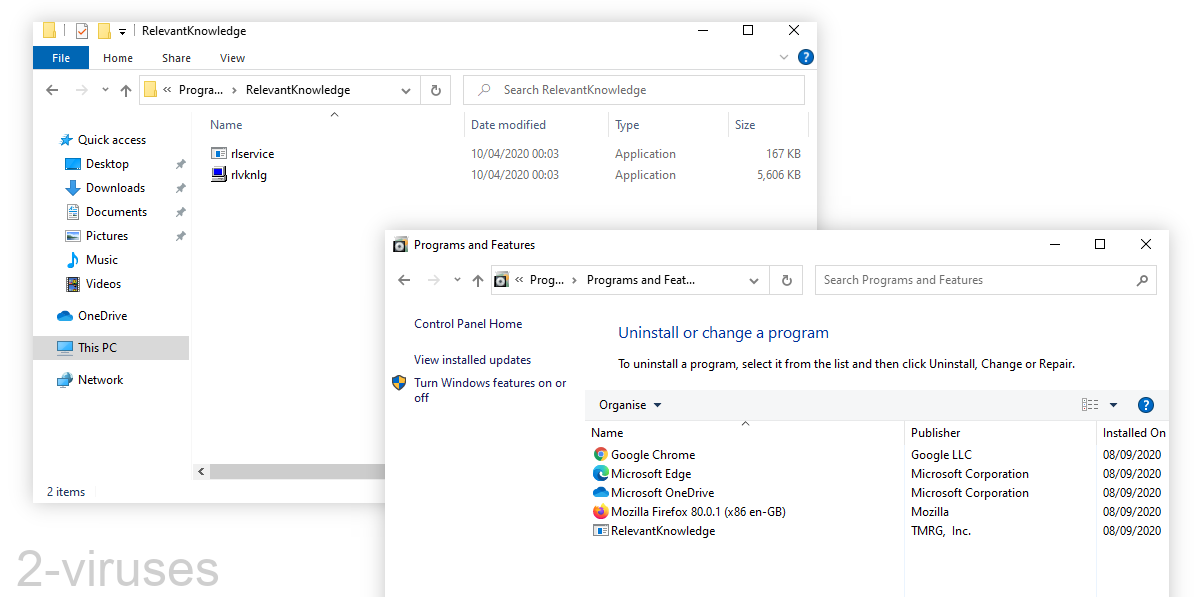 After uninstalling RelevantKnowledge, it's helpful to scan your computer with an anti-malware program, such as Spyhunter, to make sure that RelevantKnowledge and other junkware is gone. At the same time, you should check your folders, such as C:\Program Files (x86), manually. Delete unwanted items if there are any.
If you use free download sites or often install freeware that bundles optional offers, you should protect your computer with a good antivirus program. Some programs might ask you to disable your antivirus to install them – don't listen to them.
As for the information that RelevantKnowledge collected, you might want to reset your passwords, just in case. Even if RelevantKnowledge isn't malicious, it's better to be proactive in your cybersecurity.
Automatic Malware removal tools
How to remove RelevantKnowledge using Windows Control Panel
Many hijackers and adware like
RelevantKnowledge
install some of their components as regular Windows programs as well as additional software. This part of malware can be uninstalled from the Control Panel. To access it, do the following.
Start→Control Panel (older Windows) or press Windows Key→Search and enter Control Panel and then press Enter (Windows 8, Windows 10).
Choose Uninstall Program (if you don't see it, click in the upper right next to "View by" and select Category).
Go through the list of programs and select entries related to RelevantKnowledge . You can click on "Name" or "Installed On" to reorder your programs and make RelevantKnowledge easier to find.
Click the Uninstall button. If you're asked if you really want to remove the program, click Yes.
In many cases anti-malware programs are better at detecting related parasites, thus I recommend installing Spyhunter to identify other programs that might be a part of this infection.