Free Audio Editor is a potentially unwanted program that bundles spyware. Installing Free Audio Editor may result in junkware flooding your computer. In addition, even if you uninstall Free Audio Editor, it tries to get your attention by showing pop-ups. It would be safest to uninstall it and to delete all the files that it might have left on your PC.
Free Audio Editor By Faemedia quicklinks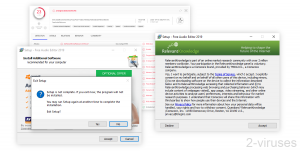 About Free Audio Editor:
Classification
Potentially unwanted program.
Problems with Free Audio Editor
Optional offers during installation,

spyware is one of the optional offers

it's not always possible to decline the optional offers.

How it gets installed
Advertised on its own website,

offered on free download sites.

How to remove Free Audio Editor
Uninstall Free Audio Editor and the offers that it installed manually or with an antivirus program (Spyhunter for PC, or others),

find and delete the remaining unwanted files.
What's wrong with Free Audio Editor?
Audio editor
Free Audio Editor is a Windows program by FAEMedia that, unfortunately, installs RelevantKnowledge. For this reason, many anti-malware scanners detect Free Audio Editor as Trojan (deceptive installation), Malware, AdWare (malware focused on delivering ads), Unwanted, and Relevant (for bringing RelevantKnowledge): Virustotal.com.
Although I doubt that Free Audio Editor is a good editor (it's hard to find reviews), it itself is not harmful. It is advertised in blog posts on its own site, such as "Top 5 Free Audio Editor", that appear as though they're written by an impartial reviewer and just happen to find Free Audio Editor to be the definitive audio editor. Lots of companies do this, so always check multiple reviews before installing a program.
Free Audio Editor's main executable wasn't detected by any scanners when I tried it. But after Free Audio Editor was installed, it prompted me to download an update, which was detected by a couple of scanners (Virustotal.com). This updater for Free Audio Editor remains on your device even when you uninstall Free Audio Editor. It shows pop-ups asking you to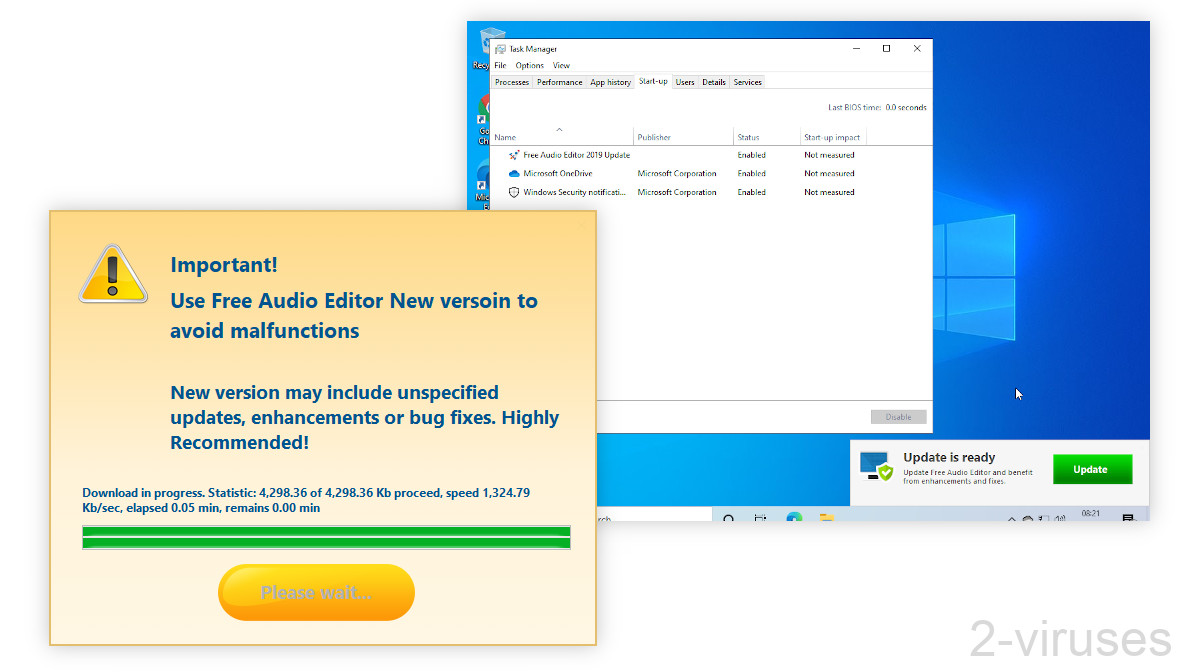 The Free Audio Editor site offers a Mac version, too. Except, its DMG file is called "Audacity" – Audacity is a genuine and reputable open-source audio editing program that has, as far as I know, nothing to do with Free Audio Editor.
Spyware bundler
The real issue is that Free Audio Editor offers RelevantKnowledge as part of its installation. If you just click through the installer and don't read all the warnings, you can easily agree to the offer by accident, without meaning to. As RelevantKnowledge can be considered spyware, this is an issue.
RelevantKnowledge is in the same family as Premier Opinion. These programs lurk on your computer, logging everything that you do. They frame it as you participating in research, as if it's a collaborative effort. But really, they're just collecting your data for marketing purposes far more intrusively than websites or browser extensions can.
Free Audio Editor also bundled Avast, but at least Avast is a functional antivirus program. Still annoying, though.
Another problem is that though Free Audio Editor marks its offers as "Option offers", it does not allow the second one to be skipped if you accepted the first one. So, in some cases, Free Audio Editor's setup makes it seem as though you must install the optional offers. This might be a bug, but it is still harmful.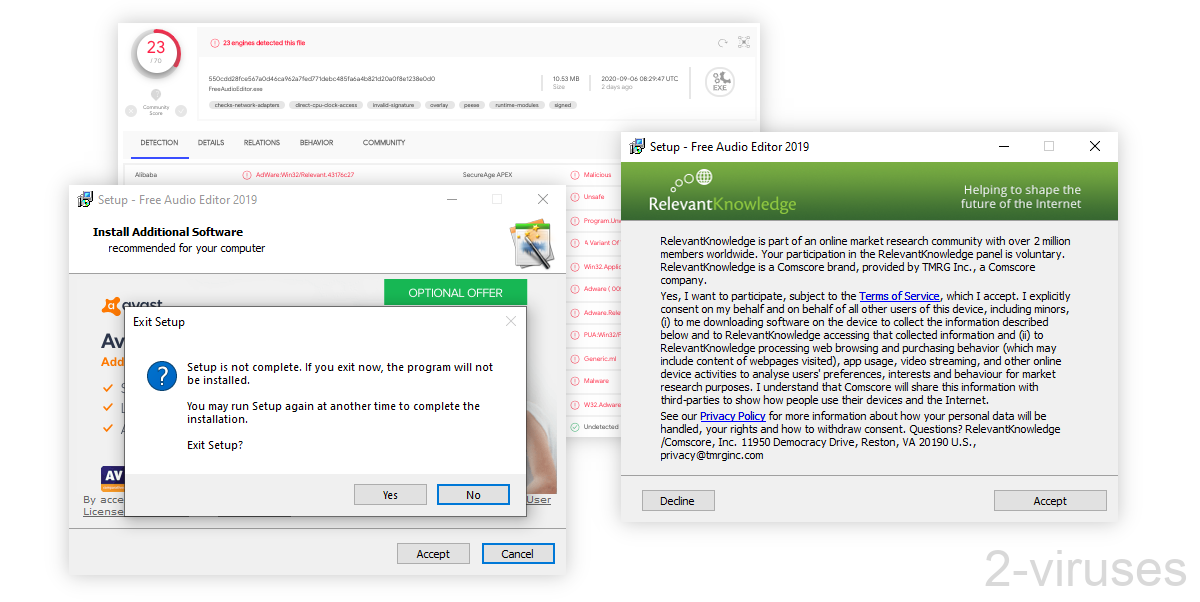 How to remove Free Audio Editor
You can uninstall it manually in the Control Panel. You can also use an antivirus program, such as Spyhunter. It would be good to scan your computer after uninstalling Free Audio Editor to make sure that it didn't leave any malicious files behind.
For example, when I uninstalled Free Audio Editor, it left a few files in the C:\Program Files (x86)\Free Audio Editor 2019 folder. It added the Free Audio Editor Update to startup items, so that it runs the next time you reboot your computer. You can find and delete them manually.
Likewise, RelevantKnowledge left its file after being uninstalled in the C:\Program Files (x86)\RelevantKnowledge folder.
Automatic Malware removal tools
How to remove Free Audio Editor by FAEMedia using Windows Control Panel
Many hijackers and adware like
Free Audio Editor by FAEMedia
install some of their components as regular Windows programs as well as additional software. This part of malware can be uninstalled from the Control Panel. To access it, do the following.
Start→Control Panel (older Windows) or press Windows Key→Search and enter Control Panel and then press Enter (Windows 8, Windows 10).
Choose Uninstall Program (if you don't see it, click in the upper right next to "View by" and select Category).
Go through the list of programs and select entries related to Free Audio Editor by FAEMedia . You can click on "Name" or "Installed On" to reorder your programs and make Free Audio Editor by FAEMedia easier to find.
Click the Uninstall button. If you're asked if you really want to remove the program, click Yes.
In many cases anti-malware programs are better at detecting related parasites, thus I recommend installing Spyhunter to identify other programs that might be a part of this infection.