Premier Opinion is a program that tracks your activity online to help advertisers understand how to advertise effectively. It is a desktop program and it runs quietly in the background, collecting a lot of data. On top of that, Premier Opinion might get installed bundled with other software, slipping users' notice. For these reasons, antivirus programs consider Premier Opinion dangerous.
Premier Opinion quicklinks
Premier Opinion features:
Type of threat
Spyware,

PUP (potentially unwanted program).

How Premier Opinion gets installed
Free programs and bundlers install it in the background.
Problems with the program
Cannot be paused,

logs a lot of private data,

shares data with third parties,

shows survey pop-ups.

Remove Premier Opinion
Uninstall it manually,

use anti-malware tools (SpyHunter, others).
What is Premier Opinion?
Premier Opinion is described on PremierOpinion.com, PermissionResearch.com, OpinionSquare.com, ScoreCardResearch.com, and other sites. According to Premieropinion.com, it is an online market research community.
Premier Opinion (or PremierOpinion) is a desktop program that, once installed, collects data about the activity of its users to help understand the success of advertising campaigns. It is flagged by many anti-malware programs as Adware.
About Premier Opinion in short:
Premier Opinion is installed either voluntarily or by free programs as an optional offer.
It shows pop-up ads and surveys.
It collects people's online behavior data.
It uses the collected data to help advertisers, marketers, and other media companies.
It may be installed without a warning
Offered by survey sites
Premier Opinion is a program, so it needs to be installed like any other program. You can download it off of PremierOpinion.com yourself. You may also be offered to download it when you're taking online surveys – the kinds of surveys that promise rewards (money and gift cards).
Smuggled in by other programs
Other times, Premier Opinion gets installed without the user knowing. People say (Reddit.com) that Premier Opinion appeared on their device without their knowledge or consent.
Premier Opinion gets bundled with media players, converters, document managers, emulators, and other free software. These are its bundling partners. They might get paid for each installation of the bundled software.
You may not know when you are downloading Premier Opinion and might allow it to be installed without even realizing it. This isn't your fault – it's the fault of the distributors who bundle their installers with it and deliberately make it easy to overlook.
Be careful when downloading freeware from download sites. One way to avoid spyware such as Premier Opinion is to scan every installer with an anti-malware program. Bundlers might get detected as Trojan, Adware, PUP, PUA, Malware, Downloader, etc.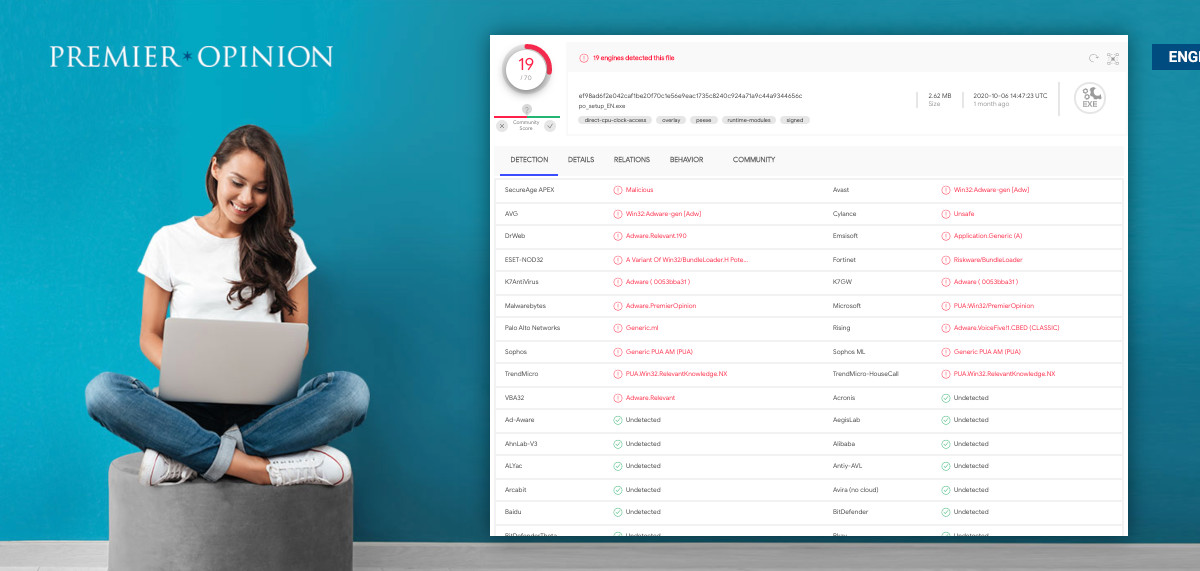 It displays pop-ups and ads
Premier Opinion is presented as a collaborative project where you help build an understanding of online trends by allowing Premier Opinion to look at your browsing data and, occasionally, ask you to complete surveys.
Another way to look at Premier Opinion is as spyware. It monitors your online activity and it can't be turned off.
As this program promises freeware, gift cards, and sweepstakes, it might seem like a good deal. But remember that chances of winning are tiny. Besides, sweepstakes double as a way for marketers to get your contacts that can be used to re-engage you with advertised websites (ad spam).
It's bad for privacy
While Premier Opinion is working, it collects a lot of your data:
the websites you visit,
the text you type in the forms that you fill out,
what items you buy online,
where ads are displayed on your screen,
some email headers,
what programs you run on your computer.
A lot of the data about you can be shared with third parties. In addition, Premier Opinion gets data about you from third parties. This – combining data about people from multiple sources – is a bit controversial.
And here's something scary: according to Premier Opinion, it sometimes gets people's passwords; in those cases, it deletes them and encrypts personal information. That's good, but it also shows how extensively Premier Opinion monitors everything that you do.

It runs all the time
Worst of all, Premier Opinion runs constantly and doesn't have a pause function. It collects information even when your computer isn't connected to the internet. There's no hiding from it once it's installed.
The only way to temporarily pause this software is to end the PremierOpinion process in Task Manager.
Overall, Premier Opinion seems to be very similar to RelevantKnowledge. It might not be all that malicious, but you should know all the risks that you take by using it. This program is a bit problematic, especially because it's distributed in bundles, which means that some people will install it by accident.
How to remove Premier Opinion
Removing Premier Opinion requires a few steps:
Uninstall PremierOpinion in the Settings app or by using the Control Panel.
Remove the files that Premier Opinion left behind after it was uninstalled.
Find and remove other unwanted apps and programs.
You can use antivirus programs, such as Spyhunter, to get rid of the PremierOpinion automatically. You should use one if manual removal didn't work, if you want to check for leftover files, and to see if any other shady programs besides Premier Opinion are still installed.
Uninstall Premier Opinion just as described below, in the Control Panel, or by going into your Settings, Apps, Apps & features.
Then, go to C:\Program Files and delete PremierOpinion. The file that was left behind after uninstalling Premier Opinion is not something you want on your computer – Virustotal.com.
Automatic Malware removal tools
How to remove Premier Opinion using Windows Control Panel
Many hijackers and adware like
Premier Opinion
install some of their components as regular Windows programs as well as additional software. This part of malware can be uninstalled from the Control Panel. To access it, do the following.
Start→Control Panel (older Windows) or press Windows Key→Search and enter Control Panel and then press Enter (Windows 8, Windows 10).
Choose Uninstall Program (if you don't see it, click in the upper right next to "View by" and select Category).
Go through the list of programs and select entries related to Premier Opinion . You can click on "Name" or "Installed On" to reorder your programs and make Premier Opinion easier to find.
Click the Uninstall button. If you're asked if you really want to remove the program, click Yes.
In many cases anti-malware programs are better at detecting related parasites, thus I recommend installing Spyhunter to identify other programs that might be a part of this infection.