Regclean Pro is a registry optimization program from SysTweak. It is an old and legitimate company, however we have issues with how this registry cleaner is distributed and promoted. Regclean Pro promotion methods are similar to rogue products sometimes, though the likely cause is partners of SysTweak rather than the company itself.
Regclean quicklinks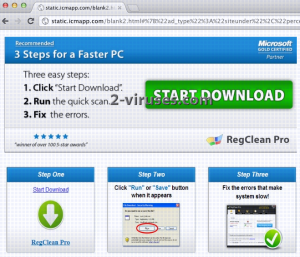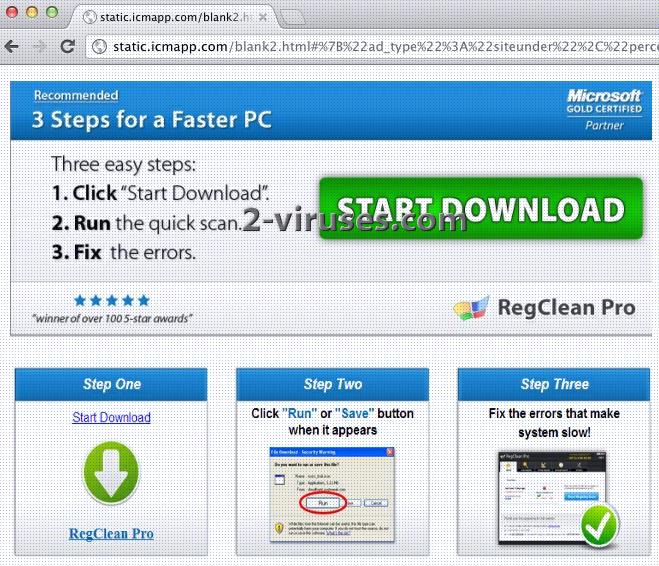 Besides the issues with distribution, there are other problems, like the totally unrealistic promises on the program's home page and the fact that Regclean Pro is just a fake registry cleaner —  a useless program pretending to improve the performance of your PC, one that is more likely to cause problems than solve them. If you want to use an optimizer, there are a lot of more reputable programs. By the way, Regclean Pro's removal process is not always straightforward, due to its intentionally misleading user interface, so be careful when uninstalling it.
Regclean Pro is considered suspicious by several anti-malware programs — if you had a security program that detects PUPs, it should have caught this one, too.
Regclean Pro is a potentially harmful program that should be uninstalled:
Regclean Pro classification

Scareware
Potentially unwanted program (PUP)
Trojan
Scam

Distribution

Bundling
Adware
Malicious ads and pop-ups
Original website

Problems with the program

Registry cleaning is dangerous
The seriousness of the detected issues is overstated
The user interface is misleading
The program is sometimes installed without consent

Remove Regclean Pro

Uninstall the program manually
Perform a scan with a competent anti-malware program (Spyhunter)
Remove junkware if any is found
Distribution of the registry cleaner
Regclean Pro is installed together with software bundles that are malware on itself. We have seen it being distributed with hijackers and even trojans that are disguised as "movie" downloaders that "fail" after installing all the offers. This is an illegitimate promotion tactic. While in most cases one can decline offers, the refusal button is not obvious and might be hidden sometimes. Thus it is not surprising that many PC users think that Regclean installs on its own.
Additionally, Regclean Pro might install other programs developed by Systweak without your confirmation. I was assured, that this is not possible but my tests have shown that if Regclean is installed from a software bundle, you will not be asked for a separate confirmation for Advanced System Protector (their malware cleaner) to be installed. The latter tool after performing a system scan detects parts of the original bundle (from which it was installed) and you are asked for money in order to remove part of the original installation.
It's also possible to download the program for the official website, though even then, you're bombarded with offers for the other SysTweak offers.
Is Regclean Pro dangerous?
The program is possible to use for a long time without a lot of issues. However, it does negatively impact the performance of the PC with its regular scans. And if it was installed in a way other than an intentional download from the official website, it's possible that other junkware is also present on the same computer, and that further degrades a computer's performance and security.
As for the program's actual function, Regclean Pro claims to repair and defragment the registry and so boost the PC's performance and reduce the number of errors — claims that are unlikely to be true. While it's true that sometimes editing the registry is needed to change some low-level settings, cleaning the registry won't have an effect on the PC's performance. Only in very limited circumstances would one need to edit their registry. In fact, it's very easy to damage and it could literally break the operating system.
Even Microsoft — the company that developed the Windows operating system — does not endorse registry cleaners, only warns against using them. Free native tools for tasks like junk file removal, disk defragmenting, and system file checking have been created for Windows users, but no first-party registry optimizer exists — for good reason.
Remove Regclean Pro
Although RegClean Pro may be uninstalled normally, it offers 2 Uninstall buttons. The bigger one, instead of simply removing the unwanted tool, will install additional Systweak bloatware (including software, advertising company's support). Thus one should take care while uninstalling this unwanted application and choose carefully which button to press on.
At the moment I suggest not using RegClean Pro, especially if you haven't installed it yourself from the original website. You should scan your PC with anti-malware programs to detect and remove possible trojans that distribute this PUP. Malwarebytes, Spyhunter would be the best solution.
Additionally, there are multiple parasites with a similar name to Regclean Pro, for example, Regclean 2008, PC Regcleaners, Webmoka Cleaner. These parasites show many false registry errors and force you into buying full versions. These programs should be removed at once.
Automatic Malware removal tools
How to remove RegClean Pro using Windows Control Panel
Many hijackers and adware like
RegClean Pro
install some of their components as regular Windows programs as well as additional software. This part of malware can be uninstalled from the Control Panel. To access it, do the following.
Start→Control Panel (older Windows) or press Windows Key→Search and enter Control Panel and then press Enter (Windows 8, Windows 10).
Choose Uninstall Program (if you don't see it, click in the upper right next to "View by" and select Category).
Go through the list of programs and select entries related to RegClean Pro . You can click on "Name" or "Installed On" to reorder your programs and make RegClean Pro easier to find.
Click the Uninstall button. If you're asked if you really want to remove the program, click Yes.
In many cases anti-malware programs are better at detecting related parasites, thus I recommend installing Spyhunter to identify other programs that might be a part of this infection.
Manual removal