Webmoka Cleaner is advertised as a useful PC optimization utility. However, if you were hoping that it would improve the performance of your PC, this is not it. This application doesn't have most of the features promised on its home page. On top of that, Webmoka installs clicker malware in the background. This is a program that you should stay away from if you care about the security of your PC.
Webmoka Cleaner Malware quicklinks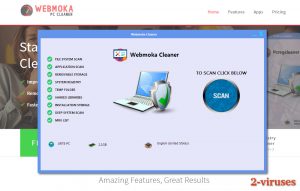 Webmoka is associated with the PUP ScanGuard and is a clone of PC Regcleaners, Registry Doctor, Regeasyfixer, Better Mechanic, Microsoft Cleanup, and probably a few other fake PC optimizers. Some of these programs also place malicious executables on your computer, and none of them are competent or helpful Windows PC utilities. Deservedly, Webmoka is considered to be harmful and should be uninstalled as soon as possible.
How Webmoka Cleaner is promoted
Webmoka Cleaner pretends to be a useful utility, specifically for fixing the registry. First, registry cleaning is already a suspicious function to offer. While sometimes it is necessary to edit registry keys to control certain Windows functions, there are a lot of PC optimizers online promising amazing performance gains after a registry cleanup, and most of them are selling snake oil. Performance gains after a registry cleanup are not going to be perceptible, and the damage that an incompetent program causes by modifying the registry could brick your computer.
Webmoka is not a competent PC optimizer. Just using it normally, it runs into unhandled exceptions, freezes despite the fact that the free version barely performs any functions at all. Webmoka's home page is also far from perfect — it has errors about its own program and references to Pcregcleaner.
Besides registry cleaning, Webmoka also offers a few paid functions that are already easily accessible on Windows:
Startup app managing,
Junk file removal,
System restore,
Memory managing.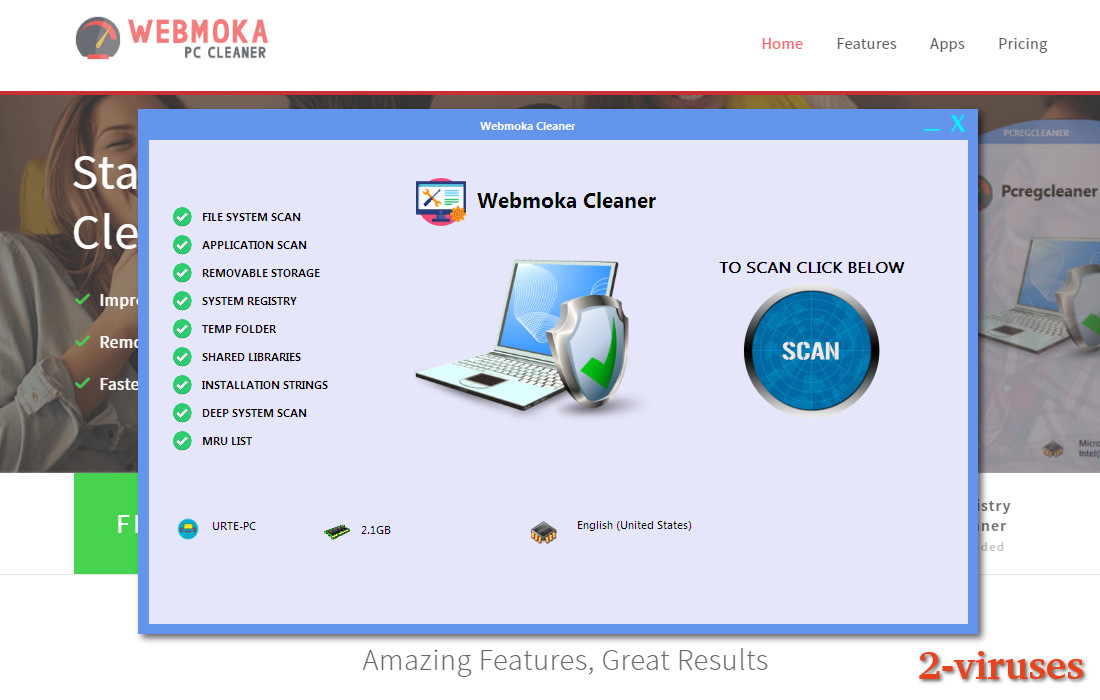 So, Webmoka promises some mildly useful features for those who download its program, its professional-looking website inspires trust if you don't look too closely at it — it's normal that some people get interested and install it. They might read about this program in spam emails, see it in ads, accidentally download it thanks to misleading advertisements, or even have it installed in the background by a bundler. This means that it's possible to install it without meaning to, or without even knowing about it, which is problematic, but not unusual for unwanted software.
How Webmoka can be dangerous
Editing the registry while not being competent is somewhat dangerous, however, there are plenty of programs that do this and they're usually only classified as PUPs (potentially unwanted programs), and not trojans like Webmoka is.
This program places a dangerous executable on your computer in the background. This executable (usually it's epizyHost.exe) is malicious and potentially dangerous — it can hijack your browser, place unwanted ads in various websites and your search results, install malicious browsers add-ons, and stop the browser from updating.
Don't underestimate how dangerous an unwanted browser add-on can be: potentially, these applications can see everything you do through the infected browser, and they can seamlessly inject content into the websites as they're displayed to you. A malicious actor could create a phishing site, such as a fake login site to a popular social network, redirect you to it, and simply record the information typed in the password field. Malicious browser add-ons can be used to steal information, perform click fraud, fill your screen with ads and profit from that.
If Webmoka's epizyHost stops your browser from updating and your antivirus solution is not picking it up, your computer is in even more danger from threats not directly related to Webmoka. There are malicious websites online that scan for outdated browsers and poor security, and if they find a security flaw that can be exploited, they might infect the computer with more malware. Meaning that Webmoka and all the files that came with it should be deleted as soon as possible.
How to remove Webmoka
This program can be annoying to remove because Webmoka installs itself into AppData, which is a folder that's hidden by default. But any competent and professional security application, such as Spyhunter, should detect it and be able to remove it. You can also uninstall it manually from the Control Panel. Another thing that might be helpful if the Webmoka installation was recent is System Restore, which would undo the changes that Webmoka make by rolling your computer back to the last saved good state — but this is only available to those who have System Restore turned on.
To avoid accidentally installing a trojan again, to know whether you can trust a program and install it safely, delay downloading it until after you have researched it online and found what other people's experiences are. Webmoka is a clone that has frequently been renamed to escape its terrible reputation, but if you scan its setup file before running it, its harmful nature will be revealed — just remember to update your security software regularly.
Automatic Malware removal tools
How to remove Webmoka Cleaner Malware using Windows Control Panel
Many hijackers and adware like
Webmoka Cleaner Trojan
install some of their components as regular Windows programs as well as additional software. This part of malware can be uninstalled from the Control Panel. To access it, do the following.
Start→Control Panel (older Windows) or press Windows Key→Search and enter Control Panel and then press Enter (Windows 8, Windows 10).
Choose Uninstall Program (if you don't see it, click in the upper right next to "View by" and select Category).
Go through the list of programs and select entries related to Webmoka Cleaner Malware . You can click on "Name" or "Installed On" to reorder your programs and make Webmoka Cleaner Trojan easier to find.
Click the Uninstall button. If you're asked if you really want to remove the program, click Yes.
In many cases anti-malware programs are better at detecting related parasites, thus I recommend installing Spyhunter to identify other programs that might be a part of this infection.