Quick Driver Updater is a PC utility that's considered a PUP – potentially unwanted program. Though Quick Driver Updater is not malicious, it's also not very useful and even potentially harmful. Driver updaters and other PC optimizers often fall into this category. If you do want to use a driver updater, carefully consider if you truly need one and if Quick Driver Updater is a good option.
Quick Driver Updater quicklinks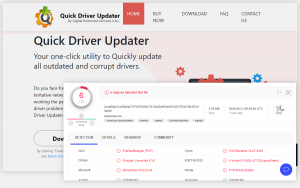 In short about Quick Driver Updater:
Classification
PUP (potentially unwanted program).
Problems with Quick Driver Updater
Redundant and not free,

does not offer a good user experience,

may cause some security issues,

gets installed dishonestly.

Alternatives
Use Windows updates,

manually find the correct driver,

use driver managers for some devices,

don't stress about installing the newest drivers.

Removing Quick Driver Updater
Uninstall the program manually,

use anti-malware scanners (Spyhunter, Malwarebytes, others) to find and remove malware.
Is Quick Driver Updater safe?
First of all, Quick Driver Updater is detected by some antivirus programs. Here's a VirusTotal page of an installer. My antivirus stopped Quick Driver Updater from downloading, too.
But this doesn't mean that Quick Driver Updater is dangerous, exactly. It's detected as a FileRepMetagen and a PUP. So, a potentially unwanted program. Something that could be annoying or hurt the security of your computer, but is not itself malware.
According to its website, Quickdriverupdater.com, Quick Driver Updater is made by Digital Protection Services. This company does not have a great reputation based on its Trustpilot reviews (always check the reputation of the programs that you're interested in). People saying that they were sold additional tech support after buying Quick Driver Updater does sound concerning. A lot of tech support is made to sell things.
Another issue with Quick Driver Updater is the complaints (1, 2, 3) of people installing it by accident. This is common for PUPs. Quick Driver Updater could be advertised by fake download buttons, uploaded online disguised as a totally unrelated program, bundled with other installers, etc. Resulting in people installing it without meaning to.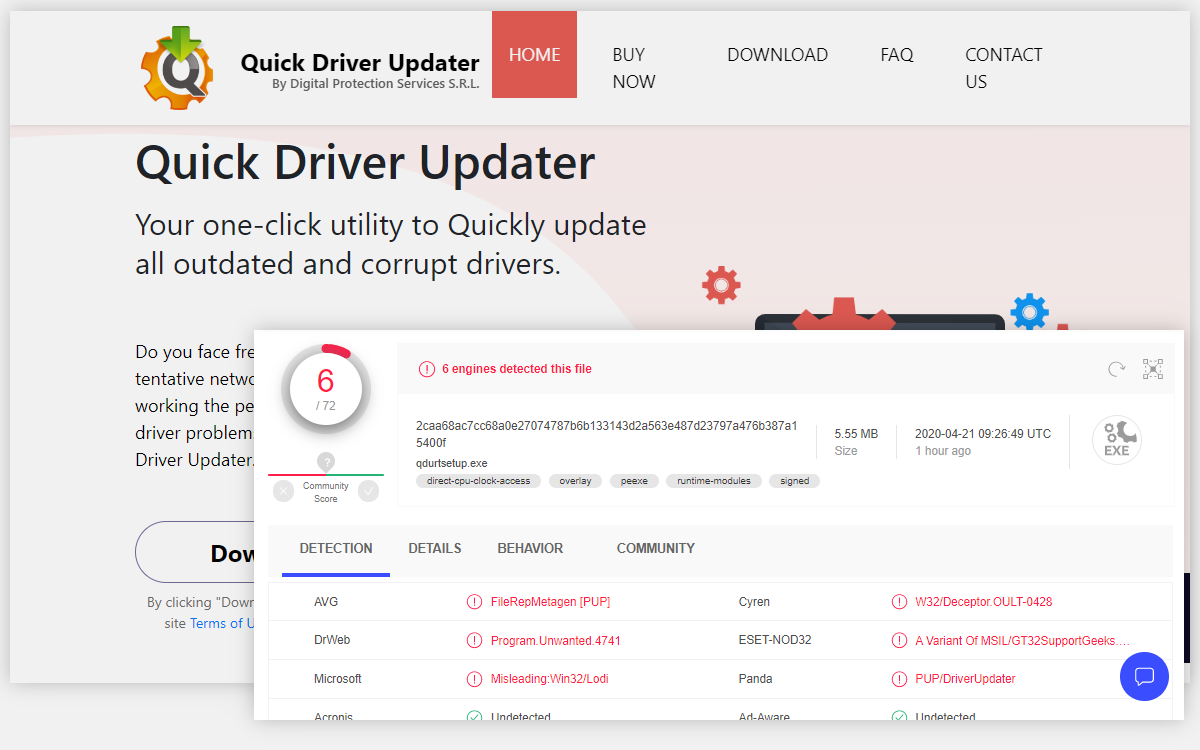 Is it useful?
Drivers are little programs that help your hardware interface with software. They're very important. The wrong driver being installed limits a device's functionality (such as not letting you change the color of an RGB keyboard) or prevent the device from working completely.
Although your hardware doesn't change, the drivers do need to be updated from time to time. For compatibility, security, etc. That's why Windows updates come with tested and compatible new drivers that get installed automatically. Microsoft tests and distributes these drivers for free for us users. Additionally, some devices, like graphics cards, have their own device managers.
What's the purpose of Quick Driver Updater, then? It seems to be very unnecessary and may even cause some problems:
It shows pop-ups telling you to install updates and to upgrade to the Pro version, which is paid. I don't think it's worth it to pay money for something that's available for free.
Once installed, Quick Driver Updater scans your computer to check its drivers. Because new drivers don't come out frequently, regular scans are totally unnecessary. They only slow your computer down.
It's not even convenient. Quick Driver Updater forces a timed restart of the PC after installing a driver update. This is not necessary.
During driver installations, Quick Driver Updater asks you to disable your antivirus. This is a security problem.
Despite all the testing done, occasionally, the wrong driver is offered and temporarily breaks a device. To fix it, you only need to find and install the correct driver, or to go back to the previous version (How to roll back a driver in Windows).
This is where PUPs jump in. They promise to stop system crashes and improve your computer's performance, conveniently forgetting to mention that their functions are almost entirely redundant to Windows Updates. When one of your devices breaks, you do not need to install a paid program to fix it. Installing PUPs will just result in a slower computer and more pop-ups. This goes for other driver updaters, too, such as TweakBit Driver Updater, WinZip Driver Updater, DriverMax, and others.
How to remove Quick Driver Updater
Removing Quick Driver Updater may not be very straightforward. You can try uninstalling it from the Control Panel, just like it's how it's described on the Quickdriverupdater.com website (instructions below), but some people have had difficulties with that.
If you can't remove Quick Driver Updater normally, then start your computer in safe mode. This will stop all unnecessary programs from running. It makes uninstalling unwanted programs easier.
It's also advisable to scan your computer with an anti-malware scanner, such as Spyhunter, Malwarebytes, and others. These can find, as well as remove, dangerous programs that you may have missed.
Finally, if you bought Quick Driver Updater and don't wish to use it anymore, Digital Protection Services does offer a refund in 60 days, if you contact them on their email (all that information is on Quickdriverupdater.com/returnpolicy).
Automatic Malware removal tools
How to remove Quick Driver Updater using Windows Control Panel
Many hijackers and adware like
Quick Driver Updater
install some of their components as regular Windows programs as well as additional software. This part of malware can be uninstalled from the Control Panel. To access it, do the following.
Start→Control Panel (older Windows) or press Windows Key→Search and enter Control Panel and then press Enter (Windows 8, Windows 10).
Choose Uninstall Program (if you don't see it, click in the upper right next to "View by" and select Category).
Go through the list of programs and select entries related to Quick Driver Updater . You can click on "Name" or "Installed On" to reorder your programs and make Quick Driver Updater easier to find.
Click the Uninstall button. If you're asked if you really want to remove the program, click Yes.
In many cases anti-malware programs are better at detecting related parasites, thus I recommend installing Spyhunter to identify other programs that might be a part of this infection.