Pomnd.pro redirect virus is a version of shady domains like Trck.consertist.com. This domain is very commonly sponsored by domains like Ad.adpop-1.com and Adexchangegate.com that we have discussed in the previous articles. This means that many deceptive domains could be sending traffic to this site and displaying websites that users are encouraged to explore with caution. Most of them involve investments with bitcoins, dating websites, technical support services and many other potentially disruptive material.
Pomnd.pro pop-ups are a constant reminder that your computer is vulnerable
Pomnd.pro fraudulent website has been presented to people from Romania, Vietnam, Hungary, Poland and Georgia. Most of its web traffic comes from advertisements that are included for the service in various types of websites. Most of them are involved in video-streaming services.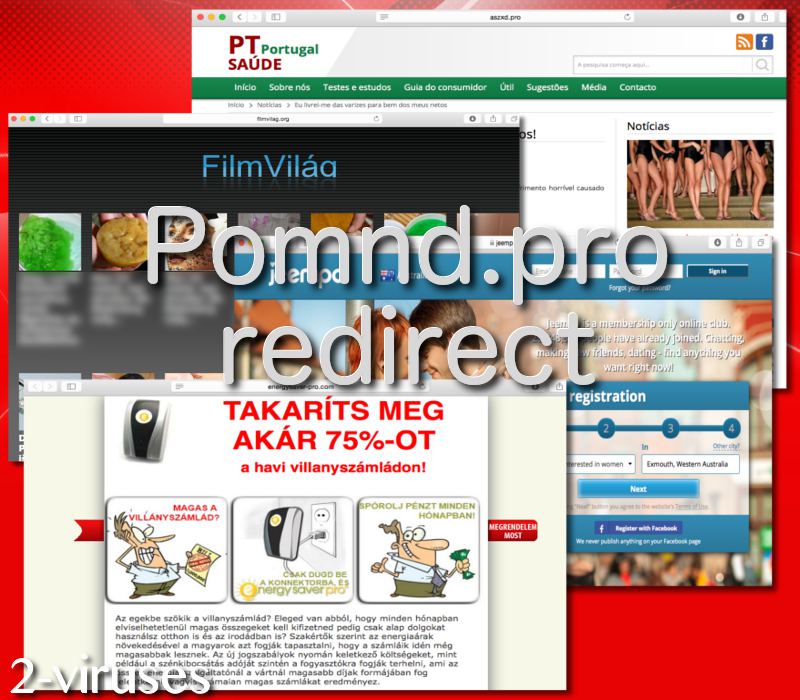 In addition to this, the redirect will lead to adverts from a number of ad-networks like RevenueHits, Adf.ly, Adcash, PopAds and Propeller Ads Media. The persistence of this infection has become more evident ever since the end of July (2017) because of the significant increase in the amount of web traffic it receives. However, we do not believe that most people are voluntarily entering this domain.
In our opinion, redirection to Pomnd.pro deceptive website is obviously a sign of an infection with a malware parasite. For instance, it could be that an ad-based software (like Interstat) is currently influencing your browsing by opening online advertisements. We do not think that it users should allow a suspicious program to remain in their operating system, especially if they value their cyber security and do not wish to be exposed to all sorts of deceptive messages. Majority of online ads (pop-ups, banners, in-text ads) (Advertising online: what are the risks?) are all suspicious and you should be very careful not to interact with content that might be malware-laden.
If an adware parasite has slithered into your operating system, then it could be that it has a lot in common with spyware infections (What is spyware?). This means that information about your browsing habits, or the information you use to log into accounts might be transferred to vicious people behind the ad-parasite. Your personally-identifiable information could be transferred to parties that will exploit it for illegal purposes. For instance, valuable data could be exploited to pursue identity theft or hijack online banking accounts. These consequences of malware are the most terrifying and shall convince people to willingly run scans with Spyhunter.
For the purpose of dealing with malware threats, we always recommend getting a reliable anti-malware tool. The one we have mentioned above is definitely worthwhile and you should consider it. It will allow you to run scans on demand and always be aware of the situation in your operating system. If there will be some viruses, you will be informed of them.
More information about malware prevention
If you wish to have a malware-free operating system, you have to follow a couple of rules. First of all, do not install unknown programs from suspicious sources. This includes propositions in pop-ups and other online ads. Also, software should not be downloaded from random file-sharing domains. Before you select a tool, always do some research about its efficiency and respectability. It might be that you will discover a ton of articles, discussing the negative features of the program you were about to install.
As for other recommendations, we can stress out a few more. Continue with installers only after selecting advanced/custom modes. Then, be certain to read Privacy Policies and EULA documents which will prevent installations of unknown programs. If you notice that during installation you are recommended to install more tools, please refuse these propositions. If you won't, your computer might become filled with redundant applications that will cause ads, slow performance and other inconveniences.
How to remove Pomnd.pro redirect using Windows Control Panel
Many hijackers and adware like
Pomnd.pro redirect
install some of their components as regular Windows programs as well as additional software. This part of malware can be uninstalled from the Control Panel. To access it, do the following.
Start→Control Panel (older Windows) or press Windows Key→Search and enter Control Panel and then press Enter (Windows 8, Windows 10).
Choose Uninstall Program (if you don't see it, click in the upper right next to "View by" and select Category).
Go through the list of programs and select entries related to Pomnd.pro redirect . You can click on "Name" or "Installed On" to reorder your programs and make Pomnd.pro redirect easier to find.
Click the Uninstall button. If you're asked if you really want to remove the program, click Yes.
In many cases anti-malware programs are better at detecting related parasites, thus I recommend installing Spyhunter to identify other programs that might be a part of this infection.
Automatic Malware removal tools