PCCleaner (not to be confused with CCleaner, a totally different application) is a rogue security and utility program – one of the many fake Windows optimizers roaming the internet today. It detects lots of problems on your computer, but doesn't ultimately fix anything. PCCleaner preys on its users by showing fake errors and issues and then asking money to "fix" them. PCCleaner infects the system by using trojans, such as Zlob or Vundo, as well as with the help of fake Windows update pop-ups.
Pccleaner quicklinks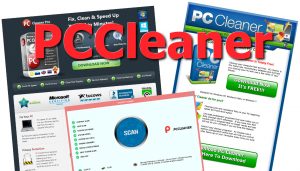 There is no shortage of rogue programs called some variation of PCCleaner:
PCCleaner2014
PC Cleaner
PCCleaner Registry Cleaner
PCCleanerInst
PC-Cleaner
There's also PCCleaner.com, PCCleaner.biz, PC-Cleaner.com, and PCCleaner.software. All these PCCleaners look different, but they all happen to be malicious.
Some PCCleaners have quite suspicious websites: they might lack contact information (always a bad sign), there might be no legitimate payment system (as a matter of fact, if you dig deeper, you can find connections to other rogues, like UltimateFixer) and the domain's registration can be rather weird.
PCCleaner is a scam and should be treated as such: do NOT download or buy it. In fact, block pc-cleaner.com and other unwanted sites using your HOSTS file.
PCCleaner short description:
Type of threat
Scam

Scareware

Potentially unwanted program

Problems
Fake malware in scan results

Lack of developer transparency

Malware spread by PCCleaner

PCCleaner distribution
Trojans

Malicious ads

Bundling

Remove PCCleaner
Scan for malware automatically (SpyHunter)

Manually uninstall unwanted programs
PCCleaner behavior
PCCleaner claims to remove spyware and protect your personal information, "optimize" your registry, delete unnecessary files, get rid of malware, and make your computer run faster. Instead, PCCleaner harms your computer's productivity, gets its fingers into your wallet, and might even install more malware.
Once on the computer and active, PCCleaner floods the user with endless popups and fake system notifications to "inform" them of infection. This infection is made-up: the whole point of these attacks is to scare you into buying PCCleaner.
Signs that reveal PCCleaner as scareware include:
alarmist language and threats,
a timer ticking down,
multiple relentless pop-ups,
spoofing trusted sites to advertise the product.
PCCleaner is made to be purchased immediately, so scareware tactics are used to drive its sales.
PCCleaner is trying to trick people to pay money by convincing them that their computer is infected, by severely exaggerating the findings, and even making problems up. Every little cookie is a huge privacy problem, every benign registry entry is a critical error. The people behind PCCleaners hope that if they convince you that your computer is in danger, you'll quickly pay for their program, which will then pretend to remove all the issues.
You will no doubt notice how PCCleaner's behavior is similar to a tech support scam.
PCCleaner Registry Cleaner (very similar to PCObserver) is even worse — this program infects your computer with a screenlocker. You won't be able to access your computer until you find out the code or get around the locker (such as by pressing Alt+F4 to close the current window, or by calling Task Manager with Ctrl+Shift+Esc).
Overall, most PCCleaner programs are scams and scareware that shouldn't be used if you care about the wellbeing of your computer.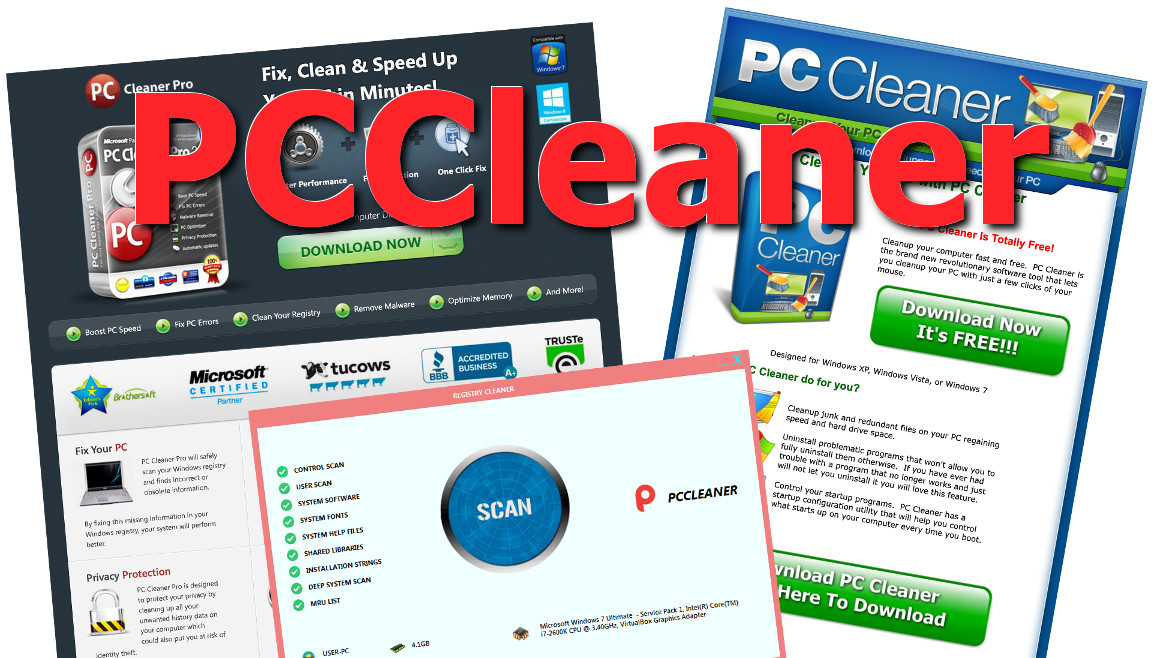 PCCleaner distribution
PCCleaner does not get users honestly. Instead, fake scans are advertised and fake virus alerts say that your computer is in danger. A message about viruses on your PC pops up on your screen, and though you don't see PCCleaner's name yet, that's where the scam leads.
These ads can be found on free TV Show streaming sites, pirating websites, video converter sites, and other potentially illegal websites. They can also be injected into your browser by adware.
Here's an example: one version of PCCleaner shows fake Windows Update prompts and then redirects users to a site that looks like it's copying Microsoft.com's color scheme and layout: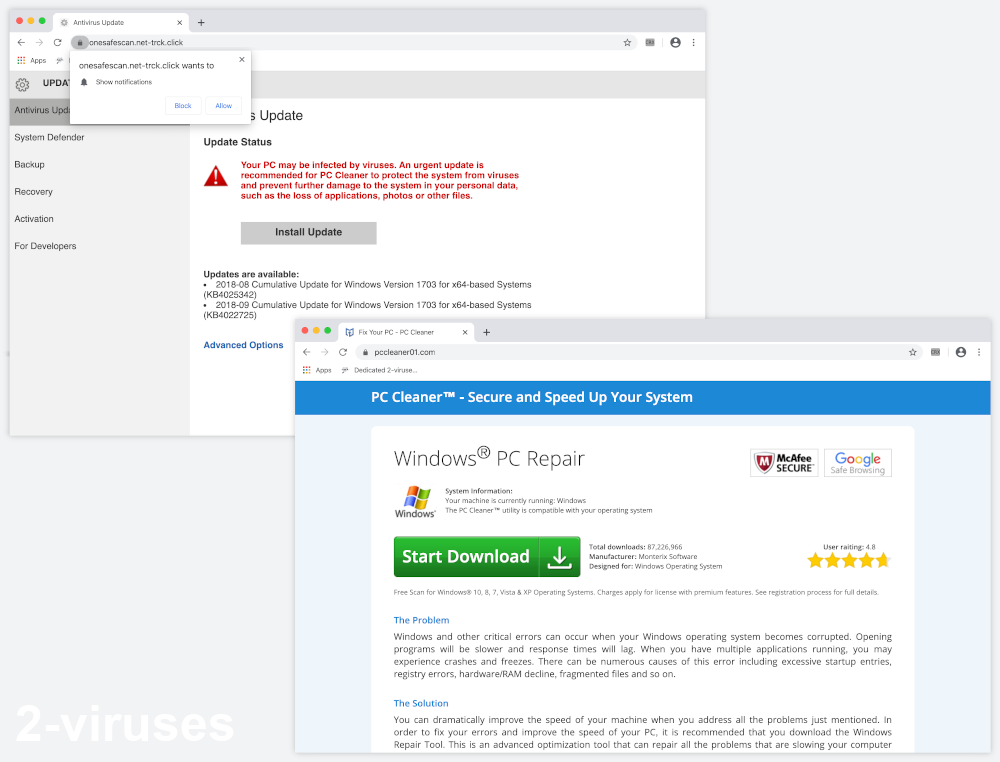 PCCleaner is blatantly lying to and cheating the user. It's predatory and malicious. Don't believe such scams and be very suspicious of websites that try to scare you. Use a real antivirus program to make sure that an adware virus isn't hiding on it, or else it will try to infect your computer again.
But worse than seeing malicious ads for PCCleaner is having malware like Zlob or Vundo trick you to download PCCleaner. These trojans display pop-ups right on the infected computer with fake warnings about infection and then download a fake optimizer. The trojans get installed under false pretenses, too.
Bundling is also used to spread PCCleaner. That's when PCCleaner is downloaded and installed alongside a free wanted program (usually a free program downloaded from a site that distributes lots of programs), without being disclosed. You might let PCCleaner on your computer without realizing it.
Remove PCCleaner
If you have third-party programs on your computer bugging you with pop-ups and you want to uninstall it, that's what you should do. But some versions of PCCleaner might be persistent and refuse to be uninstalled normally, or they'll leave behind malicious files. If you're not a specialist, you can just use an anti-malware program like SpyHunter to catch and delete all the dangerous stuff automatically.
Automatic Malware removal tools
How to remove PCCleaner using Windows Control Panel
Many hijackers and adware like
PCCleaner
install some of their components as regular Windows programs as well as additional software. This part of malware can be uninstalled from the Control Panel. To access it, do the following.
Start→Control Panel (older Windows) or press Windows Key→Search and enter Control Panel and then press Enter (Windows 8, Windows 10).
Choose Uninstall Program (if you don't see it, click in the upper right next to "View by" and select Category).
Go through the list of programs and select entries related to PCCleaner . You can click on "Name" or "Installed On" to reorder your programs and make PCCleaner easier to find.
Click the Uninstall button. If you're asked if you really want to remove the program, click Yes.
In many cases anti-malware programs are better at detecting related parasites, thus I recommend installing Spyhunter to identify other programs that might be a part of this infection.
Manual removal