PC Reviver is a PC optimizer that is flagged by a few antivirus scanners. Despite being an optimizer, which is a risky category to be in, it does not appear to be malicious. It has a lot of redundant features, though. Despite PC Reviver not being dangerous, it can still be considered a potentially unwanted program.
Pc Reviver quicklinks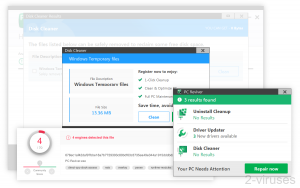 About PC Reviver:
Type of threat
PUP (potentially unwanted program).
Problems with PC Reviver
Redundant features,

presented as more useful than it really is,

bad reputation.

Other notes
Has a neutral presentation,

is not malicious.

Removing PC Reviver
Uninstall it manually,

if needed, scan your computer with an anti-malware tool (Spyhunter, Malwarebytes, others).
Is PC Reviver safe?
Reputation
PC Reviver by Reviversoft and Corel is an optimizer and maybe a potentially unwanted program.
I decided to look at it because of a few reasons:
It's related to some other potentially unwanted programs, including WinZip Driver Updater, Driver Reviver, and Disk Optimizer.
Like Reviversoft's other programs, PC Reviver's installer is flagged by a few antivirus scanners (Virustotal.com) as unwanted.
A few complaints online about PC Reviver, like this one.
Unhelpful features
PC Reviver offers to diagnose issues, repair them, restore stability and performance of a computer. It does these things just like any other optimizer: by offering paid features that are already available on Windows for free – or features of dubious usefulness.
For example, PC Reviver can help you:
manage your startup,
manage which programs open which file types,
manage browser extensions,
update device drivers,
find and delete junk and potentially unnecessary files,
check your system information,
check what processes are running,
and rename files in bulk.
All these features are already in Windows. The idea that so many of PC Reviver's features are duplicates of Windows tools while PC Reviver is a paid program (in my case, 60 EUR for a year) is baffling.
Other PC Reviver's features include deleting cache and temporary files and cleaning and defragmenting the registry. Not all registry cleaners are bad but they're generally considered to be snake oil. Scanning the registry might be useful after a malware attack, and sometimes it's needed to edit your registry to turn on and off certain Windows features, but you won't get a performance boost for making your registry smaller or less cluttered. Not to mention the harm of accidentally deleting important entries.
Finally, PC Reviver does demonstrate a few optimizer tropes: running in the background once you close it, showing pop-ups that say that your PC needs attention, showing recommendations for other products. It can be a little annoying.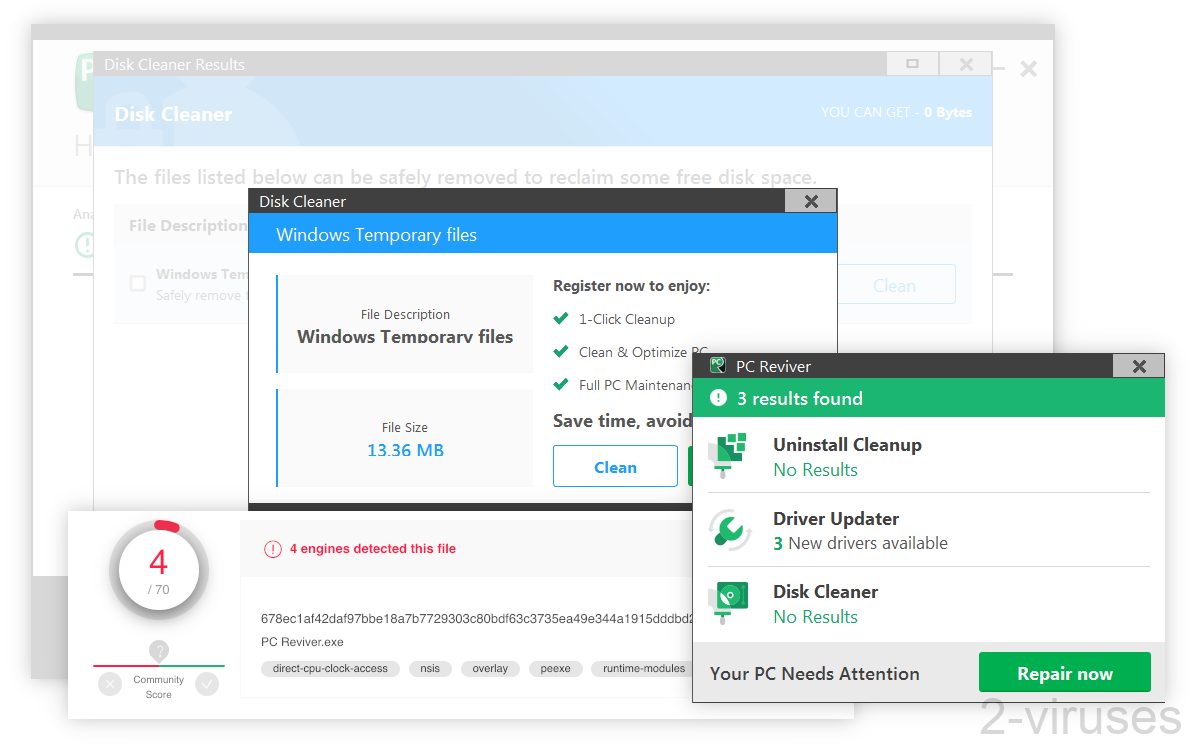 Not malicious
Despite all that, PC Reviver is not considered a scam. For one, Reviversoft.com is very careful with its language when describing PC Reviver –  it does not overpromise. Also, you can disable many of the annoying pop-ups and automatic scans in PC Reviver's settings. Another good thing is that PC Reviver is not too alarmist – it didn't try to scare me into buying the program with warning signs like other optimizers do (Abrasive).
AppEsteem, a company that tracks apps that are potentially unwanted, has certified a lot of Reviversoft's programs, including PC Reviver, over the last few months. Reviversoft is probably trying to be better.
One big difference between a scam and a potentially helpful optimizer is how the scan results are presented. Calm, neutral, and honest presentation is very important. And PC Reviver attempts to be honest here. Despite being a mostly useless and redundant program, it doesn't try to cheat users.
But still, Windows is optimized well enough that registry cleaners and other optimizers are mostly useless. Windows does a lot under the hood to maintain performance and has a lot of tools to help users manage it. So, I would still not recommend using PC Reviver, even if it won't harm you. Or any optimizer, really. All they do is take up system resources and, if anything, slow the computer down.
How to remove PC Reviver
Unlike the person who complained about PC Reviver a couple of years ago, I didn't have a problem uninstalling PC Reviver by using the control panel as described below and as recommended by Reviversoft. If you're still a little anxious, you can scan your computer with an anti-malware tool that takes PUPs seriously, such as Malwarebytes or Spyhunter.
Automatic Malware removal tools
How to remove PC Reviver using Windows Control Panel
Many hijackers and adware like
PC Reviver
install some of their components as regular Windows programs as well as additional software. This part of malware can be uninstalled from the Control Panel. To access it, do the following.
Start→Control Panel (older Windows) or press Windows Key→Search and enter Control Panel and then press Enter (Windows 8, Windows 10).
Choose Uninstall Program (if you don't see it, click in the upper right next to "View by" and select Category).
Go through the list of programs and select entries related to PC Reviver . You can click on "Name" or "Installed On" to reorder your programs and make PC Reviver easier to find.
Click the Uninstall button. If you're asked if you really want to remove the program, click Yes.
In many cases anti-malware programs are better at detecting related parasites, thus I recommend installing Spyhunter to identify other programs that might be a part of this infection.