Abrasive by Softology is a program for Windows PCs. Unfortunately, it is detected by many antivirus scanners – Virustotal.com as being malicious. The labels for Abrasive include "Trojan", "Malware", "Unsafe", and "PUA" which stands for "Potentially Unwanted Application". Abrasive should be caught by every user's antivirus tools. However, that doesn't always happen.
Abrasive quicklinks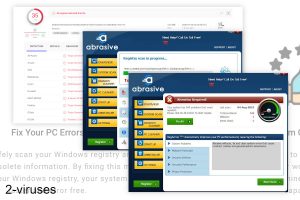 About Abrasive:
Type of threat
Potentially unwanted program.
Problems with Abrasive
Scares users unnecessarily by presenting harmless items as problems.
Alternatives
Free tools on Windows.
Removing Abrasive
Uninstall Abrasive and end the subscription,

check your computer for malware with a scanner (Spyhunter, Malwarebytes, others).
Problems with Abrasive
Unhelpful
Abrasive is a "cleaner" that offers to improve your PC speed and repair registry errors and to "turbocharge" your PC's performance. It's a clone of PC Cleaner Pro and RegProTech. It scans the computer and then claims to have found a lot of problems that need fixing urgently. Then, Abrasive charges money for fixing them. Even though the "problems" that Abrasive detects are presented dishonestly and most of them are not actually problems.
For example, Abrasive claims to make your computer run faster by repairing the registry. This is a common trick used to market junkware: to claim that the registry needs fixing to improve your computer's stability and performance. In reality, the registry is just a list of settings. Removing a few unused entries will not speed up the computer. But accidentally removing an important entry could cause serious problems. Microsoft, the company behind Windows, does not support using registry cleaners.
The registry is important – which is why it's better to not touch it unless you know that you need to. And if you ever do need to change a registry entry, you can do it manually.
Abrasive also claims that it can speed up your computer by deleting unnecessary files. True, it is advisable to always have some free space available on your computer – but that applies to extreme cases where little space is left. Likely, deleting Abrasive would save more space than the cookies, font entries, and registry items that Abrasive deletes.
In addition, Abrasive tweaks system settings to improve performance. It detects absurdly little things like the animations used by Windows. Any performance gained by messing with these settings will be negated by Abrasive just existing on the machine.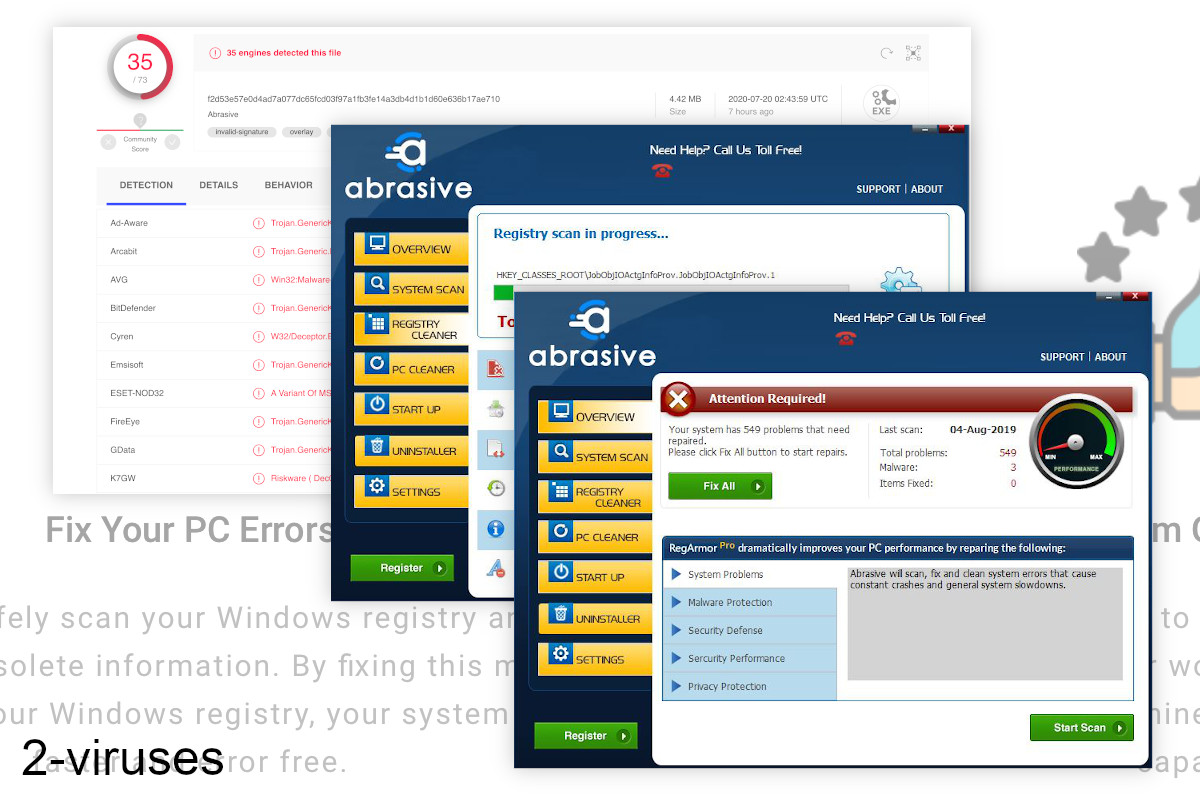 Scam
Abrasive tries really hard to scare users. It shows big bring red warnings and visual scales where the computer is in the worst possible state it could be in. It counts cookies as privacy problems and background processes as "unwanted". It shows hundreds of problems – even though most or all of the items it finds are harmless and even helpful. And to make the warnings impossible to ignore, Abrasive runs hourly and shows pop-up reminders. It is scareware – a program that causes unnecessary stress to pressure people into paying for products they don't need.
Of course, the "fixes" that Abrasive recommends are unavailable for the free version. Abrasive will only make them go away if the user buys the paid version. Considering that the problems it finds are bogus, this makes Abrasive a bit of a scam.
Redundant
Not to mention the fact that any user can delete unnecessary files, change user interface settings, change startup programs, and other things by using the free tools that Microsoft makes available. To improve Windows performance, see this article on Support.microsoft.com. It includes information on how to free up space, improve startup times, and even manage Windows visual effects.
How to remove Abrasive
If you bought Abrasive, check if it's a subscription. You might want to cancel it. In addition, Softology seems to have a reasonable refund policy.
To remove Abrasive, quit its process or start your computer in safe mode. Safe mode is a state of Windows used for troubleshooting. It's helpful when removing malware.
Uninstall Abrasive manually as instructed below or use an anti-malware scanner, such as Spyhunter, Malwarebytes, or others.
Using an anti-malware tool is advisable. These programs can find potentially dangerous files for you. This can be hard to do manually because, for example, some of Abrasive's files use different names, like Regprotech. It's safer to let an antivirus program scan your computer and see if it finds anything. If it does, then go ahead and delete it.
Automatic Malware removal tools
How to remove Abrasive using Windows Control Panel
Many hijackers and adware like
Abrasive
install some of their components as regular Windows programs as well as additional software. This part of malware can be uninstalled from the Control Panel. To access it, do the following.
Start→Control Panel (older Windows) or press Windows Key→Search and enter Control Panel and then press Enter (Windows 8, Windows 10).
Choose Uninstall Program (if you don't see it, click in the upper right next to "View by" and select Category).
Go through the list of programs and select entries related to Abrasive . You can click on "Name" or "Installed On" to reorder your programs and make Abrasive  easier to find.
Click the Uninstall button. If you're asked if you really want to remove the program, click Yes.
In many cases anti-malware programs are better at detecting related parasites, thus I recommend installing Spyhunter to identify other programs that might be a part of this infection.