Driver Reviver is a driver updating utility for Windows PCs. It was released by ReviverSoft.
Unfortunately, Driver Reviver seems to have a few problems. We began our investigation into it by reading reviews from former clients of this company and we have to say that negative feedback is overwhelming. Many stories of people who were tricked into installing the Driver Reviver application, many requests for help in removing it.
Driver Reviver quicklinks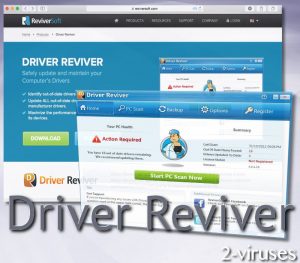 About Driver Reviver:
Classification
Potentially unwanted program.
How Driver Reviver gets installed
It's advertised online as a tool to update device drivers on Windows PCs,

some users say they

Problems and issues
Driver Reviver is flagged by some antivirus scanners,

it shows intrusive notifications,

its features are unnecessary,

Reviversoft has a spotty reputation.

How to remove Driver Reviver
Uninstall it manually,

use anti-malware apps (such as Spyhunter, Malwarebytes) to remove it and other potentially unwanted programs.
Avoid system-optimizers from ReviverSoft
To check a program for malware, you can scan its installer with antivirus programs.
We checked Driver Reviver's installer with a number of anti-malware tools on Virustotal.com and found that some antivirus scanners do flag it. Here are a few of the detection names: Win32.Trojan.WisdomEyes.16070401.9500.9856, Program.Unwanted.1511, Suspicious_GEN.F47V0727, as well as PUP.Optional.DriverReviver, Adware/DriverReviver, and Unsafe.
Driver Reviver is not the only Reviversoft program to be considered potentially unwanted: PC Reviver and MacReviver are also considered to be problematic.
So, what's the problem with Driver Reviver?
Driver Reviver is a driver updater
Usually, people discover programs like Driver Reviver when one of their devices, such as the printer, stops working. Updating or rolling back the drivers for that device is one of the first pieces of advice given to people.
Driver Reviver is one of the more prominent driver updaters. You can download it and scan your PC with it to check which drivers can be updated. Maybe it'll solve your hardware problem?
Driver Reviver's paid version costs around $30 per year. The free version has somewhat limited functionality, but it's good enough to try the utility for yourself.
As soon as the PC is on, Driver Reviver begins its scan. It then suggests that a number of drivers are outdated and has to be renewed. Honestly, scanning this often is very unnecessary.
Here's the problem: you don't really need Driver Reviver – or any driver updater. In the long term, these programs cause more problems than they solve. Besides, Driver Reviver is expensive and redundant.
Windows updates your drivers. It's pretty good at that, and it's free. It not perfect, but you can always roll back a driver if you suspect that it's causing problems.
You can also update drivers manually – just make sure you're downloading them from the official manufacturer websites and not from some shady driver updater site.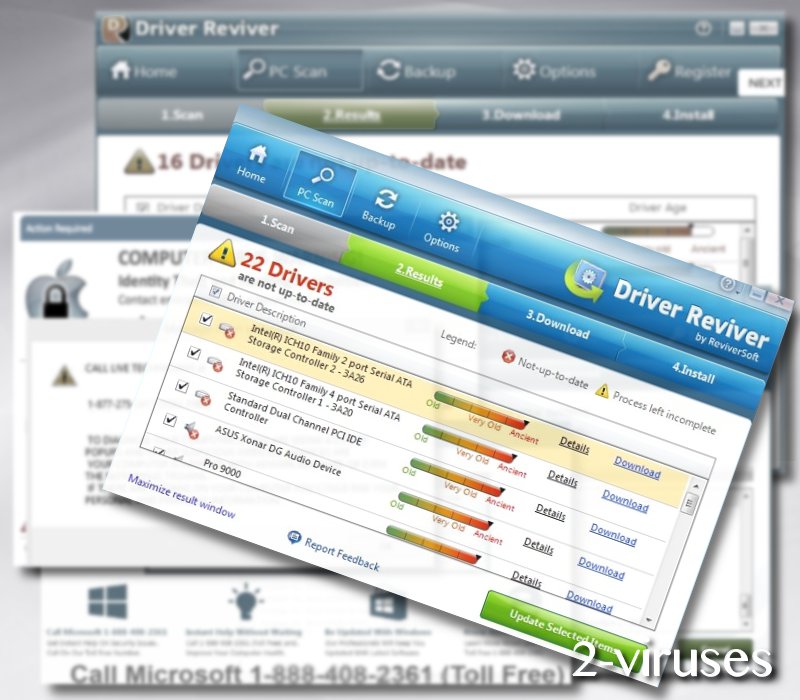 Other problems
Apparently, Driver Reviver is capable of disabling Windows Firewalls, anti-virus, and anti-malware applications like Norton. Some apps may claim that you need to disable your antivirus to avoid false positives – never listen to them, do not disable your antivirus.
On top of that, multiple victims reported that Driver Reviver shows inaccurate scan results. Some driver updating utilities try to make themselves look more useful than they are by suggesting unneeded driver updates.
What is more, some financial losses have also been explained to occur when people provided representatives of ReviverSoft with their credit card information. Victims complained that money would be illegally taken out of their accounts or that they couldn't get their purchase. Naturally, victims express demand to receive refunds. However, it requires threats to contact Better Business Bureau if people wish to retrieve their money from these unreliable developers. This company of ReviverSoft clearly is attempting to rip off people and it is important that you would not agree to download any optimization tools for your operating system. These products are known to inform users with false positives just to convince them that purchasing pricy products is not a ludicrous idea.
How to delete Driver Reviver
You can keep using Driver Reviver, it's not dangerous. But it's not advised to use any such utilities from third parties.
However, annoying pop-ups and non-stop scans can be hard to stand. However, it's not always clear where to begin to remove an app like Driver Reviver.
You could uninstall Driver Reviver from your Control Panel or the Settings. Don't know how? No problem! We have crafted an easy-to-follow guide that will help you uninstall unwanted programs.
If Driver Reviver or another program continues to show pop-ups, cause other problems, or if you can't seem to remove Driver Reviver manually, we recommend scanning your PC with an anti-malware application, such as Malwarebytes.
In general, system optimizers cannot be trusted. They often claim that they'll make your computer run faster, fix errors, etc. In reality, they're redundant to the features that Windows offers for free. Creators of such deceptive applications have one goal: to earn money. Therefore, shady developers try to scare people to the point they won't resist paying money for software.
Automatic Malware removal tools
How to remove Driver Reviver using Windows Control Panel
Many hijackers and adware like
Driver Reviver
install some of their components as regular Windows programs as well as additional software. This part of malware can be uninstalled from the Control Panel. To access it, do the following.
Start→Control Panel (older Windows) or press Windows Key→Search and enter Control Panel and then press Enter (Windows 8, Windows 10).
Choose Uninstall Program (if you don't see it, click in the upper right next to "View by" and select Category).
Go through the list of programs and select entries related to Driver Reviver . You can click on "Name" or "Installed On" to reorder your programs and make Driver Reviver easier to find.
Click the Uninstall button. If you're asked if you really want to remove the program, click Yes.
In many cases anti-malware programs are better at detecting related parasites, thus I recommend installing Spyhunter to identify other programs that might be a part of this infection.