InstallCore is a category used by antivirus vendors for programs that may invite unexpected programs onto your computer without your knowledge. InstallCore adware affects Windows and Mac computers. It's not very harmful, but it can result in unwanted programs being installed, and so, should be avoided when possible.
InstallCore files get labeled by antivirus software as Trojan.InstallCore, Application.InstallCore, Win32/InstallCore, PUP/InstallCore, Adware.InstallCore, and similar.
Installcore Adware quicklinks
InstallCore in short:
Classification
Potentially unwanted program,

trojan,

adware.

Problems with InstallCore
It can result in unwanted programs being installed without your permission,

it can make the installation process of some programs stressful and frustrating.

How to avoid unwanted programs
Be careful when installing bundled software,

download programs from their original source or authorized distributors.

How to remove InstallCore adware
Use antivirus programs (Combo Cleaner for Mac, Spyhunter for PC, others) to avoid malware,

be very careful with InstallCore installers,

uninstall unwanted programs.
What is InstallCore?
Monetization tool
InstallCore is not a program, but a toolkit for developers to use (Wikipedia.org). It shapes how a piece of software is delivered to your computer.
The company InstallCore is a software monetization company that helps developers make money from their work. It enables developers to make money by distributing optional offers with their installers. Basically, it allows ads to be displayed within installers.
If the installer or update of a beloved and trusted program suddenly gets detected as InstallCore, then don't worry too much. It could be that the program hasn't changed, but that its developers wanted to make some money and decided to include some ads in their updater or installer.
Unwanted programs
When a program is flagged as InstallCore, that means that it might install unwanted software on your device and you might not even notice.
How InstallCore is implemented depends on the developer using it. Some devs behave a little deceptively and make it difficult to avoid their offers.
Usually, the offered/bundled software is opt-out rather than opt-in. This means that you can't just use the default installation settings – you have to go through installation settings yourself and refuse all the offers. If you don't, you might get some unexpected software on your computer.
I still remember having to refuse McAfee every time a new Flash Player update came. There's nothing wrong with either McAfee or Flash Player, but it was so annoying to have to do it every single time.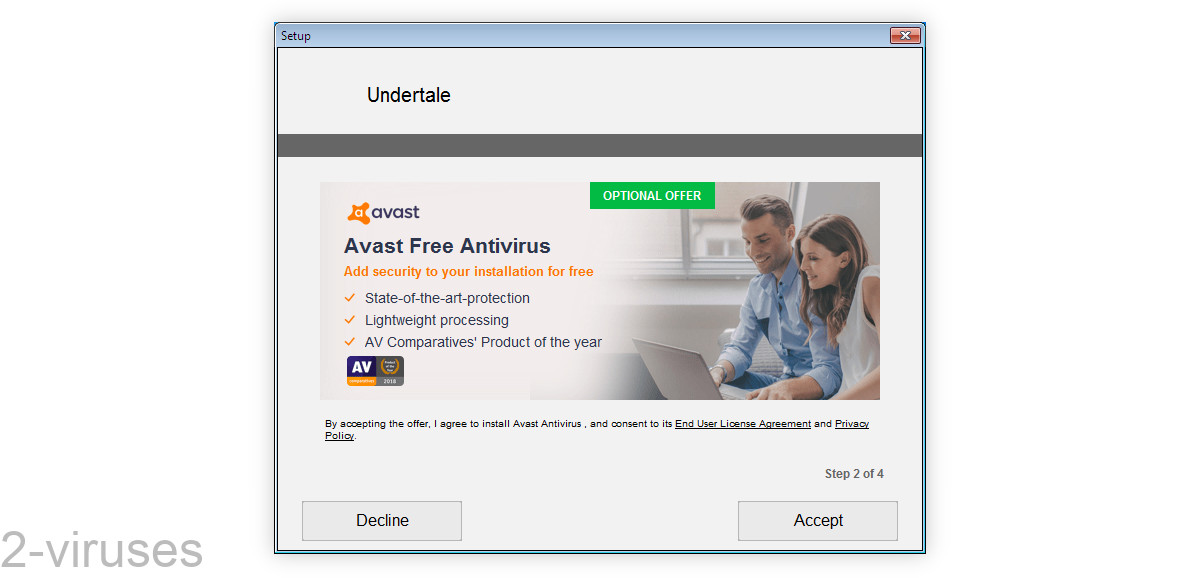 This is why antivirus programs detect installers that use InstallCore. Because there's potential in them to deceive users and trick them.
How InstallCore can be problematic
Here are some ways that developers misuse InstallCore to deceive users:
The bundled software is offered on an opt-out basis. Using the default installation settings results in unexpected programs getting installed.
The decline buttons are hidden, very small, greyed out, appear unclickable, etc. This makes it look like you can't refuse the offers.
Other dark patterns are used to trick people into allowing the bundled software to be installed.
Here's an example of an InstallCore detection by antivirus programs: Virustotal.com. The file also gets detected as Malicious, Unwanted, even Trojan.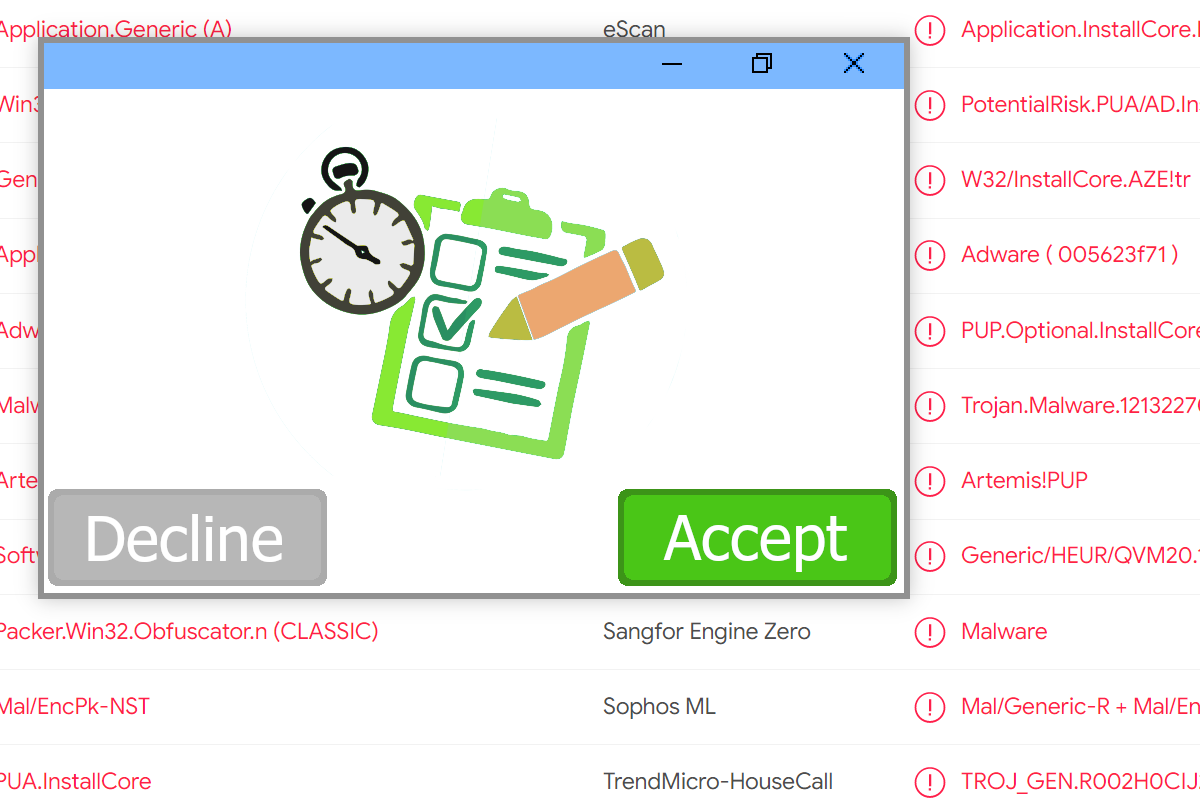 How to remove InstallCore
Be warned about bundled software
You could let your antivirus program to remove or quarantine InstallCore and other threats. Have a security program, such as Combo Cleaner for macOS, Spyhunter for Windows, and others check the files you download and warn you about those that are suspicious.
Avoid download sites like Rockybytes.com because they sometimes repackage programs to include ads.
However, some programs are bundled with InstallCore by their original developers. And you should always download software from original developers, as that's usually the safest. So, you may just have to prepare yourself to face an InstallCore installer.
Be very careful:
use custom or advanced installation tactics,
read all the screens in the setup,
deselect all the checkboxes that allow additional software and click the Decline buttons where available.
Afterward, scan your computer.
Remove unwanted programs
Often, the programs that are offered by InstallCore adware are harmless, if unwanted. So, often, it's enough to uninstall them like you would any other program.
Sometimes, they do leave some files behind. You can delete them by diving into your folders on the C drive on Windows or into your Library files on macOS.
Automatic Malware removal tools
Remove unwanted programs
How to remove InstallCore Adware using Windows Control Panel
Many hijackers and adware like
InstallCore Adware
install some of their components as regular Windows programs as well as additional software. This part of malware can be uninstalled from the Control Panel. To access it, do the following.
Start→Control Panel (older Windows) or press Windows Key→Search and enter Control Panel and then press Enter (Windows 8, Windows 10).
Choose Uninstall Program (if you don't see it, click in the upper right next to "View by" and select Category).
Go through the list of programs and select entries related to InstallCore Adware . You can click on "Name" or "Installed On" to reorder your programs and make InstallCore Adware easier to find.
Click the Uninstall button. If you're asked if you really want to remove the program, click Yes.
In many cases anti-malware programs are better at detecting related parasites, thus I recommend installing Spyhunter to identify other programs that might be a part of this infection.