One Click Speedup is a potentially unwanted program (PUP) by PCVARK for Windows PCs. It might look simple and innocent, but it has issues which make it harmful to users. One Click Speedup installs an unwanted program, performs scans way too often, alarms users about even tiny issues, but refuses to fix them until the paid version has been purchased.
One Click Speedup quicklinks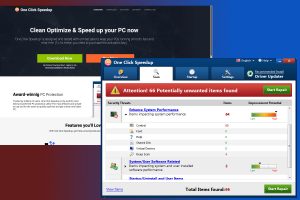 One Click Speedup is very similar to Advanced Clean Pro, System Clean Pro, and Qbit PC Speedup in how they work, their website, and even the user interface. Clone applications are common for malware because the developers are not interested in creating a good-quality product; instead, they release a program seemingly only made to convince people to buy it. Yes, One Click Speedup scans your computer for real, but it manipulates the user's emotions so much that it can't be called honest.
What does One Click Speedup do?
It is disliked by a dozen reputable antivirus programs (VirusTotal report), and there are good reasons for it.
It tries to install another program, Driver Updater, without your explicit permission. This program then sets up scans of your computer, despite the fact that more bloatware is the last thing a sluggish computer needs. In my experience, Driver Updater was very intrusive, displaying multiple pop-ups when I tried to uninstall it.
Speaking of driver-updating utilities, you probably don't need them. Most drivers won't impact your computer's performance, and if you're dissatisfied with Microsoft's provided drivers for a particular reason, installing new drivers manually is simple.
A problem with One Click Speedup is that it's annoying. It advertises its paid version every time you try to close it with a pop-up, then runs in the background after you close it. It keeps scanning your computer every time you start it, acting like every tiny little "problem" it finds is actually something worth attention. One Click Speedup is very alarmist. It uses bright red font liberally to warn you of various "problems" which are not clearly explained. However, it does not "fix" these problems as long as you haven't bought the paid version. The problem with this behavior is that it causes some people unnecessary anxiety. They might believe that there really are dozens of urgent problems with their computer and that the only way to fix them is to use One Click Speedup or another fake optimizer.
There is no need to care about what One Click Speedup finds in its scans. It has problems even with a clean installation of Windows, so don't worry at all about its reports and warnings.
Optimizers warn you about little things like a temporary file, or a web cookie, which have no effect on your PC's performance and often are actually useful. Some optimizers also count as issues things like enabled animations that Windows uses for its user interface, which could have a minuscule effect on performance (but are also editable without any third-party applications). Even if you were to listen to One Click Speedup, any performance you squeeze out of your computer won't offset the negative impact that One Click Speedup has on it.
One Click Speedup promises these functions:
To repair registry entries (that's not advised).
To manage startup applications (easily done using Settings).
To remove browser adware and add-ons (can be done manually).
I believe that One Click Speedup is completely useless, since the functions that it promises are already easily accessible without it, or shouldn't be accessed at all. Moreover, it's harmful because it might cause unnecessary stress to a user and even manipulate them into spending money for a useless product.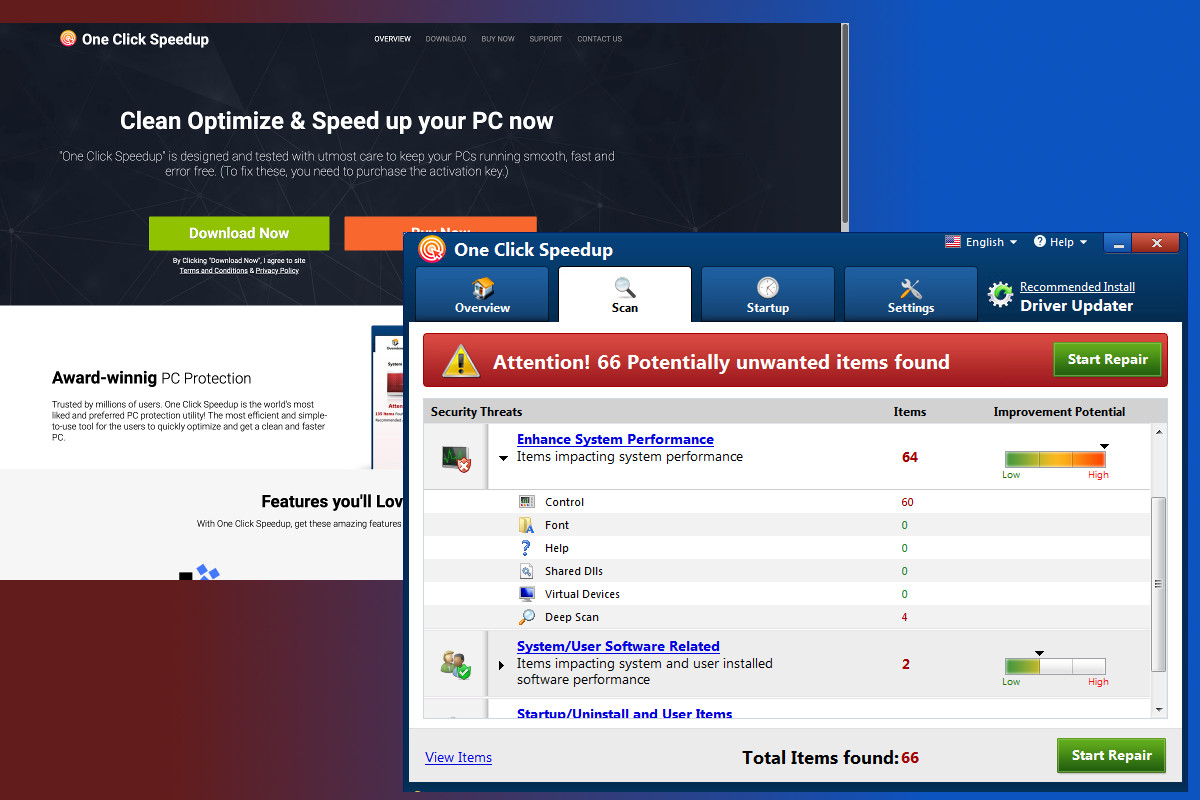 How to remove One Click Speedup
You can manually uninstall One Click Speedup and the bundled programs, or let your antivirus program do it. It's also a good idea to perform an antivirus scan of your whole computer — that way, you can make sure that all malware has been removed. If your usual antivirus program doesn't detect One Click Speedup, it might be a good idea to check out another application, like Spyhunter. Although a decent number of antivirus tools recognize One Click Speedup as problematic, there are also many that don't.
Make sure that there is no adware on your system. Adware is used to advertise other malware, so leaving it installed will likely cause problems in the future: more optimizers and registry cleaners, other adware, even spyware.
Programs like One Click Speedup also spread with the help of dishonest ads online and distributed as freeware on various software hosting websites. Be suspicious of software which you did not specifically seek out. Research it before installing it: look for reviews, read up about the developers. Trustworthy software should be very transparent and, preferably, have existed for at least a few years. Only trustworthy applications should get access to your computer.
Automatic Malware removal tools
How to remove One Click Speedup using Windows Control Panel
Many hijackers and adware like
One Click Speedup
install some of their components as regular Windows programs as well as additional software. This part of malware can be uninstalled from the Control Panel. To access it, do the following.
Start→Control Panel (older Windows) or press Windows Key→Search and enter Control Panel and then press Enter (Windows 8, Windows 10).
Choose Uninstall Program (if you don't see it, click in the upper right next to "View by" and select Category).
Go through the list of programs and select entries related to One Click Speedup . You can click on "Name" or "Installed On" to reorder your programs and make One Click Speedup easier to find.
Click the Uninstall button. If you're asked if you really want to remove the program, click Yes.
In many cases anti-malware programs are better at detecting related parasites, thus I recommend installing Spyhunter to identify other programs that might be a part of this infection.