Although real giveaways do happen, all the $1000 gift card prizes for PayPal that I have seen were scams.
Certain subscription sites get people to sign up for them by promising them (falsely) that they won a valuable prize, such as a $1000 PayPal gift card. They then require people to sign up with their real personal and payment information and to complete various tasks for a chance to get the promised $1000 PayPal gift card (which, by the way, has nothing to do with the company PayPal).
Fake Paypal 1000 Gift Card Rewards quicklinks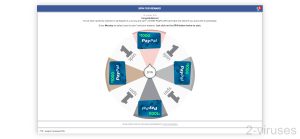 About the PayPal $1000 gift card offer:
Type of threat
Scam,

phishing.

Problems with the PayPal $1000 gift card prize
The "reward" is not there, even though you've been invited to "claim" it,

you're required to sign up for disreputable rewards sites and complete various tasks.

How to avoid scam sites
Read the terms of service and privacy policy before signing up for something,

look up the company before you sign up for it,

don't use your real information if you're not sure that the site is trustworthy,

don't interact with suspicious sites,

use an ad blocker and antivirus programs (such as Combo Cleaner for Mac, Spyhunter for PC, others).

How to deal with the PayPal $1000 gift card scam
Quit unwanted subscriptions,

if you're still being charged money, contact your bank and ask for help.
What is behind the PayPal $1000 gift card offer?
The promise of an exciting prize
When you're browsing the web, clicking on links, and opening unfamiliar websites, you may encounter a redirect, a pop-up ad, or get an email. Maybe it's an offer to complete a survey to get a phone for free, to win a $750 Cash App balance, to double your Bitcoins, or to win a $1000 gift card for PayPal. All of these offers should be avoided. They are scams.
Not all $1000 PayPal gift card giveaways are scams. But when a site tells you that you just won – even though you never entered any sweepstakes – that's very suspicious.
The PayPal $1000 gift card giveaway appears on a Facebook-like page. Today's date and weekday are posted on the site. Your location may also be posted. Some comments at the bottom of the page gushing about how they got their 1k. Fake comments that are reused on multiple scam sites. Here's an example: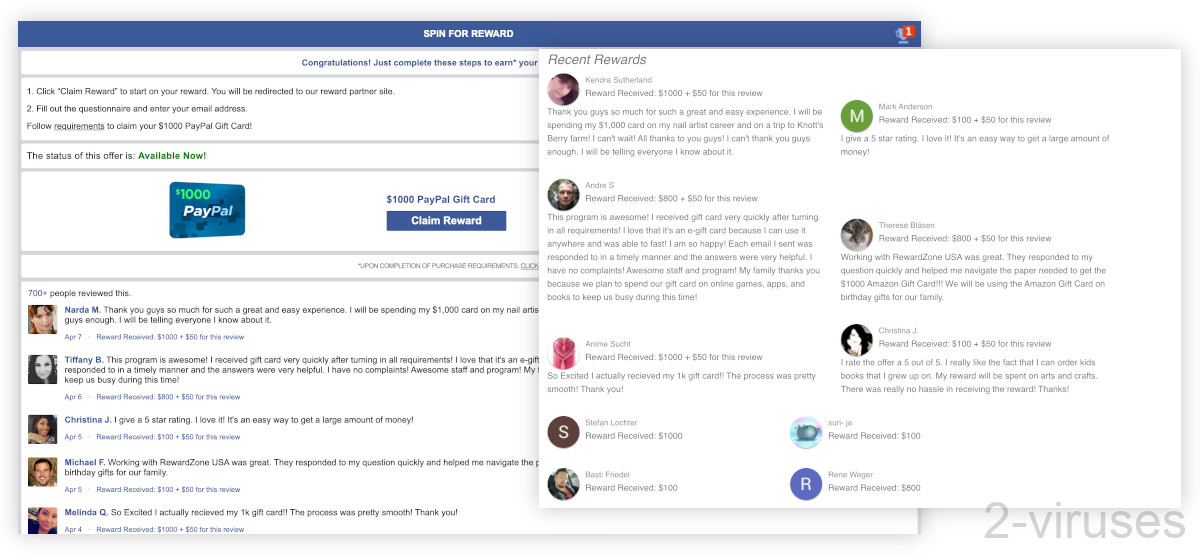 There's a wheel to spin. You win your PayPal $1000 gift card on the second try (every visitor always wins on the second try) and then you get to "Claim Reward".
Reward sites
When that site said that you won a $1000 PayPal gift card – it wanted you to think that the prize is just a button away. But it's not. You're taken to a rewards site, first. (There are legitimate rewards sites, but they don't use fake $1000 gift card wins to get people to join.)
After clicking "Claim your reward" on the $1000 PayPal gift card page, you're told to fill out a form with your information. Then, you're told that you will get your prize after you just sign up with your personal info and complete a bunch of tasks. These tasks include:
Watching ads.
Completing surveys.
Signing up for subscriptions.
Downloading and installing software.
A bunch of sponsor offers. The tasks have tiers, timing requirements, and proof requirements. Some of them cost money. Many require you to provide your personal data to various companies. Some take a lot of time to complete – days of waiting for free trials and subscriptions.
The particular site that told me that I got a $1000 PayPal gift card was by RewardZone USA. Here's what it said about getting the $1000 PayPal gift card:
To earn Rewards, you must be a U.S. resident, 18 years of age or older, provide accurate registration information, complete required survey questions, view optional offers AND COMPLETE DEALS THAT USUALLY REQUIRE PAID PARTICIPATION OR PAID SUBSCRIPTION.  Further details below:
→ Tier 1 Rewards (with a value of $100 or less): Must complete 4 Deals.
→ Tier 2 Rewards (with a value greater than $100): Must complete 10 Deals.

To earn the applicable Reward, you must complete the required number of Deals within 20 days of completing the first Deal.
Rewards are limited to:  one Reward per household (which is defined as persons living at the same address) (a) within any 12-month period for Tier 1 Rewards; and (b) within any 24-month period for Tier 2 Rewards.
We may substitute a gift card of equal or greater value for another gift card or other merchandise.
See Representative Deal Chart for a brief description of most Deals, the initial and ongoing commitment and how to cancel.

COMPLETING THE REGISTRATION PROCESS, ANSWERING SURVEY QUESTIONS OR VIEWING OPTIONAL OFFERS DOES NOT NECESSARILY QUALIFY YOU FOR A REWARD.  YOU MUST COMPLETE THE REQUIRED NUMBER OF DEALS TO QUALIFY FOR A REWARD. 
So, do you get your $1000 PayPal gift card after doing all the rewards? Not according to these people – Complaintsboard.com, Trustpilot.com. These are complaints about Flash Rewards and related rewards sites. Looks like people's time is wasted and they get nothing in the end.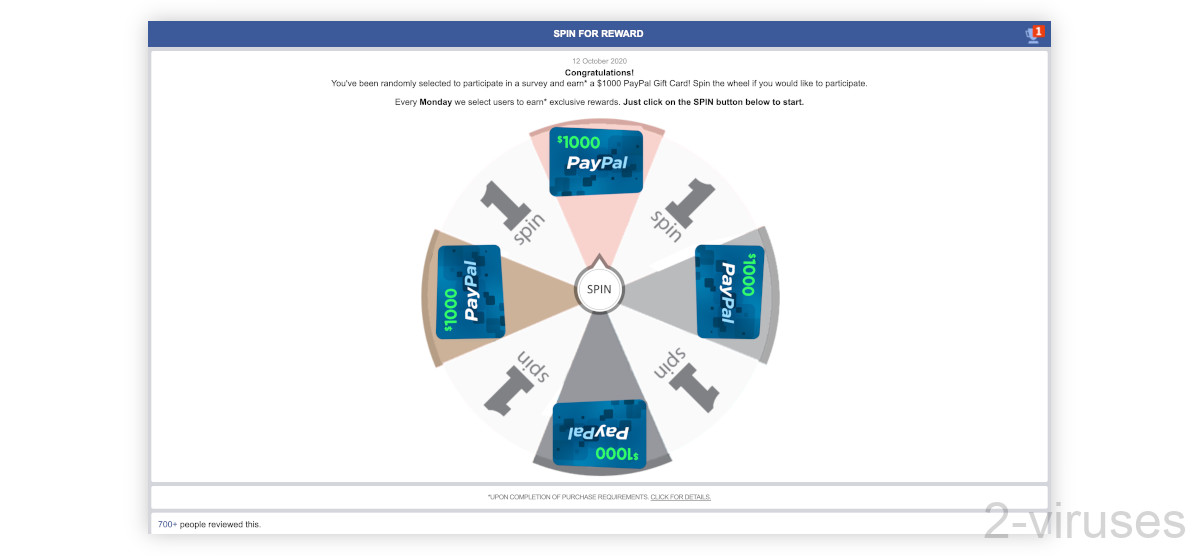 Scam
A real gift card offer would state the conditions and chances of winning. It would have
The dishonesty, the fake Facebook reviews, and the overwhelmingly negative real reviews are why I'm comfortable saying that the $1000 PayPal gift card prize is a scam.
This scam format is years old. All that's happening is that the promise of a $1000 PayPal gift card is being used to get more people to sign up for a bad rewards site. The site makes more money the more users it has and the more data it collects.
Maybe there is a $1000 PayPal gift card somewhere out there. But don't bet on being lucky. The $1000 PayPal gift card offer is no better than a lottery ticket.
How to deal with the $1000 PayPal gift card scam
How to avoid scams
Avoid sites that look too good to be true. If you're promised a prize, don't fall for it. Just close the page. It'll save you time, money, and it'll protect your personal information.
Do not reveal your personal information to unknown sites. Don't use anything but a fake or empty prepaid credit card. Be protective of your personal information. If it falls into the wrong hands, it can be abused.
Sites like those offering the $1000 PayPal gift card often use pop-ups and redirects to advertise. You can use an ad blocker (many of them are free) to block some of these advertisements. Check your computer for adware manually or with antivirus programs like Combo Cleaner for macOS and Spyhunter for Windows.
What to do after falling for a scam
I do not recommend persisting with reward sites, especially if they don't have good reviews. You'll just waste your time.
If your credit card is being charged, then get out of unwanted subscriptions and ask for your data to be deleted. If you can't stop your money from being charged, call your bank and ask for advice.
If you're getting unwanted phonecalls and robocalls, follow the advice on this FCC page – Fcc.gov.
Automatic Malware removal tools