Multitimer has raised some red flags after it was noticed showing a lot of ads to its users. Only some antivirus programs and website scanners identify Multitimer as a malicious parasite, and it can't be called malware outright. In fact, Multitimer looks like a simple and useful-looking chronometer program at first glance. Still, it does have some features that classify it as adware, which means that Multitimer should be avoided.
Multitimer Adware quicklinks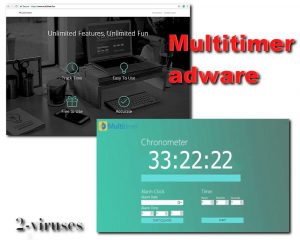 What is the Multitimer virus and what does it do?
Multitimer showers users with unwanted ads: 
Classification

PUP (potentially unwanted program)
Adware

Consequences of installing 

Multitimer

Ads than before are shown to the user
The user's browsing data is tracked

How

adware spreads

Multitimer spreads bundled with other freeware

Spam emails distribute adware programs

Remove

Multitimer

Uninstall

Multitimer manually from the Control Panel

Use scanners (SpyHunter) to get rid of infections
A freeware timer
You can find and download Multitimer when you look for a chronometer online. It's also possible to find it installed on your computer without even having done it yourself.
Overall, Multitimer looks like it's great for time management. What is more, its main website, www.multitimer.fun, uses HTTPS and comes out as clean and safe in a Virustotal.com scan. No doubt that Multitimer is useful on the surface and, unlike most junkware, looks very pleasant and professional.
Yet, Multitimer performs additional tasks once in the system, such as showing ads to unsuspecting victims. It's not a baseless accusation, in the Multitimer's EULA Myappsland states itself:
The Application or related or services may include a piece of promotional or marketing content ("Digital Advertisement") delivered via the internet for display on the user's device. Digital Advertisement includes, but is not limited to, banner ads and display advertisements.

Myappsland SARL reserves the right to modify, suspend or discontinue, temporarily or permanently, the Application, with or without notice and without liability to you.
Tracking and dangerous ads
Don't let Multitimer's eye-pleasing cover distract you from the fact that, under its minimalistic timekeeping functions, it is adware. Multitimer is a freemium service that you pay for by having to look at the ads that it shows you. Regardless of whether you installed it deliberately or not, Multitimer collects data about you and your browsing habits and shows you ads based on that data. This allows Multitimer to build revenue from the referrals, hyperlinks, redirects, Pay-per-clicks, and pop-ups that you are forced to see. Suddenly, the free application ends up earning more than some trusted paid tools. This working principle is also seen in MegaOffers, Addonjet, and MgDisk.
Multitimer's ads are quite annoying. They appear on top of content, some of them are loud and flashy. Precious time has to be spent on dismissing them. Worse, some of the ads are genuinely bad. Multitimer adware, like most adware, works with advertisers whose products put users in risky situations:
Tech-support scams, fake virus alerts, fake software updates that try to steal people's money and trick them into installing malware.
Gambling and investment sites that are fraudulent and not pay out any money that they promised.
Unwanted programs, browser extensions, and fake utility software ads – these can be worse than

Multitimer and trick you into paying for unneeded services.
Adware tends to be the gateway for more serious and harmful malware. That's why it's best to avoid Multitimer.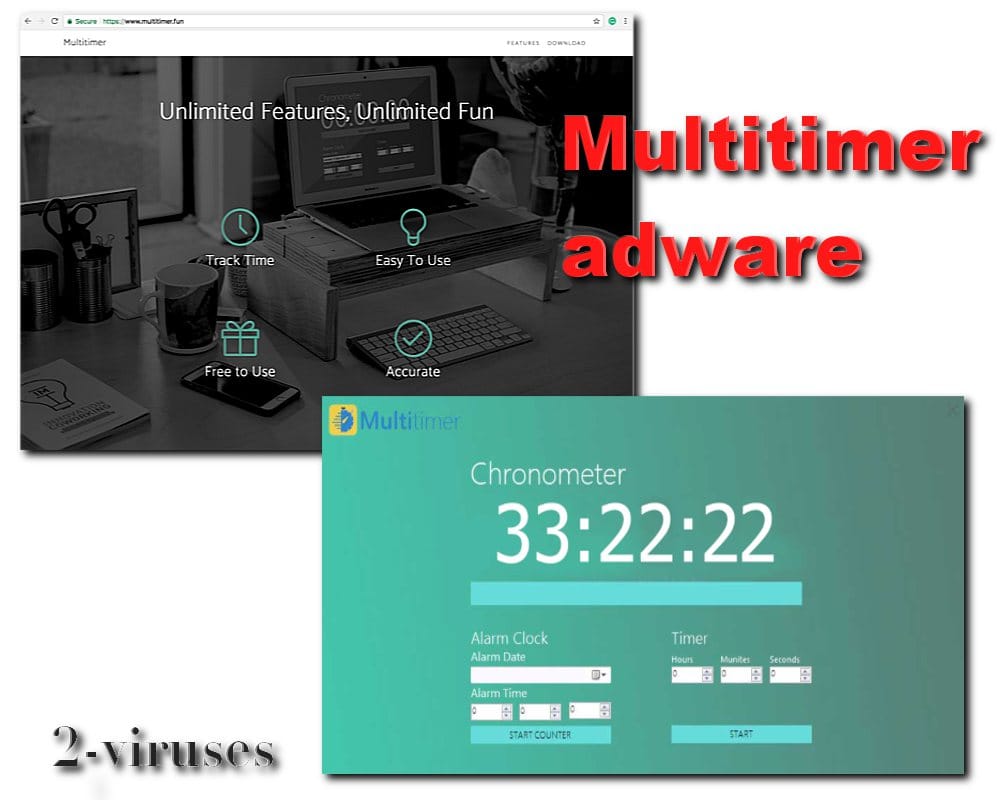 How does the Multitimer adware spread?
Multitimer isn't a very popular application and doesn't have good word of mouth. You can find and install it manually, but getting it via bundling or email is way more likely.
Multitimer is included with the installers of various free programs. It's disclosed very poorly during setup and that leads to many accidental installations where people don't realize that they installed Multitimer or how they did it. Usually, the types of programs that install adware in the background are fake update bundles, software (freeware) packs, torrents, free music/video/picture files.
Spam emails can also spread Multitimer, either by including the installer as an attachment file, or by sending you a link to download the program from.
Multitimer's IP originates in France, however, this can't be fully true because of the servers and proxies cyber crooks could be using. By the way, Multitimer is not the only Myappsland's creation: the company has more applications, including Wizzcaster, Speedy Car, Audio XD, Pattox and etc. Overall around 7 domains, which you should avoid as well.
How to remove the Multitimer virus
Removing Multitimer is easy because you just have to uninstall it. But it is important to check if other dangerous programs have been installed with it. If you notice Multitimer in your computer after downloading some other software, updates, torrents, or files from unsafe websites, then you most likely have some other 'unwanted guests' that will require removal, as well. That is usually pretty hard to do without an automatic malware removal tool.
Antivirus and malware removal tools are not exactly the same thing, therefore, even if you have good computer-protecting software, it might be not as good at getting rid of existing infections as specific anti-spyware tools are. For example, some programs focus on stopping threats from entering your system, others – on removing the malware already inside. More on that on Webopedia. We advise you to use Spyhunter or Malwarebytes, but of course, you can choose any program of your own choice.
Although anti-malware programs can be a true savior solving virus and adware infections, in some cases, you won't be able to download or install the auto-tool and have to remove the malicious program/ threat yourself. Down below we left the guidelines on how to eliminate the Multitimer virus manually.
Automatic Malware removal tools
Step by step guide to delete Multitimer adware manually
How to remove Multitimer adware using Windows Control Panel
Many hijackers and adware like
Multitimer
install some of their components as regular Windows programs as well as additional software. This part of malware can be uninstalled from the Control Panel. To access it, do the following.
Start→Control Panel (older Windows) or press Windows Key→Search and enter Control Panel and then press Enter (Windows 8, Windows 10).
Choose Uninstall Program (if you don't see it, click in the upper right next to "View by" and select Category).
Go through the list of programs and select entries related to Multitimer adware . You can click on "Name" or "Installed On" to reorder your programs and make Multitimer easier to find.
Click the Uninstall button. If you're asked if you really want to remove the program, click Yes.
In many cases anti-malware programs are better at detecting related parasites, thus I recommend installing Spyhunter to identify other programs that might be a part of this infection.