MacReviver by ReviverSoft is a Mac optimizer and a potentially unwanted app. MacReviver may inflate the issues it finds to appear more useful, delete important files and break some programs, display annoying pop-up ads, and actually slow your Mac down. Although it promises to restore performance and stability to your Mac, some security programs detect it as potentially unsafe.
Macreviver Mac Malware quicklinks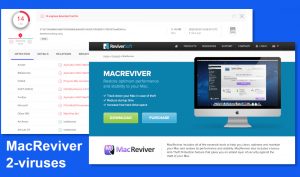 Problems with and removal of MacReviver:
Type of threat
Potentially unwanted program.
Detection names
Application.MAC.MacReviver,

Program.Mac.Unwanted.MacReviver,

PUA/OSX.MacReviver.gxzkf,

etc.

Problems with MacReviver
Overstates the severity of issues,

shows obnoxious pop-ups,

slows down the Mac.

How to remove MacReviver
Manually uninstall the program,

use an anti-malware tool, such as Combo Cleaner.
Problems with MacReviver
Potentially unwanted app
Mac optimizers that promise to make your Mac run better won't help or they might even have the opposite effect. Delete unused programs and, before downloading a new app, make sure to check its reputation online. MacReviver certainly doesn't lack negative reviews and complaints. In fact, when I search for "MacReviver" on discussions.apple.com, pretty much all the results are just people complaining about their Mac being slow; they also happened to have MacReviver installed.
Some unethical Mac optimizers, including MacReviver, work like Placebo, making users addicted to "cleaning" their Mac regularly, even as often as every single day. But these cleanings don't have much effect, as junk files simply do not accumulate that fast (and even then, they take under a Gigabyte of space, which is nothing). So the optimizer may try to delete valuable files, like cookies and cache, or try to fake finding files just to look like it's doing something. Meanwhile, its scans and background processes are taking up your hardware resources.
Specific issues
MacReviver offers a subscription license for a year, then you have to pay again. This type of monetization might not be acceptable to everyone.
MacReviver shows pop-ups that remind you to scan your Mac again or to fix the "issues" that it found. These pop-ups are way too frequent! There's just no way that junk accumulated that quickly. What does MacReviver want, to delete the cache that your browser just created? Hopefully not, because that would make your browser slow down. And besides, you should be allowed to dismiss issues, as they're just suggestions, anyway.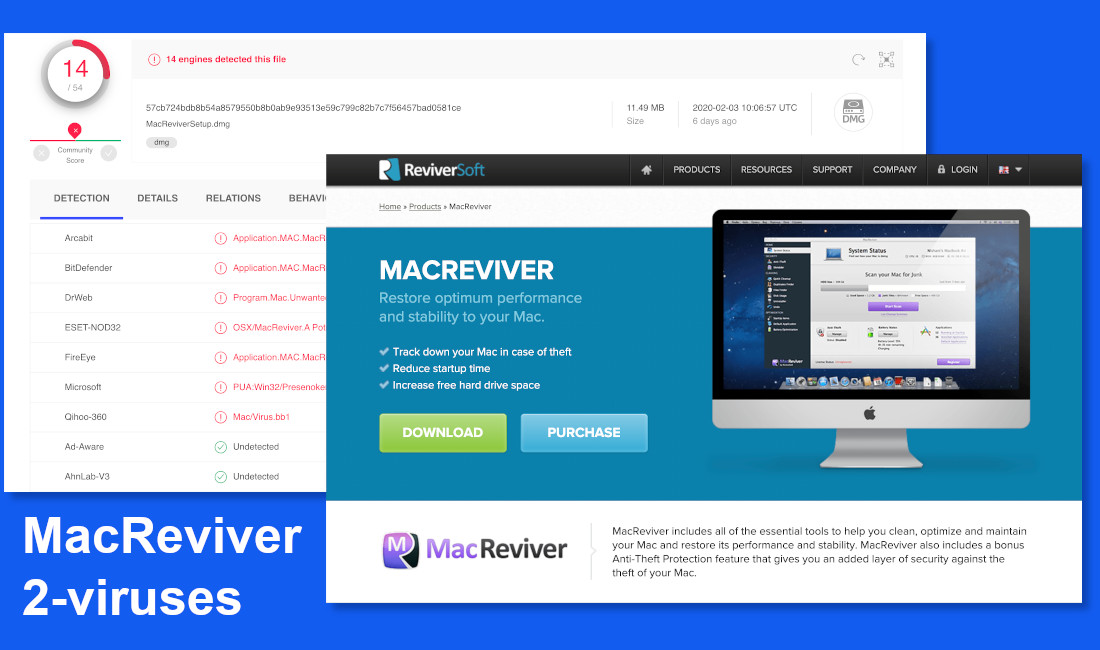 Also, some Mac users reported that MacReviver displays pop-ups even after it's uninstalled. Not that it's easy to uninstall, as files remain on the system after removing MacReviver the normal way.
Some people who have complained about their Mac being really slow turned out to be using MacReviver and a bunch of other potentially unwanted apps – shows you just how "useful" these optimizers really are.
But most concerning are the reports about MacReviver finding and deleting what it labels as "Junk" when some of those files are important to some programs, such as browser settings and backup files.
It's detected by antivirus programs, so if you use even a slightly aggressive anti-malware tool, you won't be able to use MacReviver anyway.
Is MacReviver safe to remove?
The way to speed up your Mac is not to install a new program, but rather, to uninstall resource hogs and apps that you don't use regularly (or at least remove them from startup). Something like MacReviver should be the first to go.
Driver Reviver, a program by the same creators and plagued by the same problems, induces headaches to Windows users, so MacReviver being a low-quality app is not an accident. Optimizers similar to it, like Mac Space Reviver or MacRapidizer, should also be avoided.
Some people aren't sure what MacReviver is and if it's safe to remove because they don't know where it came from. If you did not install MacReviver yourself, then it's possible that it was offered to you in a bundle with another program. Generally, free programs make a bit of money by bundling optional offers – but they're not always very good at warning you about them, so you may end up installing the offer accidentally. So yes, MacReviver is absolutely safe to remove.
How to remove MacReviver
ReviverSoft recommends removing MacReviver by opening its Help menu and clicking Uninstall. Then restart your Mac, open Finder, and look for files with "MacReviver" in their name. Alternatively, you can use a program that detects malware, such as Combo Cleaner, to look for files related to MacReviver. Malware scanners can also help you find other unwanted programs.
Manually removing MacReviver using the normal method of dragging it to Trash may not work. For one, MacReviver starts up when the Mac is started, so you would first need to delete it from startup and then restart your Mac (or use safe mode). Also, if MacReviver created any profiles (if you have any Profiles, they can be found in System Preferences), those should also be deleted.
Automatic Malware removal tools