If you find yourself on Just-watch-it.com, just close the page. It's presented as a free streaming site that'll let you watch movies and TV shows, however, that's not what it is. Just-watch-it.com is really a malicious website that exists to trick people into signing up for unwanted services. It's basically one big deceptive advertisement.
Just Watch It Com Scam quicklinks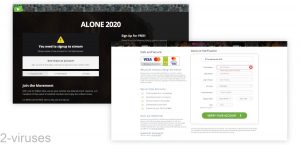 Just-watch-it.com in short:
Threat type
Scam.
Problems with Just-watch-it.com
It's not a real streaming site,

it promotes potentially unwanted subscription services in a very misleading way,

it can lead to people accidentally signing up for expensive unwanted services.

How it spreads
Advertised online as a movie streaming site.
How to deal with the Just-watch-it.com scam
Find and remove all suspicious software (with Spyhunter for PC, Combo Cleaner for Mac, others),

cancel unwanted subscriptions.
How Just-watch-it.com works
Fake streaming site
Just-watch-it.com is a website that offers sports streams, TV shows, and movies. It promises high definition streaming for free and with no ads.
You might encounter it while you're looking to catch a movie or a game online for free. Blogs, social media accounts promote Just-watch-it.com as a way to watch movies online.
Well, Just-watch-it.com is not it. Its whole purpose is to funnel people to sign up for a potentially unwanted subscription service.
As far as I can tell, there's no way to watch the videos on Just-watch-it.com – and I'm not sure that there even are any videos on it. There are just generic short introductions that play for a few seconds until Just-watch-it.com suspends them to ask you to sign up (usually, it's the 20th Century Fox logo – even for movies that aren't made by Fox). Eventually, it leads to an entirely different subscription site.
Just-watch-it.com is not the first site to work like this – Movie-streams-online.com, Sports-today.club, and other sites do the same thing.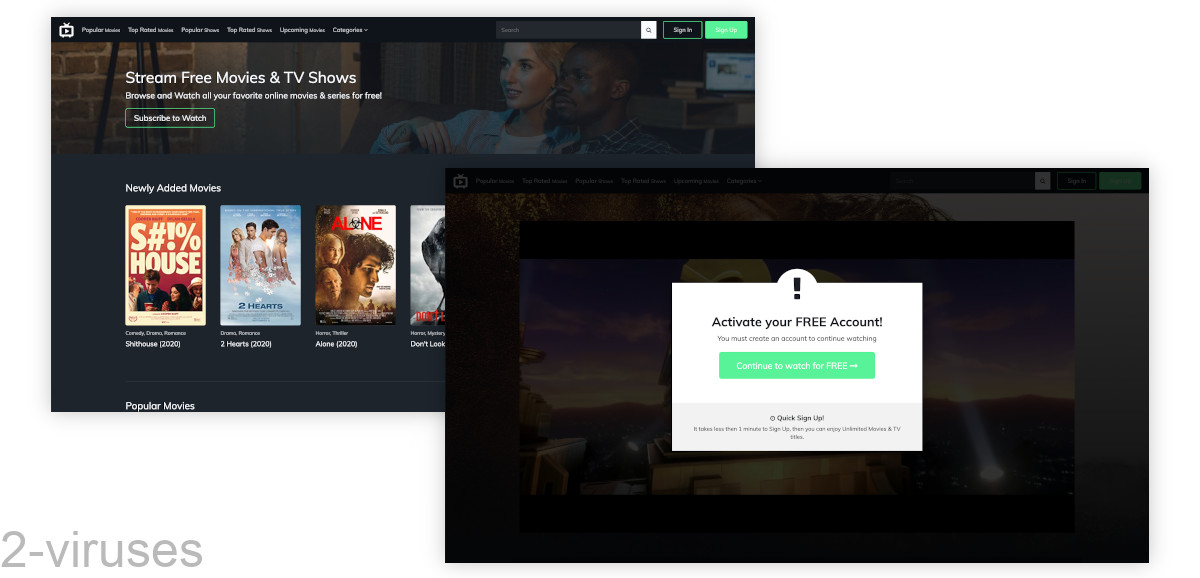 Subscription scam
Just-watch-it.com advertises various subscription services, such as Muzicweb.com, Eread247.com, etc. These sites do not offer videos or sports streams. Muzicweb.com offers music, while Eread247.com offers books. Each of them gives you a 5-day free trial and then charges a monthly fee of around $60 (Musikmac is another example of such a website).
When Just-watch-it.com opens this site, people are just told to fill in their information, including their credit card info, to "verify your account". People assume that they need to sign up in order to watch videos on Just-watch-it.com.
This advertising scheme is very predatory and manipulative. It results in users unwittingly signing up for a ridiculously expensive service and then unexpectedly losing $50 a month.
That's good enough for some antivirus scanners to flag Just-watch-it.com as malicious: Virustotal.com.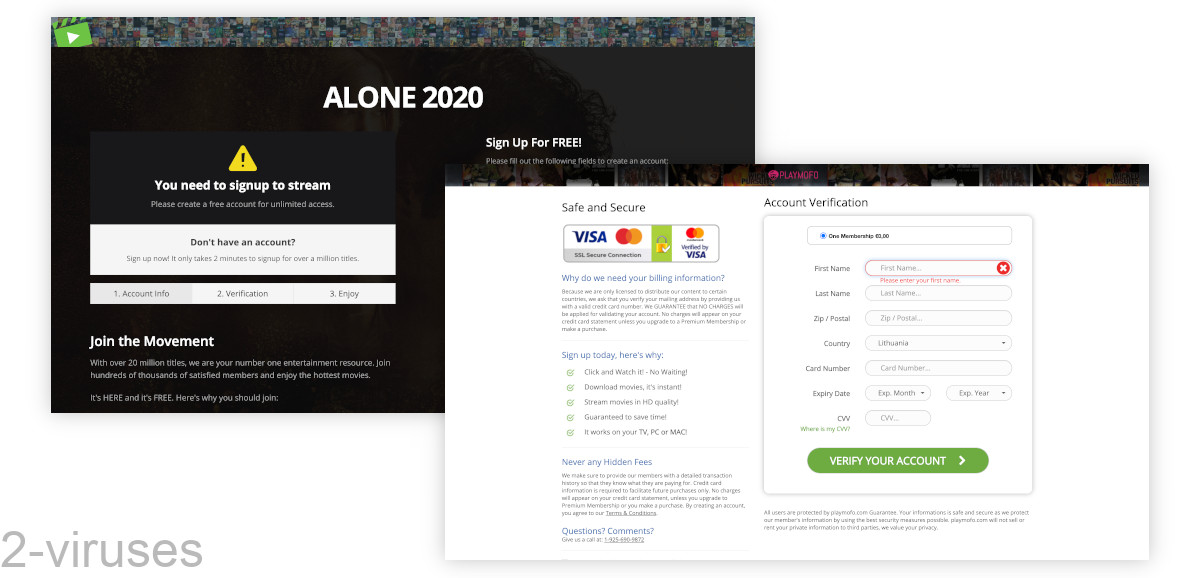 How to deal with the Just-watch-it.com scam
Avoid scam sites
Just-watch-it.com on its own is not harmful. Just visiting it doesn't put you in danger.
Sites like Playmofo.com, Muzicweb.com, Eread247.com are at fault here. If it weren't for them, half the scams I see online wouldn't exist. They use fake streaming sites like Just-watch-it.com, but that's not all. They also use fake phone giveaways as advertisements. And fake download links posted on forums.
So, the answer to avoiding scams is to never ever give your name, contact info, or payment info to unknown websites. Use fake credit card generation services or empty prepaid cards if you really need to, but do not give your personal information to sites that you are unfamiliar with.
It is important to remember how you got on Just-watch-it.com in the first place. Was it through web search results? It's possible that an adware infection is injecting malicious ads into your browser. Was it by clicking on a link in social media? Maybe one of your friends is a malicious spam account.
Cancel the Just-watch-it.com subscription
First of all, check your computer for malware and remove suspicious programs and files. Use Spyhunter for Windows, Combo Cleaner for macOS, and other antivirus programs to scan your device. Examine the programs and apps that were installed most recently.
If you did sign up for whatever site Just-watch-it.com advertised to you with your real personal information, then check your email inbox (including the Spam folder) for emails about your new subscription. Then ask to cancel it. Also, if you've had any money taken from you, request a refund.
If you're unsuccessful, call your bank and ask for advice.
Finally, be on the lookout for targeted phishing attempts – unexpected urgent emails and phone calls with people asking you for personal information. Be careful of scammers.
Automatic Malware removal tools