Download-pdfs.com is a download site that is part of a scam to trick people into unwittingly subscribing to an approximately $60 monthly subscription. If you find yourself on Download-pdfs.com, you might have clicked on a malicious link. Don't worry – Download-pdfs.com itself isn't dangerous. Just don't trust the sites that it leads you to.
Download Pdfs Com Scam quicklinks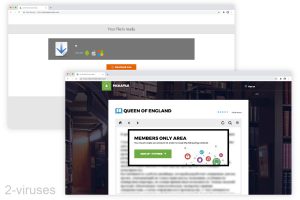 About Download-pdfs.com in short:
Type of threat
Scam,

phishing.

How Download-pdfs.com spreads
Ads and redirects on unsafe websites,

links in social media, in video descriptions, and in forum comments.

Dangers of the scam
Money being charged,

personal information ending up in the hands of scammers.

How to deal with Download-pdfs.com
Close Download-pdfs.com,

delete malware with antivirus apps, such as Combo Cleaner for Mac, Spyhunter for PC,

block malicious websites with ad blockers or anti-malware apps, such as Malwarebytes.
How Download-pdfs.com works
Scam sites
Download-pdfs.com is a suspicious download site that redirects to scam sites like Musiczum.com, Musikzoo.com, Bookzonez.com, Daydreamplay.net, Bookblob.com, Shapehubs.com, etc. If you find yourself on Download-pdfs.com, be very careful. You might want to close the page.
Those sites that are asking for your credit card info offer a very expensive media subscription. They trick visitors into signing up by using misleading ads before you ever end up on Download-pdfs.com. The price of €57,95 per month is insane for any kind of media subscription service (few cost more than $10 per month), but Musiczum.com and related sites offer a very lacking selection. On top of that, you get a "free" $1 trial that lasts 5 days. That is to say, Musiczum.com and related sites are not just scams, they're also a huge ripoff.
If you got a bill from one such site (for around $60, most likely), then you might have fallen victim to this scam, though not necessarily through Download-pdfs.com. Download-pdfs.com is not the only way that this breed of subscription scams spreads. Another is the $1 phone scam.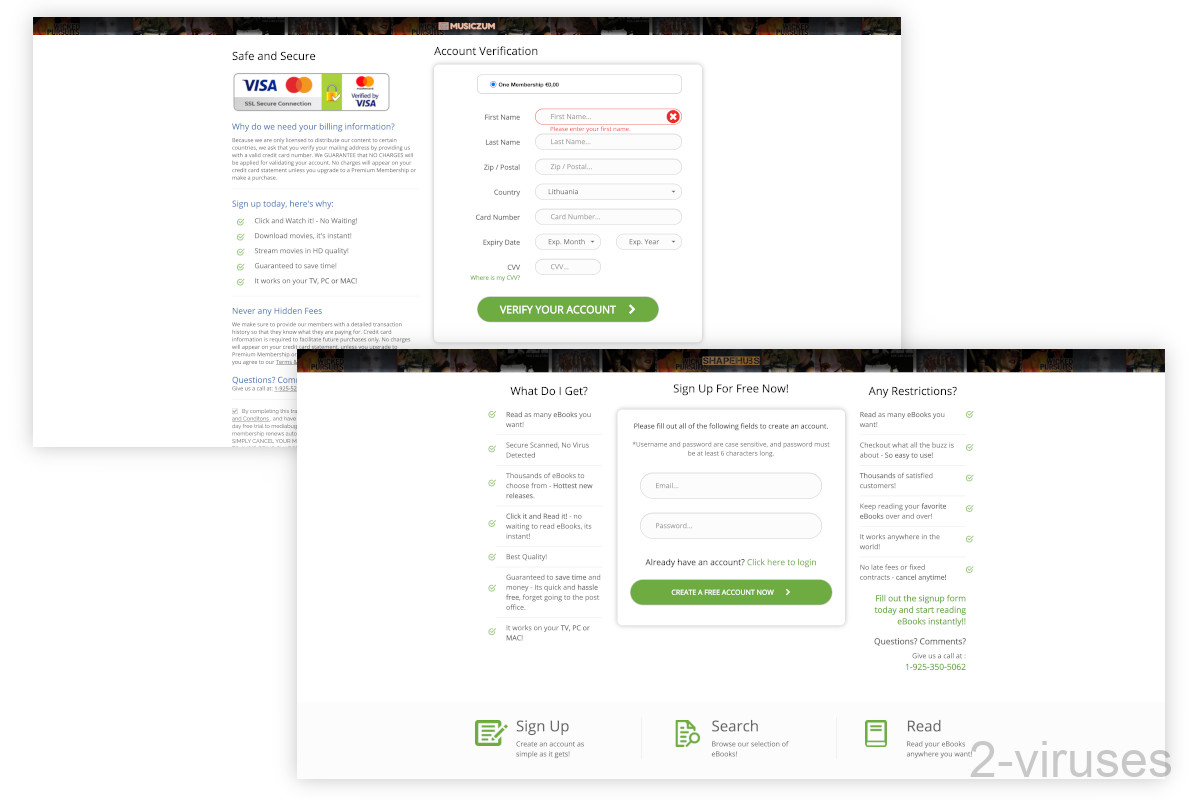 In addition to scammy media subscription sites, Download-pdfs.com redirects to Usenet.nl. It doesn't have the best reviews: Trustpilot.com.
Redirects to fake download links
So, where does Download-pdfs.com fit in this whole scheme?
Here is a typical scenario of how one might encounter Download-pdfs.com and end up having their money stolen by a subscription site:
You might search for an unpopular book, movie, or song online. You might end up on an old but benign website or on a pirating site.
Pirating sites, old, abandoned, niche sites are plagued with drive-by downloads, malicious redirects, and aggressive ads. Some of these ads are full-screen pop-ups, others seamlessly redirect you to malicious sites when you click on a random spot on the site.
Through the malicious redirect, a forum page opens where people are discussing the file that you wanted to download. Comments post a link to the file and advise that it's safe.
After clicking the link, you are taken to Download-pdfs.com and presented with a download button. Sometimes it says "Your file is ready", other times it's "PickAFile".
Download-pdfs.com's button leads to a signup page where you're asked to provide your personal and payment information.
The chain of redirects to and from Download-pdfs.com is supposed to make you believe that you're just one click away from downloading the book, movie, game, or song that you were searching for. But that hasn't been true since the 1st step on the list.
I mentioned fake forum posts – they casually say to fill in the CC, that the site is trustworthy, that your credit card info is only needed to make sure that you're not a bot.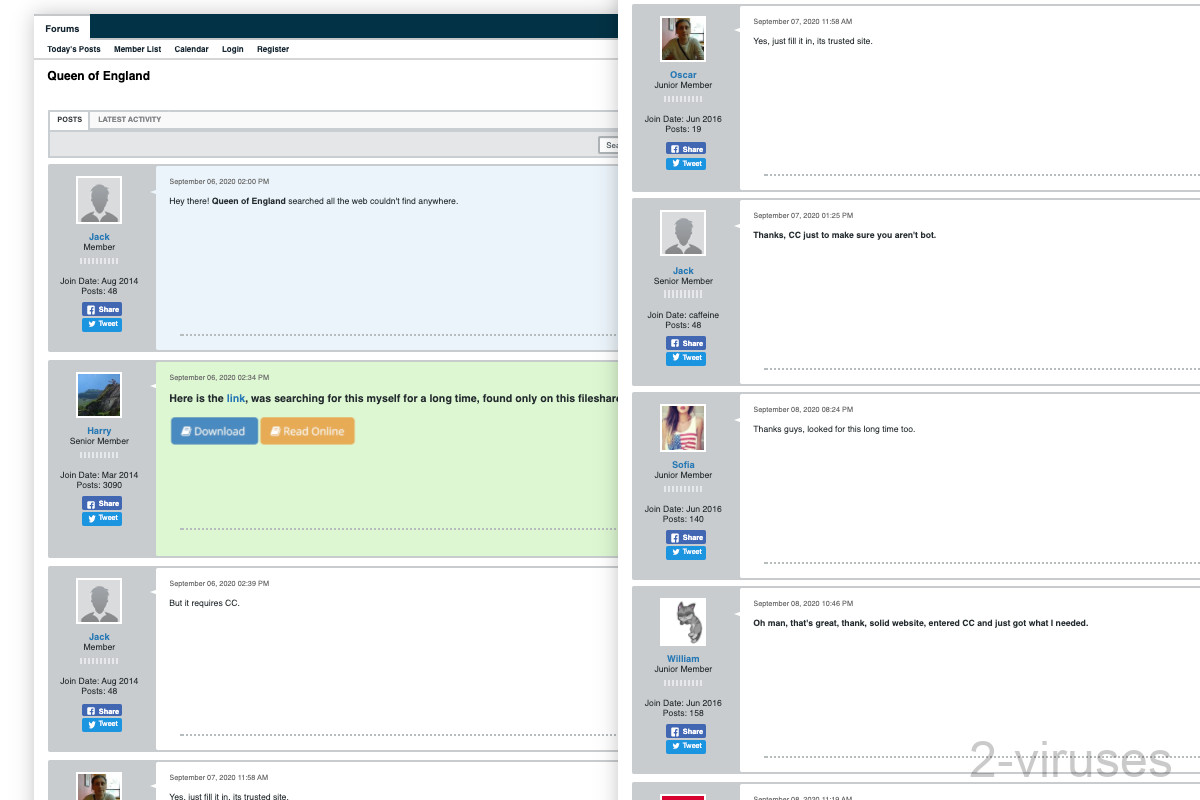 Hey there, anyone has [your item], searched all the web couldn't find anywhere.

Here is the [link], was searching for this myself for a long time, found only on this fileshare.

But it requires CC.

Yes, just fill it in, its trusted site.

Thanks, CC just to make sure you aren't bot.

Thanks guys, looked for this long time too.

Oh man, that's great, thank, solid website, entered CC and just downloaded what I needed.
That's blatantly false. Your personal and payment info is used to sign you up for a subscription. You might not even realize what happened until you get charged a few days later.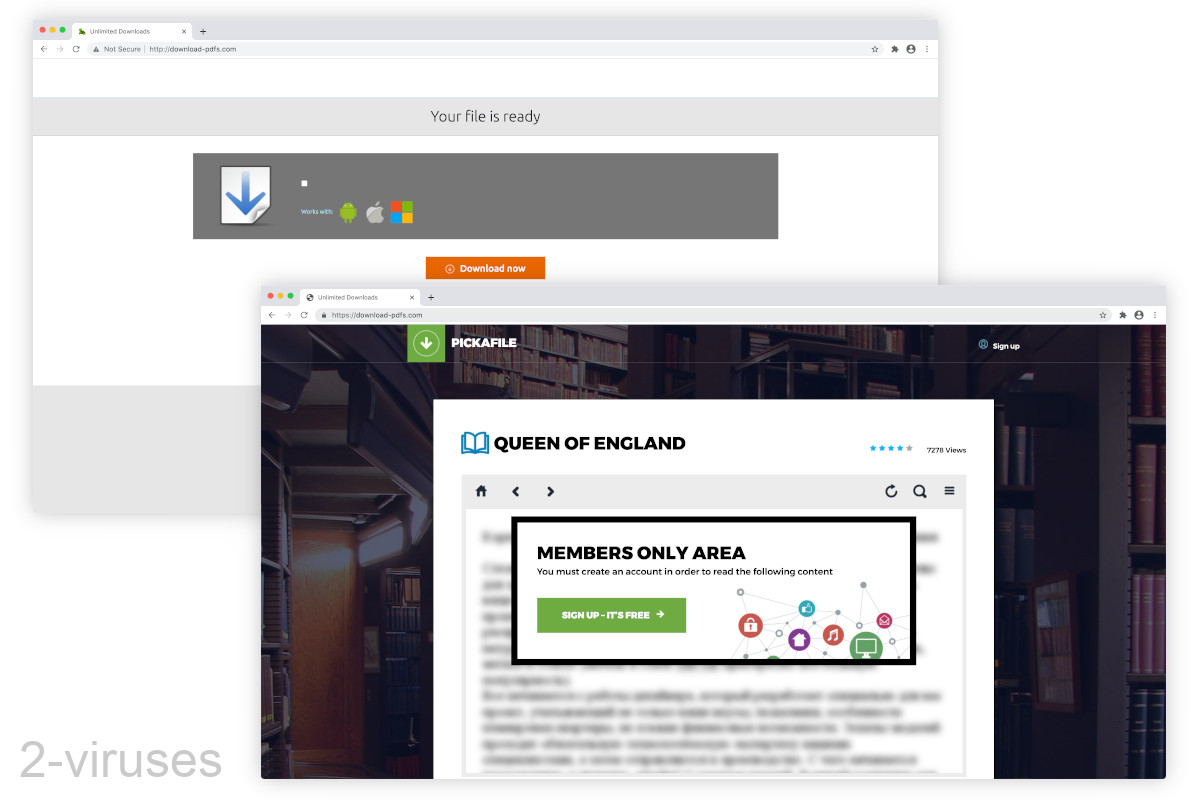 How to avoid Download-pdfs.com
There is no way to completely avoid any and all scams and malicious redirects.
Some variations of this scam script skip Download-pdfs.com and take you directly to the subscription site. Also, Download-pdfs.com is only one of many similar sites (there are also Downloads2020.com and others).
Most importantly, stay vigilant and always look up the reputation of the site before registering and providing your credit card details. But there are a few other things that you can do.
Use anti-malware tools and ad blockers
Use antivirus programs, such as Spyhunter for Windows, Combo Cleaner for macOS, and others to scan what files you download. Use them to make sure that there are no adware infections on your computer. Adware viruses can cause malicious redirects and pop-ups in your browser.
Block notifications from malicious websites.
Use ad blockers and anti-malware programs like Malwarebytes that have real-time web security filters. They can block or warn you about suspicious and unsafe websites. But don't rely on them to be 100% perfect. Stay vigilant, especially when you're on a pirating site.
Protect your accounts
If your credit card is being charged against your will, call your bank. I don't advise you to try to negotiate with scammers. They might agree to cancel your subscription if you are firm enough, but they will still have your data. Your bank will advise you how to proceed – just be honest with them about what exactly happened.
If you typed your email password or any real password in relation to the Download-pdfs.com scam, then make sure to change that. If an antivirus scan found any adware or spyware on your computer, it might be wise for you to set new passwords for your important accounts.
If you are concerned about your personal information being misused, look into ways of dealing with phishing scams.
Automatic Malware removal tools