Iupot.com redirect virus is similar to deceptive notifications that are displayed by Adprohub.com or Click-cpa.net infections. In majority of investigated cases, the redirection occurs due to an adware infection, present in an operating system, but might also be a consequence of poor browsing habits in general. Read this entire article to become familiar with ways to prevent malware from influencing your operated device.
Iupot.com redirect will present content that can compromise your computer
For instance, if you are visiting websites that specialize in illegal distribution of programs, movies and other types of files, you might be entering a trap. Ads that lead to malware-laden website are not a new concept and people should be aware of this. One of the newest infections of Bad Rabbit resulted because of drive-by downloads (What You Should Know About Drive-By Download Attacks) that took place after a fake Adobe Flash Player update was presented.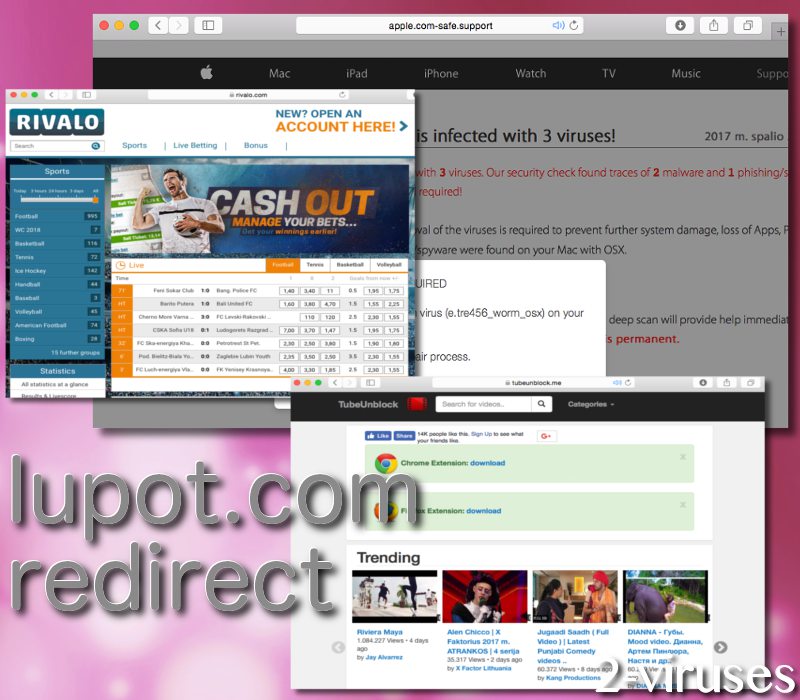 Redirection to Iupot.com deceptive domain most frequently occurs in Brazil: in this country, the website has managed to wickedly slither into 342th position among the most visited domains. People from Spain, United States, Mexico and France should also be harassed, but the biggest amounts of web traffic originate from surfers in Brazil. Like many other malware viruses, for instance, Mybrowserhome.com and Go.smarttrk.eu, Iupot.com redirect will also lead to encouragements to install MacKeeper security tool. However, the MacKeeper.pkg received is detected either as a potentially unwanted program (PUP) or a Trojan (AntiVirus scan).
Also, the Iupot.com virus will automatically transfer people to websites that contain pornographic content and offensive imagery. If parents are allowing their children to use their computers, it is important to check that minors would not be exposed to such material. If an operating system is being influenced by malware, or adware to be exact, it could automatically refer active browser windows to domains that are completely inappropriate for children.
Iupot.com redirect is associated with more than a few ad-networks (Propeller, PopCash, Adf.ly), meaning that their online advertisements will be transmitted via this website. In addition to this, the domain will present betting, gambling services, offer to download suspicious software and reveal your personal information. For example, during our investigation, we ended up in a page that insisted our phone numbers. Never share these details through online advertisements. This could only allow hackers to attack you with malspam (Threat Focus: Why is the Blank Slate Malspam Still a Threat?) if the required detail is your email address. There are certain ways how email can be determined to be fake or not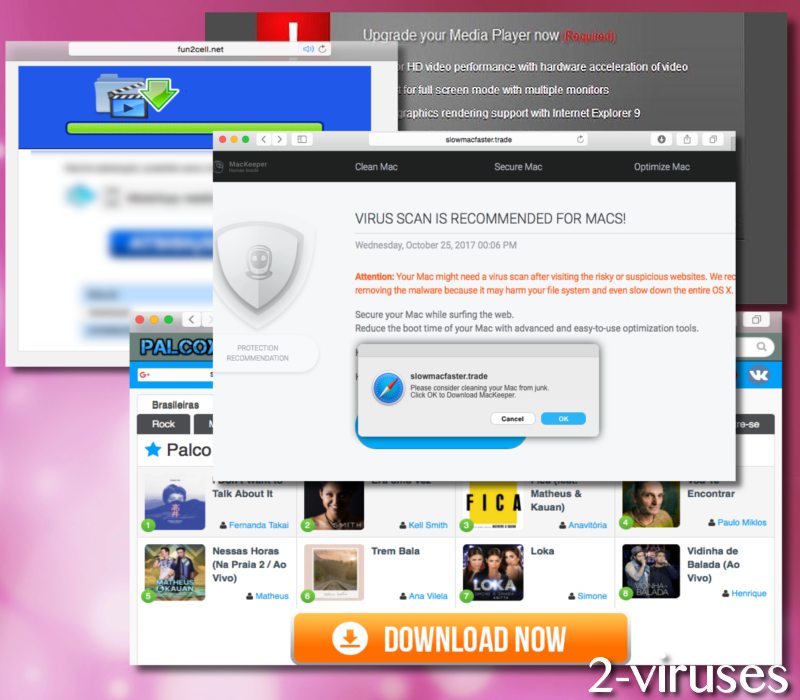 The peculiar feature of this infection is that if you enter Iupot.com URL address yourself, you will be redirected to Google.com. However, we would not encourage you to access this searching platform via this link. It could be that unknown third-parties would inject sponsored URLs into the results to search queries. On the other hand, the address might simply record your every entered query and use its collection in the future for presentations of personalized advertisements.
How to diminish the possibility of becoming infected with malware infections?
If you are curious about the ways you can improve your browsing experience, we can suggest some recommendations to keep operating systems malware free. First of all, stop visiting domains that are known to include deceptive advertisements. Therefore, we hope you will try to resist the temptation of clicking on random notifications or other types of potentially harmful messages. For installation processes of freeware applications, we insist you to choose advanced/custom modes. If not, your operating system could be filled with infections that will initiate spying and infiltration of additional malicious variants.
For the removal process, we hope you will select Spyhunter as the tool to scan your operating system with. It will reveal whether your device needs some assistance. If you are constantly being bothered by Iupot.com redirect infection, it is clear that some sort of malware should be present. We do not know which exact ad-based program is responsible. Therefore, running a scan seems like the most practical decision.
On the other hand, you could follow the guidelines we have included below. Attempt to find suspicious applications and get rid of them via Control Panel. This should not be as difficult as you expect: our step-by-step instructions should definitely help you out.
How to remove Iupot.com redirect using Windows Control Panel
Many hijackers and adware like
Iupot.com redirect
install some of their components as regular Windows programs as well as additional software. This part of malware can be uninstalled from the Control Panel. To access it, do the following.
Start→Control Panel (older Windows) or press Windows Key→Search and enter Control Panel and then press Enter (Windows 8, Windows 10).
Choose Uninstall Program (if you don't see it, click in the upper right next to "View by" and select Category).
Go through the list of programs and select entries related to Iupot.com redirect . You can click on "Name" or "Installed On" to reorder your programs and make Iupot.com redirect  easier to find.
Click the Uninstall button. If you're asked if you really want to remove the program, click Yes.
In many cases anti-malware programs are better at detecting related parasites, thus I recommend installing Spyhunter to identify other programs that might be a part of this infection.
Automatic Malware removal tools