Adprohub.com redirect virus manages to receive impressive amounts of web traffic from all over the globe. Therefore, it has become the 17,467th top-visited website around the world. Biggest percentages of web traffic are obtained from Brazil and there is a number of webpages that initiate referrals to this deceptive domain.
However, the websites that Adprohub.com redirect introduces are considered highly-dangerous. For the most part, adult-oriented content dominates. To be more specific, we are referring to pornographic websites and pop-ups, including nudity. Pomnd.pro and Clicknshare.net are also one of the fraudulent websites that promote such disturbing material. One of the biggest issues is that the presented online adverts could easily be transmitting malware diseases. Furthermore, redirection will occur without any warnings and underaged visitors of the Internet could be exposed to traumatizing material (Just how much malware is on free porn sites?).
Adprohub.com redirect virus leads to offensive and malware-transmitting domains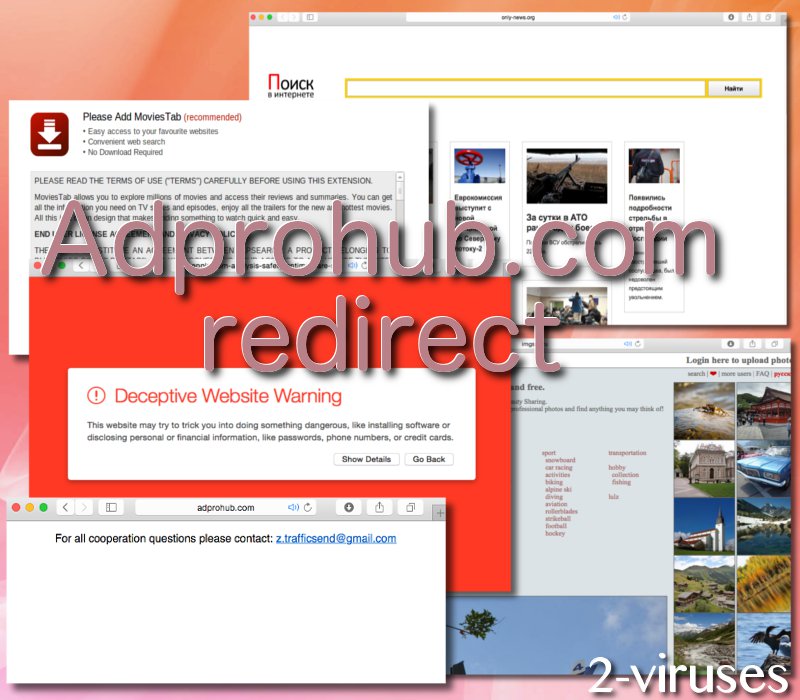 Bare URL of Adprohub.com launches a blank image with a brief message: "For all cooperation questions please contact: [email protected]". We found very little information about this email address, only a media buyer named Lisa Sun which promotes her advertising services. She explains to have 2 million traffic for tech support. However, we are not eager to trust this person, especially when her email address is associated with a domain, delivering pornography to unsuspecting users.
Furthermore, Adprohub.com virus takes place from a variety of different websites. More than a few of them were including content in the Russian language. Users can even be introduced to duplicate searching platforms like Howtonews.ru and Puklusi.ru. Be careful not to catch a browser hijacker infection due to this repetitive redirection.
Avoiding the fraudulent malware-laden might be difficult. According to the analysis of traffic sources, the domain receives most of its visits from online advertisements. However, some is generated from social networking sites and emailing services. We believe that fraudulent email letters can be delivered to unsuspecting users and urging them to follow specific links (Malicious Email Attachments).
Adprohub.com redirect can also be a sign of an adware infection. This means that your operating systems is being negatively influenced by a third-party software application. Online ads are usually displayed by freeware applications that have to receive financial support from some third-parties.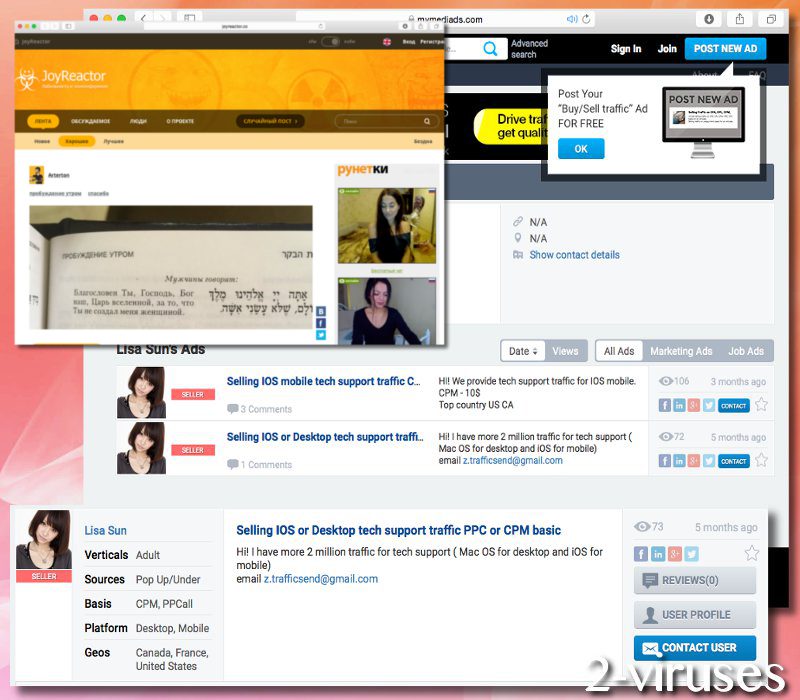 However, for the most part, this redirect will present content from HilltopAds, Propeller Ads Media, AdsTerra, PopAds and Mediahub advertising networks. Even if an ad-serving company would is considered legitimate, it is difficult for them to transmit only clean and malware-free content. Therefore, it is not unheard of that an ad-network would unintentionally help hackers transmit malware.
How to keep operating systems healthy and efficient?
If you are infected with an adware parasite, your online habits and exploited information can also be recorded. By stealing credentials, names, email addresses and banking account details hackers can pursue a number of different scams. If you ever notice that Adprohub.com redirect occurs during your browsing, make sure you were not visiting unreliable domains. If you were not, then it is very likely that your computer is flooded with malware.
There is only one solution to solve all of your security issues. You have to download and install an anti-malware tool. With its protection, your operating system will be protected from unauthorized access and malware invasion. Spyhunter is one of the professional security tools that we are recommending you to install.
With its assistance, you will definitely be able to enjoy a more secure browsing experience. If you are already infected, use this tool to run a thorough scan. It will determine whether there are any malware parasites you need to remove. Furthermore, it is also possible to detect a malicious or a potentially unwanted program (PUP) by taking a look at the Task Manager or Control Panel. Follow instructions below for more information.
How to remove Adprohub.com redirect using Windows Control Panel
Many hijackers and adware like
Adprohub.com redirect
install some of their components as regular Windows programs as well as additional software. This part of malware can be uninstalled from the Control Panel. To access it, do the following.
Start→Control Panel (older Windows) or press Windows Key→Search and enter Control Panel and then press Enter (Windows 8, Windows 10).
Choose Uninstall Program (if you don't see it, click in the upper right next to "View by" and select Category).
Go through the list of programs and select entries related to Adprohub.com redirect . You can click on "Name" or "Installed On" to reorder your programs and make Adprohub.com redirect easier to find.
Click the Uninstall button. If you're asked if you really want to remove the program, click Yes.
In many cases anti-malware programs are better at detecting related parasites, thus I recommend installing Spyhunter to identify other programs that might be a part of this infection.
Automatic Malware removal tools