"Please Install Flash Player Pro To Continue" popup is a fake message claiming that you should get the latest Adobe Flash Player update. Beware that this message has nothing to do with Adobe updates and it was designed by cyber criminals in order to distribute various potentially unwanted programs. "Please Install Flash Player Pro To Continue" popup can use PremiumVideoUpdates.com and some other domains. Here is how it looks like:
Please Install Flash Player Pro To Continue (Required)
Top Video Sites Require The Latest Adobe Flash Player Update.
Updating takes under a minute on broadband – no restart is required
Accept and Install
About "Please Install Flash Player Pro To Continue" popup
If you have detected it on your Internet Explorer, Mozilla Firefox or Google Chrome, stay away from it. If you accept this so-called Adobe update, you will only help computer hackers to make profit. Some of the programs that are known to be installed after you click on "Please Install Flash Player Pro To Continue" popup include Sweet-Page, AwesomeHP, Delta Search, Feven, CouponBuddy and so on. All of them are known for ruining browsing by displaying tons of ads, redirecting to malicious pages, forcing you to download other unwanted applications, etc.
If you want to avoid "Please Install Flash Player Pro To Continue" popup, pay more attention to your downloads. Every time you are installing a new freeware, even if it is distributed on a well-known download page, make sure you read Terms and Agreements in order to know what you are agreeing on. Also follow the installation steps to ensure you do not allow any additional programs to be installed.
As we have indicated, there are various forms in which an offer for Flash Player update can be brought up to your attention. EasyFlashUpgrade.net is another domain which an visualize a preposition to install or update Flash Player. Basically, it might be that if you happen to stumble upon EasyFlashUpgrade.net pop-up, it will automatically install Flash player or something completely unrelated to cause problems in your device. The content of the message may be the following but can vary at times:
Please install Flash Player Pro to continue (required)
WARNING: Your Flash Player is outdated
A critical security update has been released and you are required to update your Flash Player. This page will automatically close once the security update has been installed.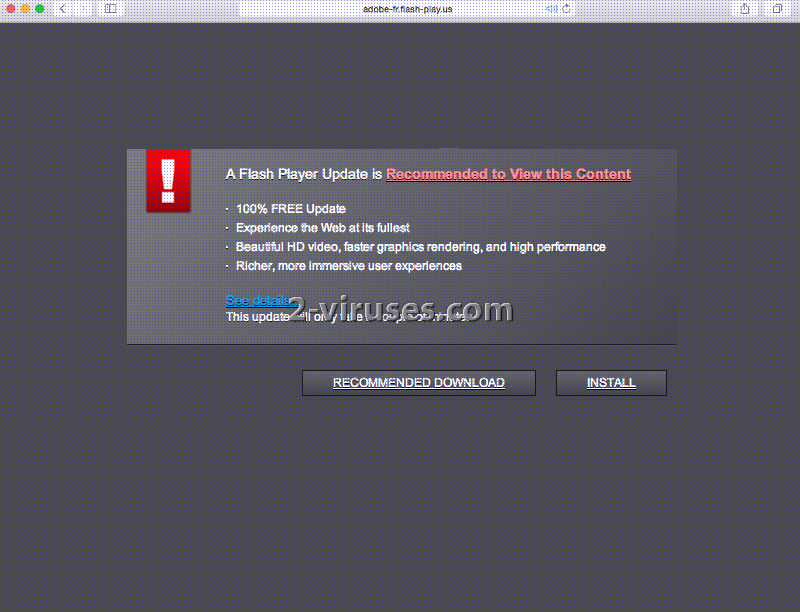 Adobe-fr.flash-play.us popup is another unexpected suggestion that can be brought to you during browsing. Despite looking quite legitimate, it is not as it offers a fabricated example of an Adobe Flash Player. Crooks attempt to create addresses for such pop-ups that are similar to the original title of the distributed software. Do not get startled by this pop-up or convinced to install the offered update. All this action will consequence in is the fact that your system might become jeopardized by parasites or more serious infections like ransomware infections. It is no news that a Trojan can be disguising itself as an update to be downloaded. The following message might be introduced to you:
A Flash Player Update is Recommended to View this Content
– 100% FREE UPDATE
– Experience the Web at its fullest
– Beautiful HD video, faster graphics rendering, and high performance
– Richer, more immersive user experiences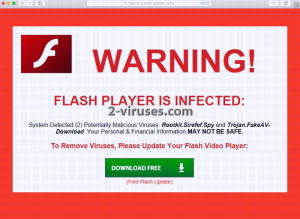 However, crooks sometimes use scareware tactics to get users to download a allegedly legitimate update for your Adobe Flash Player. "Warning! Flash Player is infected!" is one of those experiments to construct a believable pop-up for the sake of distributing malware infections that are not always what they seem at the first glance. If the security of your device seems to be threaten, then run a scan with the tool of your choosing to see whether your suspicions turn out to be true. Always make sure that you know exactly what is going to be installed into your device. In this case, you will not be appropriately informed about the executable, released from its leash.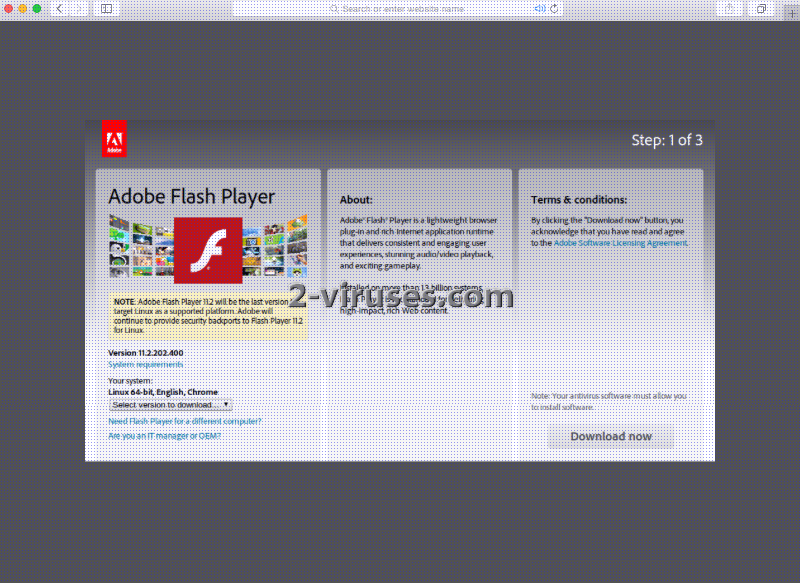 Update4.flashplayes.info popup is very similar to the already enumerated ones. The actual visual elements of the presented pop-up might differ from the one you see in the screenshot, but the idea will persist. It might actually seem that this one is originating from the right place but we are going to disappoint you by saying that this is just another hoax. Update4.flashplayes.info popup might not employ childish strategic or anything similar to that, but it is one of the pop-ups to be feared as it actually looks very legitimate. Nevertheless, this is the hook that is intended for the Internet audiences. Pay attention to the address bar of the pop-up. Does Update4.flashplayes.info sound like a trustworthy domain?
On 2014 we also spotted a pop-up which was focused on distributing the offer for an update for people from Poland. Pobierz Flash Player pop-up was first discovered to be spread mostly via freebies. Now, we are sure that similar pop-ups are haunting Internet users with the quest to lure them to download the advertised update. However, as you might have already gathered, you might voluntarily install some completely unrelated and potentially harmful to your device. We did not manage to add an appropriate screenshot for this variant as it might be translated to the Polish language. We strongly believe that the presented content is going to be very similar to the ones we have already submitted or brought to you by with slight differences.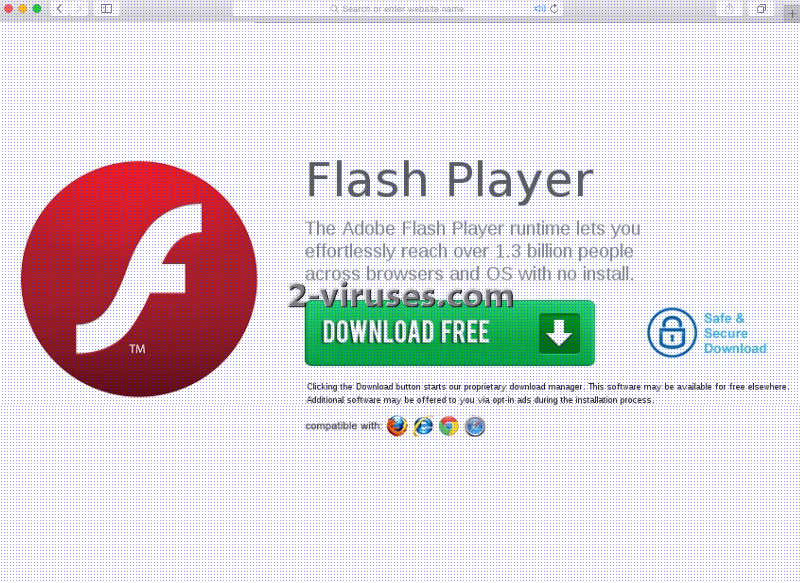 Onlineupdate.autoupdatesafe4allos.top pop-up has probably earned the trust for some of the Internet users. Sadly, they were tricked and mislead into downloading the free update for their Adobe Flash Player for one simple reason: so they would willingly get an application which actually is not coming from a legitimate distribute. Once again it is enough to look at the address bar of this pop-up and raise your suspicion just by looking at it. Its like crooks are saying: this is an online update, an auto update and it is very very safe for all, please believe us. It is quite a newly discovered pop-up and you should not trust it even if your Flash Player is crashing. Update it only from a legitimate source.
Distribution Methods of "Please Install Flash Player Pro To Continue" popup
All of the pop-ups that we enumerated in this article can be triggered by a Trojan or an adware. Please be careful while surfing online and never download bizarre content from the Internet that has potential to turn out to be something completely different. On the other hand, such pop-ups can be a part of the online advertising which is a part of your visited website. This is very frequent when it comes to domains that are questionable and the visitation to them is regarded as unsafe.
To remove "Please Install Flash Player Pro To Continue" popup, you should uninstall the adware that has brought this fake update message. The easiest way to do it is to use a reputable antispyware program, like Spyhunter and run a scan with it. Full removal instructions can be found below:
Using Control Panel to remove the main "Please Install Flash Player Pro To Continue" popup components and installers
Go to Control Panel. On Windows XP/Vista/7 open Start -> Control Panel , Add/Remove Programs or Uninstall . On Windows 8 enter Control Panel in the search box, then look for Uninstall a program. You may need to confirm that you are the administrator on this PC, in both cases.
Look for PremiumVideoUpdates.com and /or similar looking items on the list of programs. By default, I recommend removing Yontoo, WebCake, anything "savings" or "coupon" related. Scanning with Anti-Malware programs like Spyhunter or Stopzilla might give a good idea of what programs you should remove from there as well.
Close Control Panel.
Removing "Please Install Flash Player Pro To Continue" popup from Internet Explorer
Press Wench icon->Manage Add-ons.
Go through Toolbars and extensions. Remove everything related to PremiumVideoUpdates.com and items you do not know that are made not by Google, Microsoft, Yahoo, Oracle or Adobe.
Close the Options.
Removing "Please Install Flash Player Pro To Continue" popup from Firefox
Enter about:addons in URL field.
Go through Extensions and Addons list, remove everything PremiumVideoUpdates.com related and items you do not recognise. If you do not know the extension and it is not made by Mozilla, Google, Microsoft, Oracle or Adobe probably you do not need it.
Optionally, reset Firefox: go to Firefox ->Help (Help in menu for OSX users) -> Troubleshooting Information. Then Reset Firefox.
Removing "Please Install Flash Player Pro To Continue" popup from Chrome
Enter chrome://extensions in url field.
Go through extensions list and remove programs you do not need, especially similar to PremiumVideoUpdates.com. If unsure, you can disable them temporarily.
Restart Chrome.
Optionally, you can enter chrome://settings in URL bar , press Advanced settings, scroll to the bottom of the list and press Reset browser settings.
NOTE:
If you found an extension that can't be removed from the browser, it has either to be removed from Control Panel or with antimalware programs (like Spyhunter, malwarebytes) or program uninstallers (like RevoUninstaller).
Automatic Malware removal tools