The Instagram virus usually refers to one of many threats and scams that compromise Instagram users. These Instagram viruses hijack people's accounts, steal their personal information, and post ads on stolen profiles.
There have been a few malicious campaigns that were spotted spreading around ever since this social media giant became widely used, and some of these threats attacked Facebook users as well, especially after the social networking service company bought Instagram and offered to link both profiles.
Instagram Virus quicklinks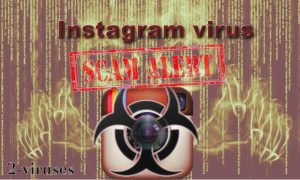 Certain Instagram viruses try to attract specific groups of people, for example, the Zeus virus that spreads via apps that offer to buy more Instagram followers. Others, like the RayBan scam, are distributed worldwide and can compromise anyone with an active profile.
Although Instagram tries its best to detect these scams and warn users about them, malicious actors continue to target Instagram users even in 2021. The Instagram virus is timeless just like many other scams, such as Yahoo Customer Reward Program and Amazon Rewards, Dear Facebook user.
What Instagram viruses are there
The main viruses that caused the most damage and compromised thousands if not millions of users are Who Viewed Your Instagram Profile virus, RayBan Instagram scam, Instagram Followers virus (Zeus virus), The Ugly List 2016 scam, the DM virus, and the Copyright Infringement scam. They all are very similar but also different in their own way. Cause symptoms are also very much alike e.g. inaccessible/deleted profile, scam posts made by your profile, hundreds of instantly gained followers and your account following people that you have never seen, a bunch of sent messages to your followers that you personally never wrote and etc. Hopefully, our further descriptions will help you to identify which one of these Instagram viruses you have.
Although there have been multiple distinct malicious campaigns that targeted Instagram users, many have had common features that can be summarized:
Symptoms
Can't log in to your Instagram account,

messages sent and posts made by your account without your knowledge,

your Instagram profile is changed without your knowledge.

Causes
Phishing scams,

malicious apps and programs.

Consequences
Lost Instagram profile,

password and username exposed to criminals.

Solutions
Use a strong password,

2-step verification,

remove malicious apps and programs,

in case of emergency, contact Instagram support.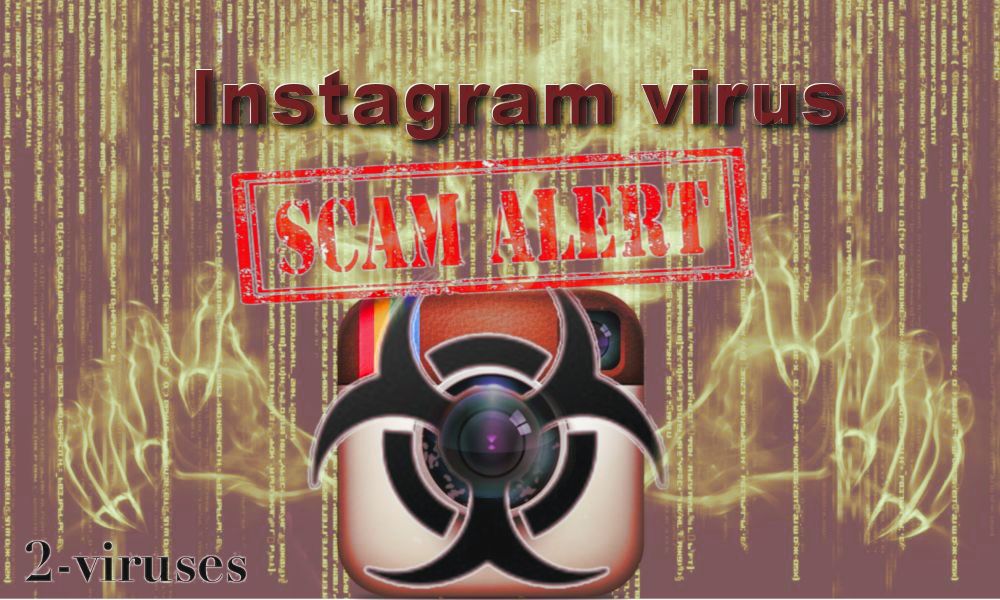 "Who Viewed Your Instagram Profile?" scam
This Instagram virus is the main issue for those who are very curious users that want to know who is looking at their profile. There was a similar scam on Facebook years ago and now it moved on to Instagram. Gullible but nosy people fall for such scams offering to see who are their main fans and install apps or register on websites giving them their account credentials.
At the moment Instagram does not have a such feature and all these programs on App Store and Google Play are nothing more but a lie to get access to your profile. You can read more about one of these apps called InstaAgent getting removed from the App Store because of the contained malware, which would steal people's passwords and usernames.
RayBan Instagram scam
Have you noticed more ads on Instagram and Facebook offering to get RayBan sunglasses for 90% less, or have you been tagged in such photos promoting inexpensive famous eyewear for dollars, rubles and other currency? Whatever you do, do not click on them, because it is one of the most persistent and widespread types of Instagram virus that bother users for at least a few years and has been reported to infect even deactivated accounts or those protected with a 2-factor authorization.
Compromised users claim that they notice an email saying that their account's password and email was changed (to Russian '.ru' domain) and after a bit, all photos, bio, and even username gets changed into a new random one. The less notorious RayBan Instagram scam cannot take over the profile but still keeps posting the same promotion you fell for on your own feed. At the moment Instagram has no answers on how can third-parties access your account and make changes to it, but at least they are trying their best to help the compromised users.
Some victims had success gaining their profiles back by contacting the Instagram support, which requests to send them a pic of a handwritten code of numbers to verify the real identity and etc. Unfortunately, some users were too late and all their data and thousands of followers were fully gone.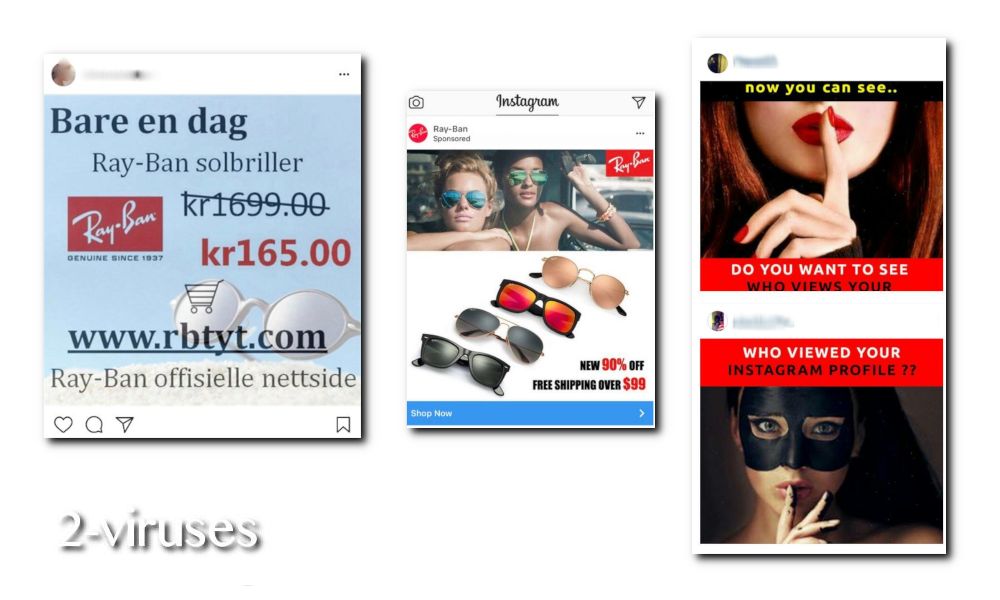 Instagram Followers virus (modified Zeus virus)
Since media is taking a huge part in our lives more followers mean more recognition and achievement or better advertising opportunities, therefore we are willing to do almost anything to get a couple more fans and surpass our other popular friends. In such cases we are blinded by the desired popularity and get involved with follower selling businesses, that promise a couple hundred new follows for a corresponding fee.
But the price users pay is far beyond actual money. These companies that bring traffic to your Instagram feed are using malicious methods to give the service you asked for. The most common way is a modified Zeus virus. Zeus was a used to steal credit card information, but later was altered to generate followers and likes on Instagram. What is interesting, fake likes and followers from Zeus cost more than real credit card numbers, as Reuters reports.
Nonetheless, some other followers-generating campaigns offer you to download their apps that will require to login in order to manage your account. While they may not hack your account completely, they can use it in the future to use your profile to follow other buyers, spread spam or use the login details in your other accounts. All in all, try improving the content quality or advertising techniques instead of seeking a quick fix.
The Ugly List 2016 scam
Most of us post only the nicest pictures on our social media profiles. Only one of these 100 selfies ends up on our Instagram feed, the one that seems flawless in every way, showing only the good side. You put so much effort into your Instagram but suddenly you receive a notification that one of your friends tagged you in the Ugly List 2016 post. Driven by the emotions and disbelief, how could they do that, you press on the link to see who else is a part of the outcast, you log into your account again since it asks, and then realize that there is no such list and you were scammed.
Now hackers know your login data, which you shared voluntarily, and can access your account. Furthermore, they can also steal other data like your email, information shared via DMs, contacts list, Facebook if it's linked and etc. They might even try the same login credentials to access other media, mail accounts. Due to increasing awareness and media attention, this Instagram scam is becoming less popular but it can still show up and trick you if you are not prepared.
The Nasty List 2019 scam
Very similar to the Ugly List, "The Nasty List" tries to trick you into logging into your account on a phishing site. What "Nasty" means is up for everyone's interpretation, as the list doesn't actually exist. Hacked profiles distribute private messages about you being on "The Nasty List" and a link to a profile that links to the site where you can see the List. Swept up by curiosity, people are likely to click on the link, which gives a fake Instagram login page. If you type in your username and password, the creators of "The Nasty List" can now use your profile to distribute the link, as well as try the password on your other accounts – you might want to change your other passwords and enable 2-factor authorization. If you did not try to log into the phishing site, you should be safe.
DM or Instagram verified virus
Another type of scam that actually managed to get even the most cautious users because of smartly socially engineered Direct Messages from Instagram.com (supposedly) itself asking to verify your account due to suspicious activity. It includes the link: Instagram.com/verification, which at first looks legitimate until you look closely and notice that the second letter in the word Instagram is actually an alpha 'α' symbol.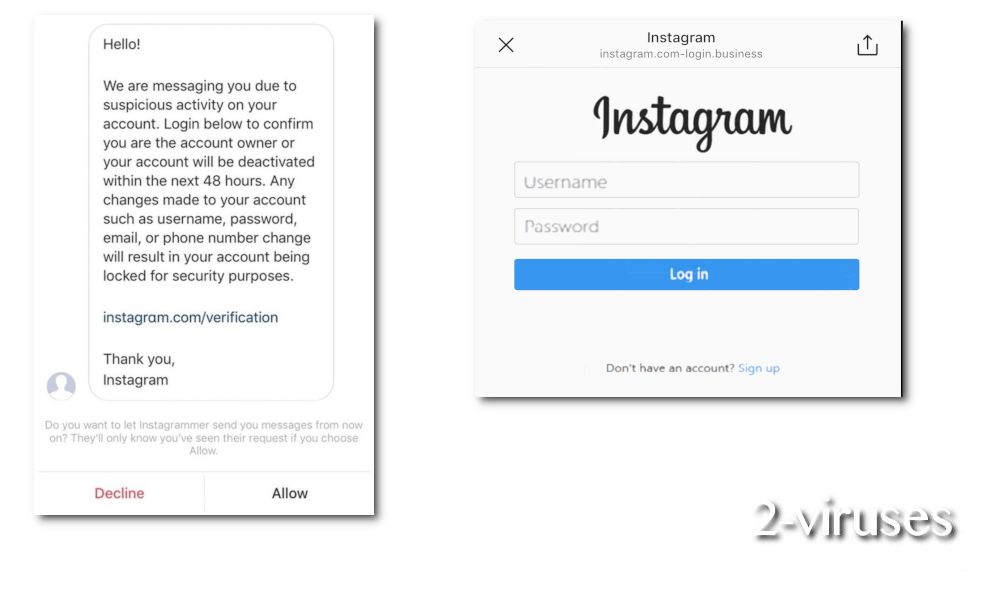 This link takes you to another fake Instagram login page (eg. Instagram.com – login.business), which does not have anything in common with the real social media platform and will gather your username and password once you enter them instead of verifying anything. In the end, you will have a hacked account. You can read more about it in this LinkedIn article.
Other DM viruses can include simple messages from shady users giving you links to visit some website to get a shopping deal, watch adult content or read some celebrity rumors.
The Copyright Infringement scam
The Instagram copyright infringement message is a phishing (password stealing) scam. It might begin as a direct message or as an email. It claims that you've violated "copyright laws" and that you must verify/appeal/sign in/continue/etc. to save your account.
The copyright infringement message claims that, if you ignore it, your Instagram account will be deleted.
If you follow the instructions given by the fake message, a fake Instagram login page is opened. It asks you to type in your name, email, and password – possibly enough information for malicious actors to steal your Instagram account.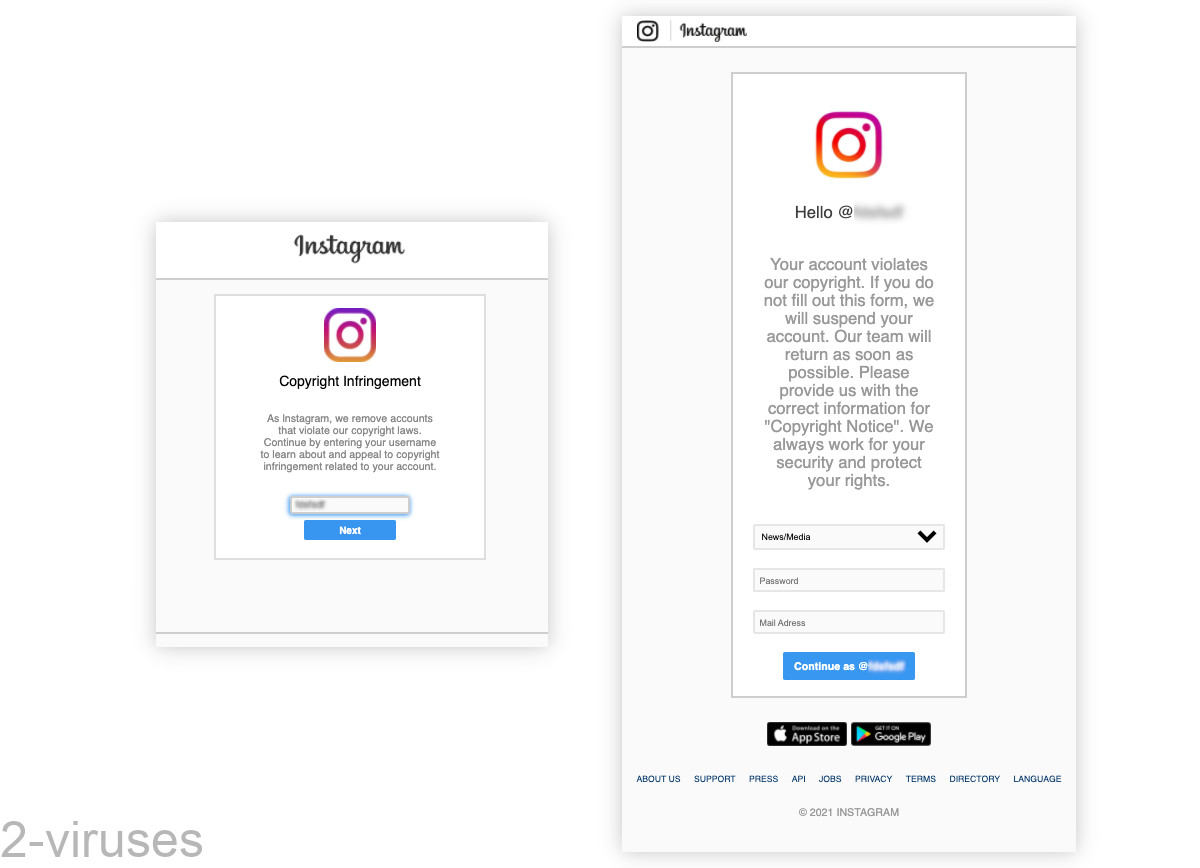 After all of that, the copyright infringement scam page redirects to the real Instagram site. This makes it hard to dwell on the scam and to examine the fake login site.
How does the Instagram virus spread?
Unlike the computer parasites, social media malware spread slightly differently. The Instagram virus is easier to catch through your smartphone than a computer. Some variants will compromise your account if you will give in to the temptation to quickly gain tons of followers and will end up downloading the follower-increasing products. Not only you will pay them, won't get any popularity but they will ask for your login details and steal your profile from you. (Read more about these dangerous apps.)
Other campaigns will spread with the help of spam, ads, infected comments with hyperlinks, tags on malspam content, direct messages. As tempting as some offers can sound, if it looks too good to be true then it probably is. Never click on suspicious links that strangers or even your friends send you via Instagram because they might be victims of the Instagram virus too, which is now using their accounts to infect people from their follower list. Also, do not engage with profiles that send you DMs but have empty profiles, don't show their real names.
On the other hand, people report that they started having troubles with their Instagram after installing not related apps, eg. One Click Brightness Widget from the Google Play store. While it still is available on the app market having decent ratings, the users report that this program requires internet access while it is only supposed to adjust your screen lightness. Therefore don't fall for such sneaky apps and read more on how to prevent getting infected with an Instagram virus on ReadWrite.com. And always enable two-factor authentication.
How to get rid of the Instagram virus
At times it can be hard to determine which Instagram virus variant you have and also if you initially got it from your smartphone or Windows/MAC OS, that is why in case of any type of Instagram virus infection the best solution is to use a reliable malware scanner and removal tool. The best ones that are suitable both for the computer and phone are Spyhunter for Windows, Combo Cleaner for macOS, and Malwarebytes. We advise you to get them on both devices and run scans to make sure that the malware will be removed completely and won't re-infect your account after just cleaning it partly.
Automatic Malware removal tools
Secondly, it is a good idea to change your password both on Facebook and Instagram and cleanse the cache and cookies, browsing history. Some users achieved permanent Instagram removal after uninstalling suspicious apps from their Androids and iPhones. Lastly, make sure to check if you haven't given any authorization for shady apps to access the Internet and your Instagram. You can also do that by going to Instagram's Settings -> Edit Profile -> Authorized Applications and press Revoke Access to terminate rogue programs. Of course, don't forget to contact the Instagram team reporting the threat to help them get closer to catching the crooks once and for all.