Hndry[nr].live or Hndry simply sites are a collection of websites that start with "Hndry" followed by a number and ".live". For example, Hndry10.live, Hndry60.live, and others. Hndry sites are used to sell unwanted junkware to desperate people with the help of the Bankworm hoax – a fake virus alert meant to alarm anyone who visits.
Hndry Live Virus Alerts quicklinks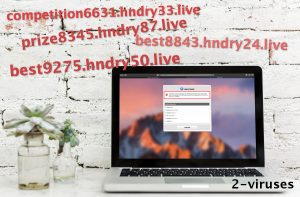 Hndry virus alert scam
Some people believe that Mac computers don't have malware. The truth is not that simple. Malware gives a way for cybercriminals to make money by tricking, scamming, robbing, or extorting innocent people with the help of malicious software. And Macs and their users are as vulnerable to exploitation as anyone.
Hndry.live sites are not dangerous unless you believe them, but seeing them might signal an adware infection:
Type of threat
Hndry pop-up sources

Redirects and ads on infected websites
Pop-ups caused by a malware infection

Consequences of falling for the scam

Money paid for a useless application
Unnecessary stress

Hndry pop-up removal

Delete suspicious applications and extensions (find malware with scanners like Combo Cleaner)
Block malicious websites
Ignore Hndry.live sites
Hndry.live sites are a type of tech support scam, or maybe scareware. These sites appear unexpectedly and are designed to imitate a genuine security warning. They show boxes that are made to look like Mac system pop-ups. Hndry sites show visitors their own IP address, location, OS and browser version to make themselves look more credible. Then they show a warning like this:
A website you have visited today has infected your Mac with a virus. A full system scan is now required to find and remove harmful files or applications from your Mac OS X device.
The Hndry sites have nothing to say about the real state of your Mac – it might be totally clean, or some adware infection might have lead you to Hndry.live, in which case, Hndry is correct by accident.
The hoax is not harmless – if the visitor falls for it, Hndry downloads a potentially unwanted program that it calls Advanced Mac Cleaner. This program continues the charade about the Mac being infected by finding lots of harmless files (like cookies, languages, and temporary files) and acting like they're causing problems and are dangerous. Then it asks for money to remove them. That's a lot like how technical support scams work.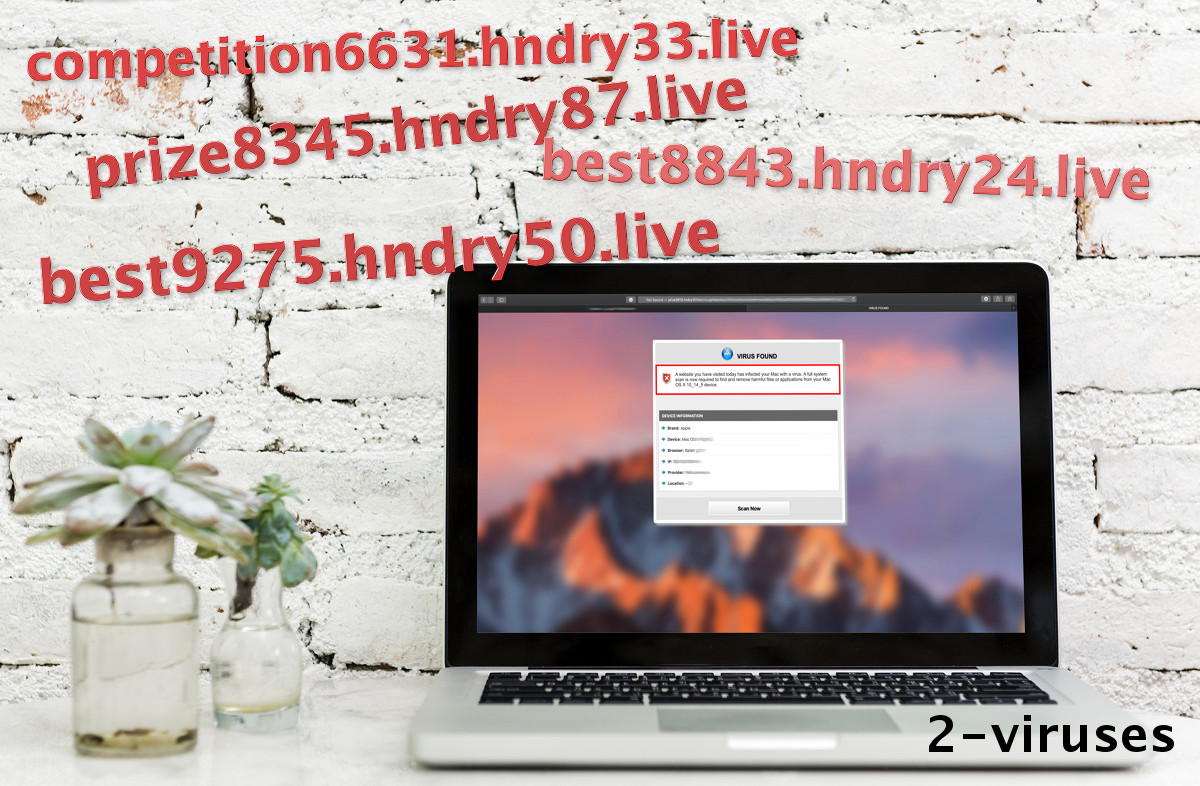 How to avoid hoax virus alerts
Hndry and other fraud sites, like Apple.com-optimizing-mac.live or Activation Warning for Windows generally use the same methods to spread:
Malicious advertisements and redirects.
Pop-ups displayed by malware.
A malicious application could have left files on your Mac that cause periodic pop-ups or it might interfere with your browser to force it to open malicious websites. In this case, Hndry pop-ups might be shown regularly together with other dangerous advertisements. And the way to solve this and stop the fake Hndry virus alerts is to get rid of all infections in your Mac. You can review your applications and extensions and delete whatever you find suspicious. Or you can scan your Mac with an anti-malware scanner like Combo Cleaner.
If you ended up downloading and even installing the program that Hndry recommended, it's kind of important to get rid of it, too. These Mac optimizers, like Super Mac Cleaner, tend to be not just basic to the point of being useless, but also dangerous because they might download other, related applications in the background.
Although Hndry might be caused by and cause malware infections, it does not mean that your computer is compromised for just visiting that site. If you ignored Hndry and went about your day, you're probably fine. Ads on infected sites are a problem with those websites, not with your computer.
If sites like Hndry are a regular problem for you, you could use an anti-malware program with web security to block dangerous websites like Hndry. New fraud sites are popping up all the time, though, which makes them quite difficult to block completely.
So, just remember, when you see a website claiming that your Mac was infected and that you must download a program to fix that, don't panic – just ignore it, which is exactly the advice the real Apple support gives.
Automatic Malware removal tools