GiffySocial is a free extension for Google Chrome web browser. Even though it is supposed to deliver uplifting and useful features, it is nothing more than a typical browser hijacker that will cost you a headache. Unwanted features are not even the worst thing about GiffySocial – it can pose a real threat to your cyber security too, so it should be taken completely seriously.

Giffysocial Hijacker quicklinks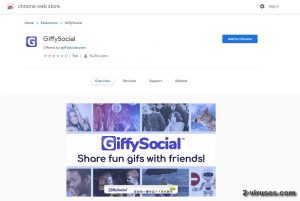 You might think that it's extremely easy to erase GiffySocial since it is based on a browser extension. Unfortunately, it will take much more than disabling an extension to completely eliminate this hijacker. You will also have to restore all the settings that have been hijacked and both detect and remove malicious files of GiffySocial that are stored on your hard drive.
We are here to provide you with the assistance needed to eliminate this potentially unwanted program. By the end of the article, you will be able to detect and remove GiffySocial either manually by yourself or using additional anti-malware tools, so if this infection is operating on your computer, keep reading.
GiffySocial – Malicious Extension For Google Chrome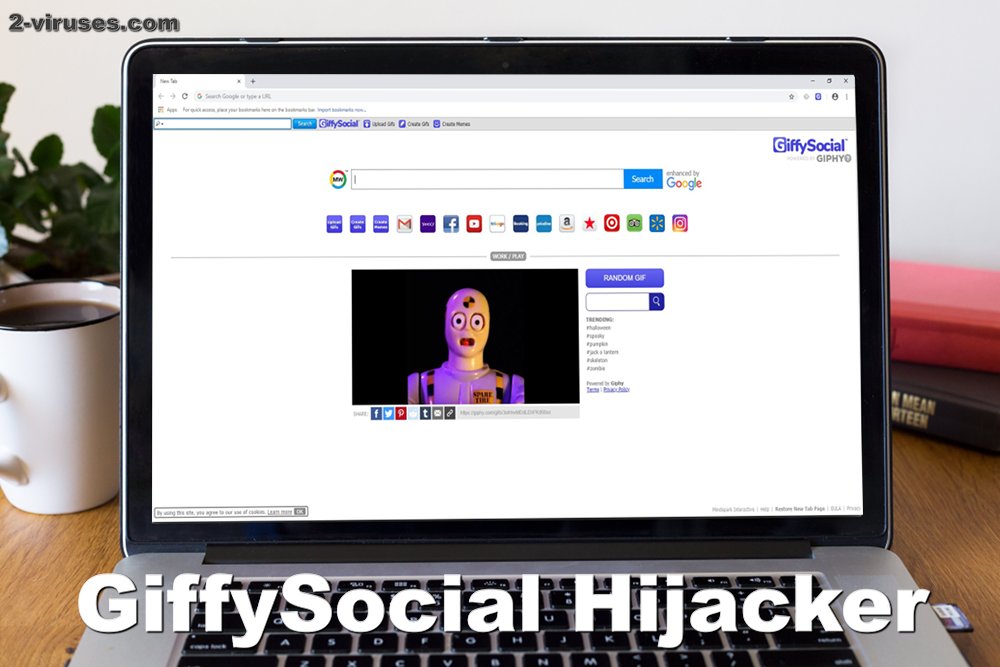 This potentially unwanted tool is based on a browser extension and it is compatible only with Google Chrome web browser. So if you are using Chrome as your main browser, we highly suggest switching to an alternative browser until GiffySocial is completely removed from your computer. This will let you protect your personal data.
Regardless of the way it was installed – intentionally or not, when added to your web browser GiffySocial will immediately change your homepage and new tab page. It will be set to a custom landing page that promotes MyWay web search. If you don't know yet, MyWay is an infamous family of browser hijackers and it's an obvious red flag that GiffySocial is not reliable as well.
Even though that website looks like a normal landing page, you should not be using it and there are several reasons why. First of all, if you try to use the web search function which is highlighted there, you can expect that your personal information will be recorded. Why? So they could leak it to third parties and make money this way. This is one of the reasons why they infect computers with this free tool. We are talking about information such as your search queries, most visited sites, browsing history, IP and email addresses, information about software and hardware you are using and so on. Other crooks can use it in their advantage. Also, expect to see various ads and sponsored results on the search results page. They can be completely not relevant to your search queries, so you will be wasting your time. In addition to that, they can lead you to websites that are dangerous, so you can get scammed or other malware can be infiltrated into your system.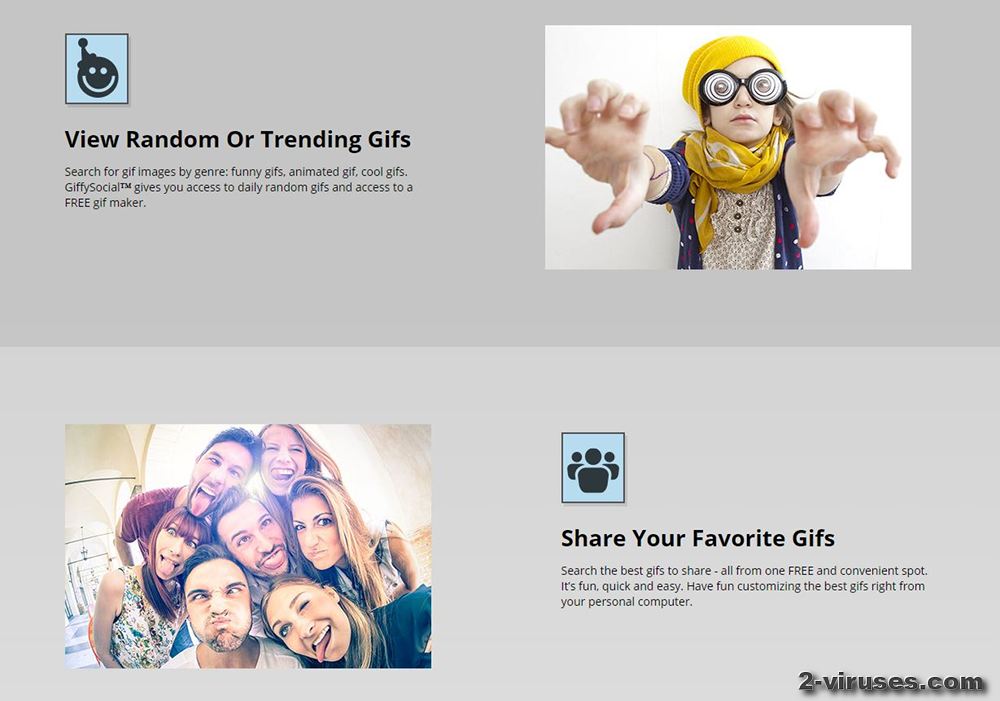 Speaking of other malware, GiffySocial can do it automatically. So if you keep it installed on your computer and web browser, don't be surprised to see other infections infiltrated in your computer. It is likely to insert other viruses that also belong to MyWay family – Free.everydaylookup.com, Internet Speed Radar, Free.flightsearchapp.com and so on.
Last but not least, your computer can run significantly slower due to the presence of GiffySocial extension. It can create junk files or start additional processes, so your computer will have a hard time to process multiple tasks.
How GiffySocial Virus Managed To Infect Your Computer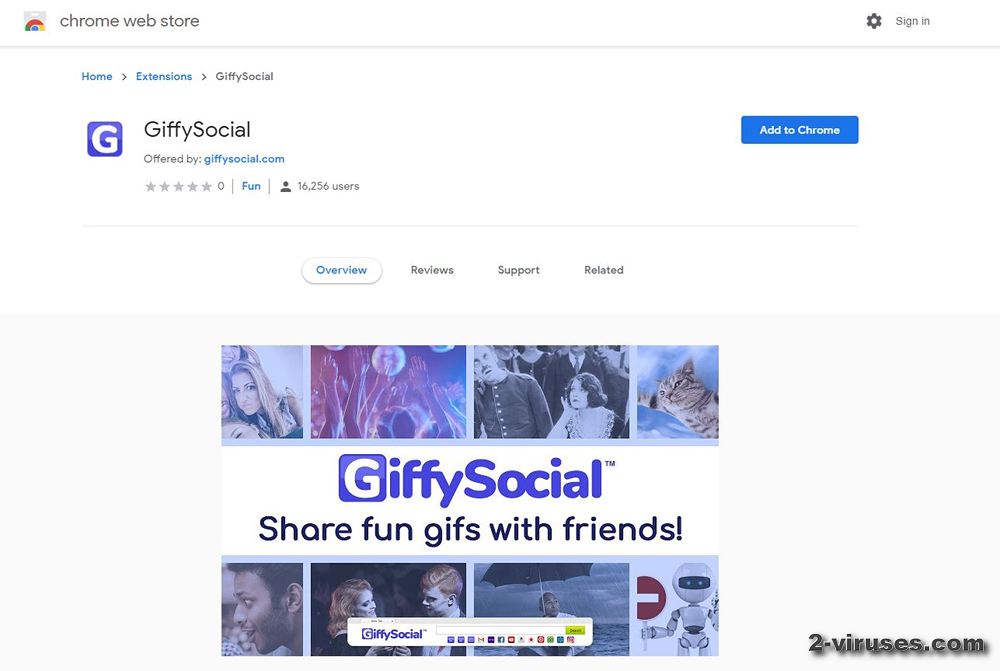 If GiffySocial is inside of your system, that's a clear sign that protection of your system is weak and you should improve it. It can be easily done by installing anti-malware tools, such as Plumbytes or IObit Malware fighter. Either one of these programs can monitor your incoming and outcoming web traffic in real time, so any attempts to infect the system will be immediately noticed and stopped.
In fact, if you had such an application installed before, GiffySocial wouldn't be able to get inside. It probably was able to infect your computer as an attachment to other free software that you have downloaded yourself. It is a common malware distribution method called bundling. You should always be really attentive during the installation of free software, even if you have downloaded it from a 'website.
Removal of GiffySocial Extension
We have already mentioned that it's not enough to disable this extension in order to completely eliminate this malware. If you do so, it is likely to come back after some time. Proper removal consists of removing all malicious files that are stored on your computer, restoring your previous settings and clearing registry entries that have been created by GiffySocial. It is kind of difficult to do manually, so you should scan your computer with a professional tool – Spyhunter. Either one of those programs should be able to solve this problem automatically within several minutes.
However, if you really don't feel like downloading additional software, here is an option for you – scroll down below the article and take a look at the manual removal instructions. Try to complete all steps correctly and you should be able to manually delete GiffySocial from your computer.

Automatic Malware removal tools
TopHow To remove GiffySocial Hijacker from Google Chrome:
Click on the 3 horizontal lines icon on a browser toolbar and Select More Tools→Extensions

Select all malicious extensions and delete them.

Click on the 3 horizontal lines icon on a browser toolbar and Select Settings

Select Manage Search engines

Remove unnecessary search engines from the list

Go back to settings. On Startup choose Open blank page (you can remove undesired pages from the set pages link too).
If your homepage was changed, click on Chrome menu on the top right corner, select Settings. Select Open a specific page or set of pages and click on Set pages.

Delete malicious search websites at a new Startup pages window by clicking "X" next to them.

(Optional) Reset your browser's settings
If you are still experiencing any issues related to GiffySocial Hijacker, reset the settings of your browser to its default settings.
Click on a Chrome's menu button (three horizontal lines) and select Settings.
Scroll to the end of the page and click on theReset browser settings button.

Click on the Reset button on the confirmation box.

If you cannot reset your browser settings and the problem persists, scan your system with an anti-malware program.
TopHow to remove GiffySocial Hijacker from Google Chrome on Mac:
Open Chrome browser.
Enter in the url field "chrome://extensions" address and hit Enter.
Find GiffySocial Hijacker on the extensions list and click on the recycle bin icon next to it.
Click on 'Chrome' button at the top left corner. Select 'Preferences' on a drop-down menu box.
Find 'Search' options on Settings tab. If your search engine is changed, click 'Manage Search Engines' and set your preferred search engine.
On the same page find 'Show home button' checkbox and change your homepage.
(Optional) Reset your browser's settings
If you are still experiencing any issues related to
GiffySocial Hijacker
, reset the settings of your browser to its default settings.
On the 'Preferences' menu window, scroll down to the bottom and find 'Reset settings' button. Click it.
Confirm your selection and click 'Reset' on the following window.
If you cannot reset your browser settings and the problem persists, scan your system with an anti-malware program.